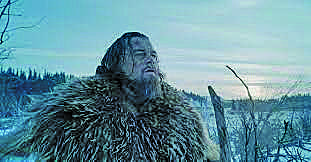 "The Revenant," a film by Alejandro G. Iñárritu, Academy Award winning director of "Babel" and "Birdman," is set within the wilderness of Utah and South Dakota throughout Arikara indigenous American territory in 1823 during the middle of a brutal winter. The film focuses on the journey of the frontiersman and fur trader Hugh Glass (Leonardo DiCaprio) after he was horrifically injured in a grizzly bear attack and his struggle for survival throughout the wilderness during his search and intended revenge of a fellow frontiersman (Tom Hardy) who betrayed him to the ultimate degree.
At 2 hours and 36 minutes, this is a physically and emotionally exhausting, yet also rewarding, film that will challenge your ability to stay warm even within a heated theater. It explores themes including man versus nature, betrayal, the pain of agonizing loss, revenge, deceit, determination against all odds, and justice. "The Revenant" was adapted from the 2002 novel "The Revenant: A Novel of Revenge" by Michael Punke that was based upon true events of the frontiersman Hugh Glass in 1823.
The film begins with the struggles of a group of fur traders, including Glass, led by Andrew Henry (Domhnall Gleeson) during their expedition into the unfamiliar and unforgiving territory of the West for more supplies. During this time in history, there were extreme amounts of conflict and acts of violence occurring between the white invaders and the indigenous people whose land they were invading, and the film makes it clear that both sides were capable of great acts of ruthless violence.
The film has a variety of brutal and painfully realistic fight scenes, including a bloody shoreline battle between the group of fur traders and the Arikara indigenous Americans whose land and resources the frontiersmen were exploiting for their fur trade.
Breaking the stereotype within the film industry of indigenous Americans being merely plot pieces within movies, "The Revenant" boasts a respectable number of indigenous American actors and actresses. The chief of the Arikara people, Elk Dog (Duane Howard), plays a vital and significant role in the film. Like Glass, Elk Dog is on a journey of revenge, except his mission is to find his daughter, Powaqa (Melaw Nakehk'o), who has been kidnapped by white frontiersman, and to inflict revenge upon her kidnappers.
The film industry has continually disrespected indigenous Americans throughout the century, portraying them either as merely savage killers or as unintelligent and helpless, and needing the help of a "white savior." In "The Revenant," the indigenous Americans are not disrespectfully romanticized or used as plot devices. Instead, they are respected and honored by being portrayed as complex and thoughtful people, faced with the issue of their land and way of life being infringed upon and taken advantage of by the white frontiersmen. A fascinating point of the film is that Glass' and Elk Dog's respective journeys are closely intertwined and their struggles juxtaposed as a way to show how our sorrows can be shared and our fates can cross paths no matter who we are and where we are from.
The film itself is a visual exploration of the conflict between man and nature. The awe-inspiring cinematography of the natural world and visuals throughout the West humbles viewers and puts into focus how truly small and insignificant humans are in comparison to the vastness and complexities of nature. It brings to our attention the true power of Mother Nature, and how powerless we are to the extreme weather conditions and beasts of the wilderness that defined the territory during that time in history.
Every shot is filled with the stark and glistening beauty of nature encapsulated in the dead of winter. Whether through shots of rich crimson horizons at twilight, the dancing of flames sending glowing embers whirling into the dark night sky and illuminating the glistening of animal furs, or sunlight shining through snow covered tree tops throughout forests frozen in time, the film is a masterful work of art portraying a stark and unforgiving landscape through its cinematography. Cinematography for the film was by Emmanual Lubezki, a two-time consecutive winner of the Academy Award Winner for Best Cinematography for "Gravity" and "Birdman."
DiCaprio brings raw power and emotion to his role as the physically and emotionally tormented Glass. Even while lying basically paralyzed and mute on a makeshift gurney after narrowly surviving a horrific grizzly bear attack, DiCaprio displays an astounding level of emotional intensity and powerful subtlety in his acting.
The entire film puts DiCaprio and his character through a frozen hell. Early on in the film, Glass is brutally mauled by a giant grizzly bear, leaving him severely injured in a multitude of ways for the entirety of the film. During his journey, he is faced with severe weather conditions and forced to resort to extreme survival tactics, such as living off raw fish and eating fresh buffalo organs.
Whether struggling to stay afloat while being swept away by river rapids or surviving by sleeping within a fresh horse carcass, DiCaprio gives it his all with his intense performance, and his emotional and physical dedication to authenticity. DiCaprio's performance of Glass' struggle while crawling over 200 miles of wilderness while on the brink of death from injury or starvation is painful and astounding to witness because of the realism of the film and his performance.
Ultimately, the film shows the audience that there is a definitive difference between justice and revenge. The raw beauty, unforgiving atmosphere of the film, and brutal realism that permeates every scene is a testament to the dedication and attention to detail that was put into every single aspect of the production. This is not a film for the faint-hearted, but for those who want to have a gorgeously shot, thought-provoking, gritty, and visceral film experience, "The Revenant" is worth your time.