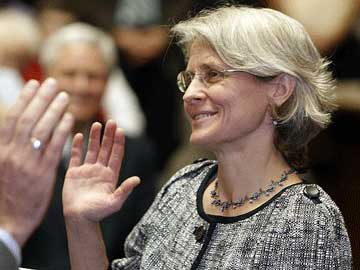 Vermont Supreme Court Justice Beth Robinson has been invited to speak at Johnson State College's 2012 commencement ceremony.
While Robinson's accepting the invitation comes as a distinct honor to the college, it is just one more stop in the ascendancy of her long and lauded legal career.
Robinson made national news when she was appointed to the Vermont Supreme Court by Governor Peter Shumlin in Oct. 2011, and again when she was sworn in Nov. 28. She is the first openly gay Supreme Court justice in Vermont's history and is credited with being instrumental in the passage of Vermont's historic Civil Union Law, the first of its kind in the nation, as well as the passage of Vermont's Same-Sex Marriage Bill, which survived to become law when it passed by one vote in an override of Governor Jim Douglas's veto.
Robinson enjoyed the passage of each of these pieces of legislation by first entering into a civil union in 2001 with her long-time partner, Kym Boyman, and then in 2010 when the two married. The couple lives in Ferrisburg.
Robinson, 46, was born in Indiana. She graduated from Dartmouth College in 1986 and then later from the University of Chicago Law School in 1989. She spent 18 years with the law offices of Langrock, Sperry and Wool, based in Burlington and Middlebury.
As co-counsel with Susan Murray in the landmark case Baker v. State of Vermont in 1999, Robinson argued that same-sex couples and heterosexual couples have the same rights. She presented those arguments to the same court she had just joined as a judge, the Vermont Supreme Court. The legal team won the case, and Robinson went on to lobby for the legislative change at the State House which brought about civil unions in Vermont.
Robinson was the head of the Vermont Freedom to Marry Task Force, and again lobbied the legislature for a historic change when she argued for the passage of the Same-Sex Marriage Bill. The bill became law in 2009, the same year Robinson received the Spirit of Justice Award from the national group Gay and Lesbian Advocates and Defenders (GLAD.)
Governor Shumlin appointed Robinson last spring as his legal counsel, a position from which she walked away when she was offered the appointment to the State Supreme Court.
The seat on the court which Robinson has just filled had been vacated by Denise Johnson. It could be said that Justice Johnson has passed on not only the seat but perhaps a torch, as Justice Johnson was herself a trailblazer, the first female Vermont Supreme Court justice.
In a Burlington Free Press article at the time of Robinson's appointment, Governor Shumlin was quoted as saying, "Beth's strong legal background, experience with creating legislature at the state house and commitment to the equal rights of all Vermonters will make her an exceptional justice on the Vermont Supreme Court."