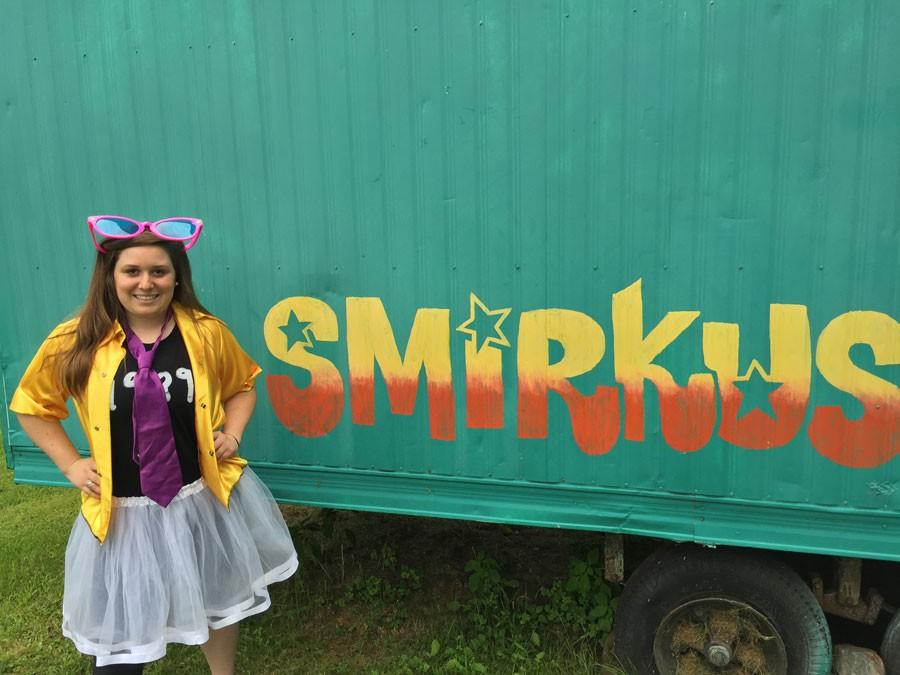 Courtesy Mary Fafard
Circus Smirkus dished a Johnson State College student a recipe for future career success this summer at its headquarters in Greensboro, Vt. The non-profit international youth circus provided Mary Fafard with a marketing and public relations internship to accompany her major in interdisciplinary studies, following her sophomore year at JSC.
The 2015 Circus Smirkus Big Top Tour featured a Bon Appetit theme, which involved Fafard working directly under the director of marketing, the asssistant director of marketing/communications and the director of external relations to produce and manage food-related marketing content. The internship directly related to two of her three focal areas within her major: marketing and communications, with art design being the third.
Though she was not directly involved with a lot of design, Fafard said that the circus does all of their design work onsite, so she still had the opportunity to observe and learn from that kind of creative process.
A lot of the work Fafard did involved research and forming relationships with other businesses. "Circus Smirkus is a nonprofit, so they have to have help advertising for their shows," she said. "I did market research online and through social media to find which businesses in Keene, on the cape, and in Hanover, NH, would align well with the Circus Smirkus values."
The Circus has the same type of Vermont-like, homegrown character that Fafard enjoys in her long-standing job at the Ben & Jerry's factory as a tour guide. Eventually, she would like to transfer her newfound communications skills to become a part of the Ben & Jerry's public relations team.
"I learned a lot about copy – how a business or organization speaks or writes their [social media] posts," Fafard said. "I also learned a lot about keeping a social media schedule. I helped make and craft Facebook posts. They [the marketing team] write witty and circus slang so everything they do kind of sounds the same. This year's theme is Bon Appetit, so everything that they post has to do with food."
Fafard was given the opportunity to write the Facebook post for the day of the opening show, where she was able to come up with original food related wordplay and combine that with the key marketing terms that the company utilizes.
Fafard also experienced what having a job after college is like in general. "I've learned a lot about how to work in an office, how an office works and how you communicate with other people that you work closely with," she said.
"Now that I see how the real job world works, I feel like I have a better understanding of why I have to take the classes that I do," Fafard said, explaining the benefits of participating in an internship early in the college career. "Since I kind of got to see the job world first before taking a lot of the upper-level classes, I'll be able to learn things and see how they connect to things like business partnerships, good media or press interaction."
"Hopefully things from the circus will show up in school, and hopefully things from school will reflect what I learned in the circus," Fafard said.