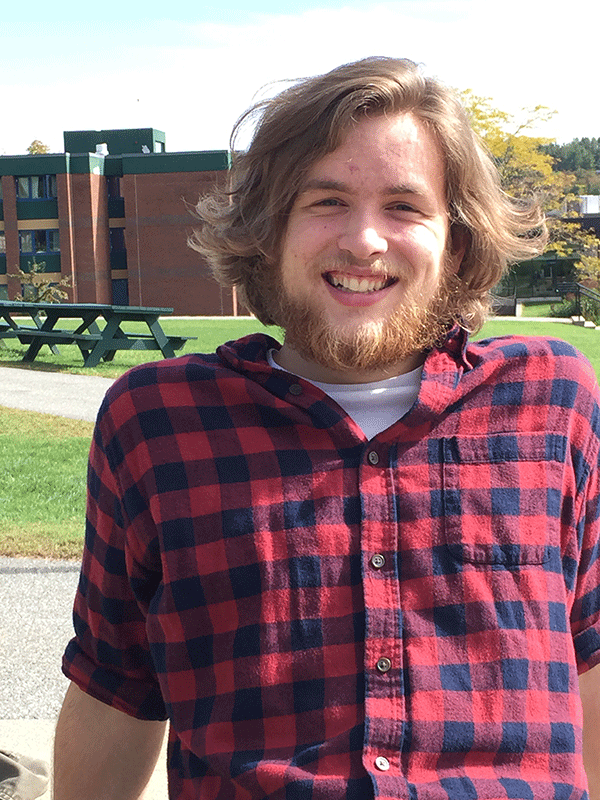 Marilyn Tagliavia
"I am not Danny Zuko," said Thomas Gunn, who played Danny Zuko in last year's performance of "Grease" at Johnson State College. "I am not Danny Zuko at all."
Since age seven, Gunn has participated in numerous theatrical productions. With the exception of his JSC performances, his talent has lingered solely at community theaters.
Gunn is not only unlike the arrogant and rude Danny Zuko because of his inversed personality type, but he also differs in a much more basic way: he didn't attend high school.
This caused complications for Gunn when applying for colleges, and he ended up attending Johnson State College out of necessity. "It (JSC) was the only school that accepted me," said Gunn. "I was home-schooled, so my mom and I, we did up all of our own stuff, for like transcripts and grades, we had to do all of that stuff ourselves. Everywhere else that I applied was like no we don't accept this, or yeah we'll accept you sophomore year but go somewhere else and get a 3.0."
Regardless, Gunn says that since coming to JSC, he has not wanted to go to school anywhere else. He also maintains that being homeschooled and so greatly part of community theater were very important to him while beginning development as an actor and director.
"You're not just confined by your peers and making it feel like a classroom setting," said Gunn, "which is great in its own right, but really experiencing kids, teens, adults, older adults all together doing the same thing, I think that was very influential for me growing up."
Throughout his life, Gunn has developed a strong love for both directing and acting, and is currently pursuing a double major in theater & drama and technical theater. "I love being on stage," said Gunn. "I love making people happy. I'm a very emotional person myself and therefore I want people to feel things. I want to make them feel things. Whether that's me on stage or me directing people on stage, I want people to feel things."
Coming to college was a huge change for Gunn, even with his family's efforts to dispel the stereotypes surrounding homeschooled children. "My parents had always been really great about making sure that we were out and doing stuff," said Gunn. "I did theater, my younger brothers played baseball, my younger sister Abby did dance for a while and was involved in theater. We had our youth groups, church on Sundays. We definitely weren't your stereotypical homeschooled sheltered family. We were very socially capable." However, Gunn describes the beginning of his transition to college as culture shock.
"Being on my own—I was always fairly independent— but being alone," said Gunn, describing some of the ways that college came to him as a shock, "being around a ton of people that do not have the same beliefs and ideals as I do, and did, was definitely a good thing for sure—but very challenging to get used to."
This independence in both capacities has allowed Gunn to form what he says is his own moral compass, and be able to determine for himself how to feel and what to believe.
With this freedom, enthusiasm is what Gunn chooses to feel most of the time. "I'm just a little bit insane," he said. "Super enthusiastic, I love being enthusiastic about other people, other things, about things I like to do. I wouldn't say necessarily happy all the time—no ones happy all of the time—but enthusiastic about pretty much everything. Very passionate. I like to be as kind as I can be. Fun-loving. I can be very hard on myself, which I think is both good thing and a bad thing in this profession."
Gunn says that he always takes the time to make sure that the work that he is doing is high quality. He credits this drive to a period of two years when his family lived in a mobile home in Troy, Vt. without running water or electricity. His family heavily relied on firewood and had a well that they would have to pump up and fill regularly. "It taught me the value of hard work and work ethic in general," Gunn said.
As an actor, Gunn says that the work comes with internalizing a character and discovering connections between yourself and your life, and the character's.
"You can work inside out or outside in," says Gunn. "Either starting on the emotional character side or starting on the physical character side. What I've done more of, and what I've been working on over the last couple of years is first going from the inside out…finding a connection and making that real. Showing the audience that it's not just acting, that you're feeling the feelings you did at that time."
Gunn says that the easiest connection that he has had to a character is when he played Felix from "The Odd Couple" in February 2014.
"He's a very nervous, very hyper active, very OCD type of character and I latched onto that very quickly," said Gunn, "but it was a character where sometimes I took that connection too far and I made it too cartoony-like and not realistic and that's where (the director) Russ [Longtin] had to try and pull me back."
Currently, Gunn is working on directing his own production, "Twelve Angry Men," for his senior project.
I've always been really intrigued by the laws and logic and arguments and debates," said Gunn. "When I first discovered this show several years ago it really stood out to me. It's very intellectual. I like to consider myself an intellectual person and so it's very tense, it's very emotional, as well as intellectual. It catches your attention. One of my focuses is to make sure the attention never drops. The audience is going to be wrapped up in the show."
Gunn is also currently in rehearsal for "Stitches," which goes up mid-October, and "The Boys Next Door," which will go up in November. He is planning to audition for the winter show directed by Isaac Eddy as well.