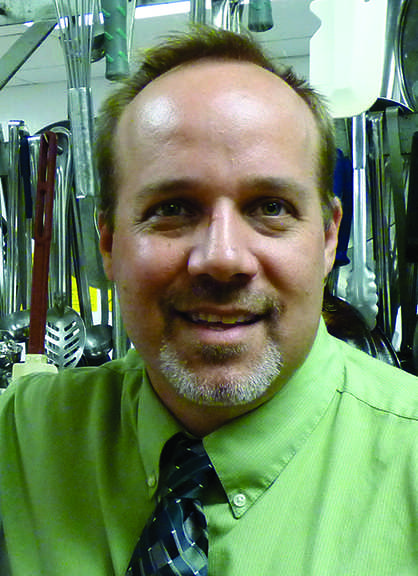 Mariah Howland
Vermont is well known for its use and advocacy of environmentally friendly practices and sustainability efforts. Whether it is recycling, composting food waste, organic farming, investing in alternative energy sources, supporting local businesses, or events such as Green Up Day, the Green Mountain State truly strives to live up to its name.
At Johnson State College, there are efforts made to contribute to be an environmentally sustainable institution through a variety of programs and policies on campus that have been implemented throughout the years.
Tom Fondacowski, general manager of dining services provided at the Johnson State College Stearns dining hall, is an advocate for sustainability practices. His job involves overseeing the dining hall service policies and regulations at the college.
Since he started working at JSC in 2012, Fondacowski has striven to implement a variety of new environmentally conscious initiatives and sustainability programs in the JSC Stearns dining hall and the Common Grounds Café.
All around the dining hall there are a variety of information posters and info-graphs showing the multitude of programs and the efforts that the JSC dining hall puts into being environmentally conscious and sustainable.
Fondacowski said that he hopes these efforts contribute to community involvement in making the college more environmentally friendly and to educate people on the importance of living a sustainable lifestyle.
"If everyone read the posters and followed the rules, it would make such a difference," said Fondacowski.
These efforts to make the Stearns dining hall and Common Grounds Café more environmentally friendly include the transition from the use of regular plastic utensils and paper napkins to more environmentally friendly alternatives.
All napkins are now made from recycled materials and all of the utensils provided in the Common Grounds Café are now special utensils made from cornstarch, which means that they are both biodegradable.
Another program that Fondacowski implemented was the elimination of boxed lunches and paper wrapping for meals with the creation of the Eco-Wear program. The Eco-Wear program strives to eliminate water waste and paper waste by providing students and faculty with recycled reusable plastic take-out containers for meals.
In 2012, Fondacowski also started a composting program for all biodegradable waste created in the dining hall, through which composted food matter is given to local farms for fertilizer or for animal feed.
Fondacowski said that the dining hall also strives to use as many locally sourced products as possible from local farms and businesses.
These include milk sourced from local Vermont dairy farms, yogurt from Green Mountain Creamery, bread supplied by the Vermont Bread Company, pure Vermont maple syrup for cooking, and fruits and vegetables when they are in season from Black River Produce located in Springfield, Vermont.
By tracking these local purchases, the dining hall hopes to achieve their Better Tomorrow Plan commitment of 20 percent local purchases by the year 2020.
Despite these efforts, Fondacowski knows that JSC has a long way to go with becoming a truly green dining hall. He said that his goal is to eventually eliminate all trash within the dining hall and completely transition to recycling and composting all disposable waste.
Fondacowski said he cannot overly stress the importance of people paying attention to the programs and methods used within the dining hall so they know how and where to dispose of their food and recyclable waste properly. He said that community involvement is the key to making changes.
"More students need to get involved in the Green Solutions Club," said Fondacowski, referring to a campus club striving to educate the community on environmental issues and ways that students can become involved in environmental sustainability efforts around campus.
Kayla Barss, president of the Green Solutions club, notes a variety of actions people can take to live more environmentally friendly lifestyles.
"Good ways for everyone to incorporate sustainable practices into their daily lives would be to turn off lights and unplug electronics when they're not in use," said Barss. "Using items like reusable bags when shopping rather than plastic bags, reusable water bottles, and not buying paper products are all simple ways that we as students can reduce our carbon footprint."
The Green Solutions Club's goal is to spread the word about the importance of living an environmentally conscious life and organizes a variety of outreach events including the annual Earth Day festival on campus and the Harvest Festival.
"At the moment, one of our dedicated club members is seeking the information about the amount of energy JSC has used in previous years and to challenge everyone on campus to lower our energy usage," said Barss.
According to Barss, there is a problem with the limited number of recycling bins around campus and that motion sensor lights should be used in more buildings on campus to lower the amount of electricity used.
"One of my main goals as the president is to make an environmentally friendly dorm floor for students who are committed to environmentally friendly practices," she said. .
Barss said that these dorm floors would be a living environment for people passionate about living a sustainable lifestyle day-to-day. The residents of the floor would be committed to monitoring their energy usage, composting food waste, and to be diligent about recycling.
"More than half of the things most people throw away can be recycled; check with your recycling company and see what they accept," said Barss.
While Johnson State College has implemented a variety of environmental policies throughout the years, with new programs and policies still in the works, both Barss and Fondacowski stressed the importance of community involvement and student effort.
Fondacowski said that students need to make their voices heard and encourages students to take action and plan out ways to make changes.
"If this campus is truly seriously thinking about composting in the dorms, it has to be a community effort," said Fondacowski.
Barss encourages anyone who has ideas or would like to implement a project for the Green Solutions Club to contact her at [email protected]
The Green Solutions Club meets every Thursday at 5:00p.m. at the Willey Library Learning Center in room 115 and all are welcome to join.