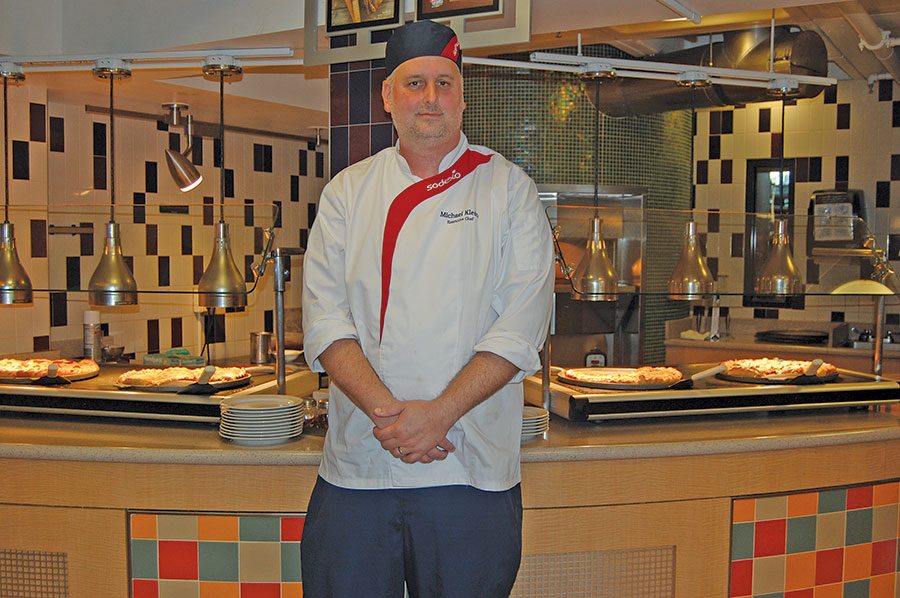 Kylie Brown
Among many other changes occurring on the Johnson campus, Northern Vermont University welcomes new chef, Michael Klein.
Klein began his career working for a restaurant associated with the CIA (Culinary Institute of America), located in New York. He then furthered his craft by working with a certified master chef for around five or six years. After having children, Klein decided he enjoyed working in a corporate higher education environment, mostly because the hours worked well for him and his children.
When offered the job at NVU, Klein says he jumped on the opportunity. "I like the environment and the feel," says Klein. "I went for it and I'm glad I did."
Klein has been working for Sodexo since 1999 and has worked for a few different institutions along the way including the University of Vermont and Saint Michael's.
"I've been in a kitchen pretty much all my life," says Klein. He has fond memories of cooking with his mother, grandmother and father. Klein's father began working in a kitchen after he broke his foot while working on a railroad going from Calgary to Vancouver. "Everyone in my family cooks," says Klein, noting that, for him, the kitchen is a natural and comfortable place.
Klein is enthusiastic about his work here and truly wants to provide NVU-Johnson with the best service possible. When it comes to menu options, he says there will be a lot of the same meals as we have had in previous years.
What Klein really cares about is making sure that familiar dishes are improved. "I'm trying to implement better quality," he said.
Klein has already replaced all of the yogurt with Cabot yogurt, as he believes it is superior to other brands previously used.
Another initiative has been to make all of the ground beef served in Stearns fresh and local. He says if buying local is an option, he will choose local. Price dictates what he can and can't do to some degree, but if it is possible to find local fresh products, he will choose them for the slightly higher price. "Ground beef is 80 cents more per pound when fresh and local compared to frozen Sysco," says Klein.
Although he admits to not being very familiar with many traditional foods for different religions, Klein does want to make sure all students get to enjoy their holiday meals. "I'll have to do a little research," says Klein. "My past experiences have been at Catholic schools so there was just a Christmas tree and ham and that was the way it was."
However, Klein says he is open to making dishes for students upon request.
For those with specific requests, Klein suggests filling out a comment card, which can be found in the dining hall. According to Klein, they are all read and taken into consideration.
Klein has now been here since the end of May and says he's still very excited by this new adventure. He goes on to say he's not only grown to appreciate those he works with, but also the students with whom he's encountered.
He noted a recent interaction with a student, who told him the food here has improved a lot already compared to last year. Klein said he cares about the student feedback and wishes to accommodate it to the best of his ability.
The new executive chef, in the past, has lived in Key West, but grew up in the Northeast, crafting his style as a chef through his experiences of cooking in both locations. His favorite meal, however, reflects neither: pepperoni pizza and a good beer.