Casino Night set for March 15
With black and white balloons and a grand entrance of a banner, the SGA has announced the theme of the 42nd annual Casino Night: A Royal Affair.
Aided by a countdown ending exactly at 9 p.m. on Tues, Feb. 5, SGA President Jessica Malskis and Vice President Dana Prouty released the blue covering on their poster (artfully designed by Emmet Erwin) to reveal the theme to a cheering group of about 30 students.
As the balloons descended, everyone raced to grab and pop one to find a winning ticket inside.
The winner of this game immediately won two free tickets to Casino Night.
"It was an awesome way to start the night!" Malskis said. "I really think it set the tone for the rest of the night."
This fun game wasn't the only thing that kept party attendees at Late Night until nearly 11 p.m. One senator walked around handing out blue raffle tickets, which were drawn later in the night to reveal a second winner of a pair of free Casino Night tickets. As well, students took guesses at the number of candies in two glass cups.
Casino Night is one of the largest events at Johnson. According to the SGA website, "The night is filled with glamor, casino games, delicious food, and an abundance of fun. Students and community members are invited to attend the event, which includes music, gambling and an auction at the end of the event."
After the initial hubbub, people settled down into seats to play party games such as Jenga and Apples to Apples. A tray of egg rolls, cheese and grapes was off to the side and enjoyed by all.
"I think the games and food really helped to keep people entertained throughout the night," said Malskis. Music blared from the front table under the catwalk, giving the whole cafeteria a "party vibe," as one student yelled from across the room.
Every 15 minutes or so, one of the senators pulled another blue ticket to announce winners of various NVU gear and paraphernalia.
Casino Night is all fun and games for students, but it also has a benefit to the community. Like last year's event, 100 percent of the proceeds of this year's Casino Night will go to the United Way of Lamoille County. Last year, SGA raised over $1,200 for the United Way, and they hope to do the same this year.
"We're all extremely happy that those of you who could make it could come," said the SGA, courtesy of their website. "We are so proud of this year's event, and we cannot wait to share all of our hard work with you."
Casino Night will take place on Friday, March 15, in the Stearns Dining Hall, from 8:00 p.m. to midnight.
Tickets go on sale beginning in March, with student prices listed at $7 a ticket, and Community Members at $10 a ticket.
About the Photographer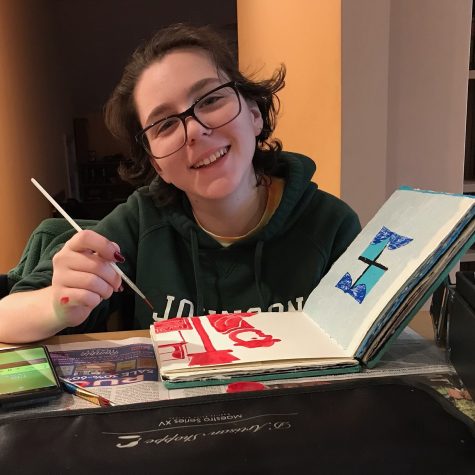 Rebecca Flieder, Editor-in-Chief
Junior, Journalism & Creative Writing
Grew up in Atkinson, NH
Fall 2018 - Present
Along with traditional journalism, I enjoy writing satire and...