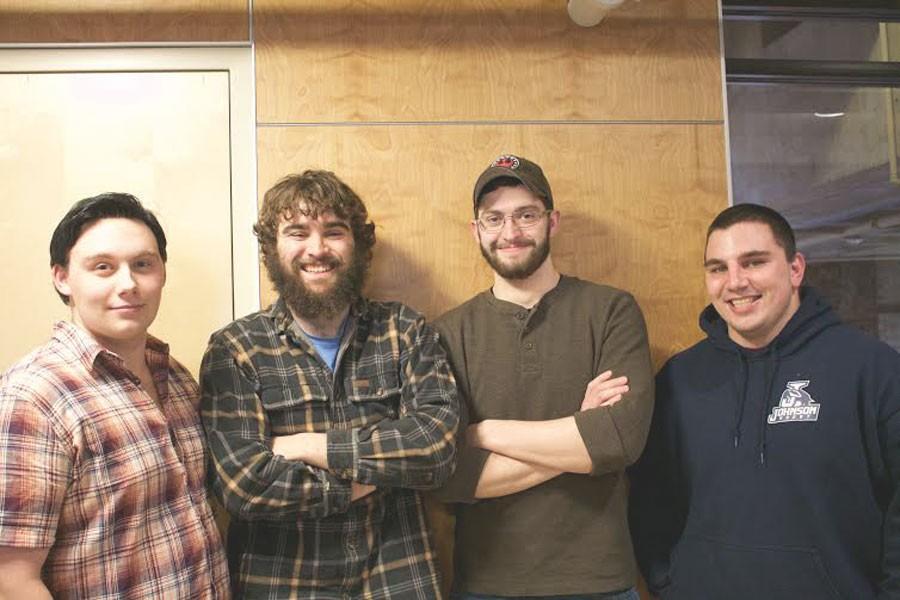 Mary Fafard
Beginning the season with some good fortune is always a good sign. Recently, Johnson State College's rugby program received generous donations from retired Johnson State College Professor of Business and Economics Tom Niles, who also served as the Rugby club advisor, and a group of JSC alumni.
"I know him personally, he's a great guy, and I called and was like Tom, we're having trouble because Andrew [Becker, former club president] is gone, we need help," said club treasurer Sawyer Masure. "He said 'okay if you can tell me what you need, I can help you,' and he did. He let some of the old rugby players know, so a lot of the alumni came in to [our] GoFundMe and put down $150 each.
"So far in the GoFundMe, we have 485 something dollars, and then Tom Niles himself said he'd match it, so he sent a check for 500," Masure continues. "And there are other [former] rugby players sending checks to the school."
Being a club sport, the women's and men's rugby teams have to devise their own fundraising and recruitment strategies such as 50-50 raffles and bake sales.
Even with all of the recent donations, Masure says recruitment has been a struggle so far this semester for the team.
"It's been a little difficult at first, because we lost Andrew Becker as our president, he mostly did everything," says Masure. "Trying to figure out how to do this without him has been a little difficult. But over the past couple of weeks we have been able to recruit some people."
Both the women's and men's teams are recruiting and fundraising heavily this spring, a strategy which players from both teams agree is essential to experiencing the growth curve that comes with being new to the game.
"We put an emphasis on recruiting in the spring for two reasons: one of them is because we struggle retaining members in the spring, because for some reason people seem to have a lot more night classes, and their schedules get filled up," said club member Marilyn Tagliavia, who was recently elected as the new division director for women's colleges by the New England Football Rugby Union. "The other reason is because it is our offseason, there's a lot more time for learning. So, in the fall, a new freshmen comes in and most of the new people who join the team have never heard of rugby, and all the sudden [it's] two to three weeks in and you're playing in a conference game."
With upcoming tournaments such as the Preston Cup at Johnson on May 1, new men's club president Andrew Lotto acknowledges the work that needs to be done to become a contender within their division this season.
"We just can't really give up. The rugby team was huge a couple of years ago, and now it's eight guys," said Lotto. "So we have a lotta, lotta work to do. We are working on our website, we're working on creating a new poster board for recruitments. We're staying on top of when club fairs are, and are trying to put up recruitment tables in Stearns fireplace lounge. We did a bottle drive last semester, and we're trying to think of more stuff to do so people know we're out there, and they're aware of our presence."
According to members of both teams, one of the unifying forces for the two squads has been club advisor Patrick Rogers, who oversees the operations of both men's and women's rugby.
"He's very enthusiastic about rugby. He gets so excited, sometimes we'll have to tell him to calm down," said newly elected women's club president Ellen Johnson.
Johnson understands that many people enter the rugby program without knowing what rugby is. "Most people haven't played rugby before, so we make sure to tell people when they first join that you don't need to know anything about it to understand it," Johnson says. "You'll be accepted into the family as soon as you go to a couple practices. If you need anything from anyone on the team, we'll give it to you."
As both teams prepare for the upcoming season, which starts this spring and extends into the fall semester, tournament play has players looking to get in shape early for the Alyson Finn Memorial Tournament in Johnson on April 13, and the upcoming Snow Bowl at Lyndon State College on March 12.
Men's secretary Jesse Feiner hopes to help his team to a new level of success for the fall. "Next year we're hoping we can get games where we're actually [going] to the playoffs," said Feiner. "This year we won four games, but they were all on [teams] just not showing up, forfeits, and nobody wants to win like that."
According to Feiner, any support the two teams can garner at these events is critical to fostering a sense of community between Johnson's rugby program, the school, and the town.
"I just want to see as many people from this school or community go out to Johnson rugby, because we are a giant family, and a giant community," said Feiner. "We live for people to come see us, to come support us. We don't want the program to die out."