"Amadeus" keeps the wolf gang of sudden complications at bay
A crowd of 48 people filed into Dibden Center for the Arts on Friday, April 25, to witness an interesting rendition of Amadeus, a play by Peter Schaffer, directed by Patrick Houle. Two of the 48 people in the audience brought with them bouquets of flowers for a few of the actors, but ended up leaving them on their seats in the front row when they walked out at intermission.
It also wasn't clear at intermission whether the play was over or if it was simply between acts, and a few others ended up leaving as well.
Amadeus is an imaginative play combining real and fictional accounts of composer Wolfgang Amadeus Mozart's time in Austria portrayed through the eyes of his rival Antonio Salieri whose jealousy got the better of him when Mozart came to town. God plays a huge role in the play as Salieri often prays for his help in getting rid of Mozart so that he may once again play and compose for Joseph II. At first Salieri was enthralled with the idea of Mozart, the prodigy, but when he finally met him, disappointment was the only feeling left, because Mozart didn't have the grace and poise of his compositions.
The narration, involving everyone freezing while Salieri gave commentary, danced between the past and present, beginning with Salieri as an old man, wheelchair bound, confessing his tale of murder, and ending with suicide as the old man slit his own throat. After going back in time to their first meeting, Salieri continues through his meditations on destroying Mozart.
Salieri was played by the director himself due to a last-minute medical emergency that caused Johnson State College Professor of Performing Arts Russ Longtin to pull out, and as the main character who was the mediator between past and present and recounts his story directly to the audience, he never left the stage, which made it awkward when he had to read his script for the duration. But Houle did have the minimal possible time before the show to learn his lines, and the prop designer, Taylor Brown, actually made his script look like a prop by browning the paper and turning it into a manuscript of sorts. Then again, why didn't they have an understudy for this occasion?
Given the limitations and lack of time that Houle had to prepare, he was a convincing Salieri. Houle tried to look up from the script as much as possible. At a few points his speech seemed choppy, like he lost his place, but he kept going and never missed a beat.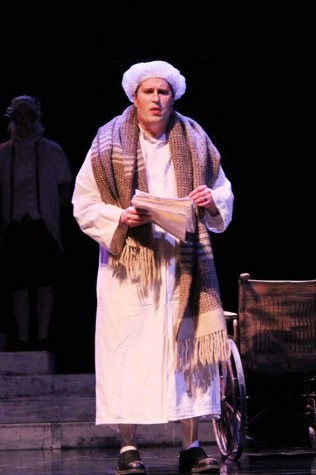 The parts of the play that elicited laughter were about sex, when Mozart, played by Dakotah Senesac, was crawling around on his hands and knees engaging in indecorous language saying such things as "I like everything backwards. I'd want to lick my wife's ass instead of her face," with his future wife, Constanze Weber, played by Mackenzie Brown, and they ended up both lying on the floor with Mozart lifting her dress up her leg, only for his hands to be slapped away in play. While rolling around on the floor, they realized that Salieri was in the room.
The actors were very convincing, especially Rachel Garnjost and Samantha Kilbride, who played the Venticelli, Salieri's purveyors of gossip and rumors. The lighting and sound produced by JSC Sophomore Josh Poland, 2012 JSC Alum Michelle Sawyer-Houle, and JSC Junior Zane Watkins, only added to the whole experience.
The set, designed by Jan Herder, Hannah Publicover, and Nicholas Ray, was kept relatively the same throughout the production, with a few tables and chairs being added or removed here and there, but it worked.
Amadeus was an ambitious play, and without Longtin at the helm, Houle did as best he could to portray Salieri in such short notice. He was convincing, as were the other characters, and it wasn't the most ideal of situations, but Houle is clearly a big proponent of the theory "the show must go on."
About the Contributor
Kayla Friedrich, Editor in Chief
Kayla served as a general assignment reporter and photographer for the spring 2013 semester.  She returned for the Fall 2013 and spring 2014 semesters...