An ensemble of food leads Hike for Hunger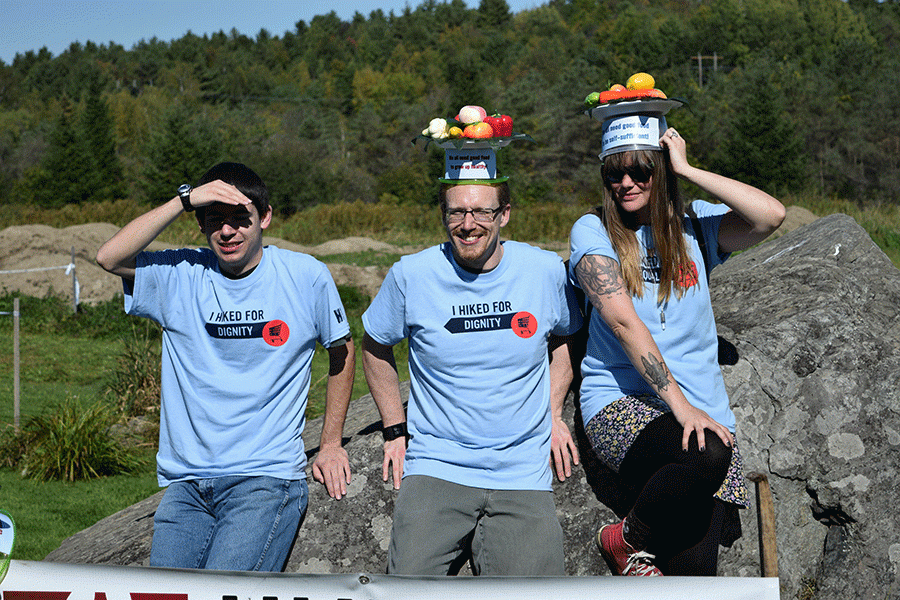 We left for the Hike for Hunger in the wee hours of the morning—or at least that's how 8:45 feels to me after eating Sodexo for five weeks, a privilege I can only now begin to authentically appreciate. At least I have steady access to food.
It was just the four of us: Alex Goudreau, an English major who does work with SERVE whenever he can; Sarah Golden, Johnson State College's coordinator for community service; Matt Hall, who drove a shuttle that was actually a soccer-mom minivan; and I.
Golden handed each of us a packet of "Vermont Hunger Facts," provided by Hunger Free Vermont, the group organizing the event, which contained noteworthy statistics about food insecurity in Vermont. Thirty-two percent of Vermonters can't afford nutritious food. Twenty-one percent of children in Vermont live in food insecure households. Roughly 12,300 Vermont children depend on food shelves each month.
Food for thought?
"Monica wants to meet me there," said Golden, "but I don't know what she looks like." Monica Taylor was the main contact for the hike and had enthusiastically insisted that she speak to Golden upon arrival. Golden seemed hesitant.
At around 9:50 we pulled in to the Catamount Outdoor Family Center, where the hike would take place. With the sun shining it should have been easy to appreciate the quintessential Vermont beauty of the scene. Bright green fields. Goats and cows. A tall, healthy forest. A couple dozen people doing yoga. Ironically, I noticed none of this at first because I was hungry and my eyes were drawn to the bagels, butter and cheese spread out on the food table.
Having pre-registered for the hike, we breezed through check-in and took our choice of a justice, empowerment, dignity, or equality themed t-shirt—all baby blue. After we had all put on our shirts, I realized that the crowd had grown to a solid 100 people, a very respectable turnout considering that the official firstgiving.com page had only listed 130 total supporters.
While Taylor cornered Golden, Hall, Goudreau and I made our way under the tent and toward the bagels.
It was just about this time that one of the organizers stepped up to the microphone, thanking us for showing up and raising money for the cause. A motley ensemble of people in brightly colored fruit and vegetable costumes began making their way down the trail. The children up at the front of the crowd fidgeted with anticipation, ready to sprint after them as fast as their tiny legs would take them, ready to claim the trivial prizes awarded for being the first to reach the costumed foodstuffs.
"Three, two, one, GO!" yelled an organizer. A dozen camera shutters clicked as the kids dashed off down the path, vanishing almost immediately around a bend. We adults followed, albeit with far less velocity.
Less a hike and more a stroll, this was a symbolic event. Nothing was at stake, and less was on the line. The money was already donated and we were now inexorably fated to reify the logical conclusion of the event's namesake.
I would estimate the composition of the trail to be 15 percent field and 85 percent woods, winding along terrain, which was 90 percent level. Stationed periodically along the trail were volunteers holding laminated signs printed with factoids about Hunger Free Vermont, who pointed us in the right direction when the array of colored arrows failed to provide the requisite level of clarity.
Goudreau and I ambled along, talking about our courses and our majors. We were resolved to walk the full three-mile course; certainly not the half-hearted 1 1/2 mile option, which shockingly wasn't the cut-and-dry preferred choice of all the participants. There must be a reckless nihilism hiding within a healthy person who chooses to halve such a short charity walk. It is not to be admired.
We circled back to where we'd been, and now it was time for pizza, photo-ops and the inglorious scramble for the lone portable toilet situated on the far side of the parking lot.
"How's the pizza?" Golden asked Goudreau. The sun had reached its apex and the morning chills had long since given way to early autumn heat. It was a curious time to eat hot pizza, freshly pulled out of the portable wood-fired oven set up outside of the tents. "Okay," said Alex, laconic as always. He chewed slowly. We who had wisely chosen to forgo the pizza laughed knowingly.
In the end, a total of $12,542 was raised out of the somewhat ambitious goal of $35,000.
It was only later that I learned—with a total of $1,025 raised—Team JSC was the third highest contributor out of the 27 participating teams. However, with the number one team only coming in at $1,250, I thought it was a real shame that a few more people from our college hadn't participated.