A note from the editor…
This is what I wanted to say in the beginning, before we had some frustration with the White Paper. Now that the Board of Trustees has committed to listening, I think we can redo our introductions.
You should still attend your school meetings on Tuesday during Common Hour and please, please, be vocal about your needs as a student. See your email for information. I've also included some of the info down below in the pink box.
New students, this is a really exciting time for you and the whole campus, and I urge you to take advantage of everything that comes your way. We here at the newspaper are behind you 100 percent. My job as editor is to deliver you the news, supported by my team of amazing student journalists that believe in the power of community journalism. Please, use us as a resource. Read our columns and reviews, and trust that we have your back on important issues like financial aid and academics. We pour our hearts into this thing because we care.
If you ever want to reach out, we're available. Basement Medicine's website, basementmedicine.org, has an anonymous tipline. Want to talk directly to us about something important? [email protected]. There is no end to the ways that you can tell us what's up. I check that email obsessively.
As our advisor, Tyrone Shaw, likes to say, "know that here you are cherished." He's right. Your voice is just as important as anyone else's. We're here by the people, for the people.
All that we ask is that you keep supporting us. Talk to our journalists about the things you care about most. Ask questions and use your voices when you think they need to be heard. Maybe even think about joining us! We'd be glad to feature your thoughts in a column, or have you join us as a reporter.
I want to thank all the amazing people that help us get where we are today. Over 30 years of amazing journalism and I get to be editor during my tiny time here at NVU-J. Both SLAP and SGA will be contributing articles this semester, along with Seana Rowell returning as our mental health and wellness columnist. We'll have reviews, chats, silliness and seriousness: all for you.
The people in every department high and low have worked with us, to tell the truth, the whole truth, and nothing but it. You'll find satire and silliness here sometimes, too, don't worry!
If you read something you like, say something. We like all commentary, whatever it may be. Have a student event you'd like to advertise? Drop us a line.
Here's the thing: being a college student is far from easy. You spend most, if not all, of your money to come to a place where they feed you and teach you and then you whirl through it as fast as you can while gripping your health as tightly as you can. You'll have long nights and early mornings, chats with friends until 3 a.m. Plenty of greasy and salty food at Late Night, and trips to Lower Pond. When it starts to get dark at 3:00 in January, take a trudge down to Lower Pond as the sun sets. Bring some winter gear and maybe some pocket warmers. It'll be worth your time.
Here at NVU, you might make some unexpected friends, or maybe even find love. You'll spend hours upon hours studying (I hope!) and find that maybe sometimes a walk in the woods at night can clear your head like nothing else.
I have never met a community of people I hold more dearly than the community I have found at NVU. You'll find all the most wonderful people here: skaters and weirdoes, hikers, knitters and writers, lovers and lovers of silly people, athletes and musicians and so much more.
Nights in September are the best for evening hikes. If you go up past the VAC to the snowboard hill, there are trails winding through the woods. The outlets near the apartments and by Physical Plant are the best two to see the stars. I always like to say, "It's either a good time or a good story," and you can bet that a mindful walk through the dark woods will be both.
Please share your stories with us, and we'll continue to support you as best we can. While each club and group that hangs out somewhere on campus is like a limb on a tree, the true trunk of this so-called tree is the support we give each other. When we build each other up, we can grow to new heights. (If you're totally rolling your eyes at that ridiculous metaphor, I understand.)
So, welcome, freshmen, transfers, and non-traditional students. You're all part of the family now. Let us know if you need anything. And to all of us that are here another semester for the ride, come say hi (and maybe introduce yourselves again!)
Drop us a line. basementmedicine.org or [email protected].
-Rebecca Flieder, Editor in Chief
About the Writer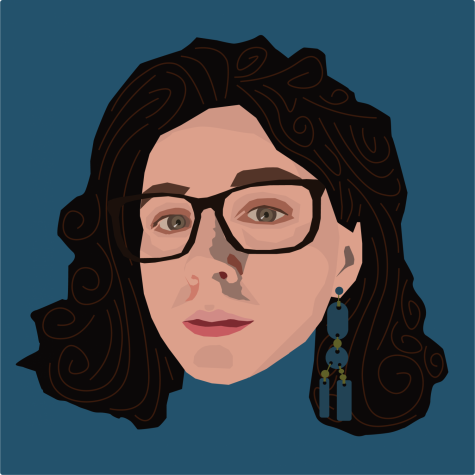 Rebecca Flieder, Editor-in-Chief
Senior, Journalism & Creative Writing
Grew up in Atkinson, NH
Fall 2018 - Present
Along with traditional journalism, I enjoy writing satire and...