A note from the Editor…
Welcome back to Johnson, everyone! I am thrilled to announce a couple of new things coming to Basement Medicine this semester.
First, I urge you to check out our new columnists on pages 5 and 7. Returning to the Forum section are two old favorites: SGA and SERVE. With the veterans, you'll also find newcomers, such as Opal Savoy's punk science column, Harry Abramsohn's impeachment opinion and Elaine Harvey's notes on belonging.
The President's Student Advisory Council will also be contributing a column, and they urge you to send an email if you have questions for President Collins.
We have two new staffers, Solil and Justin, and a cadre of crusty returners, all whose goal is to bring you the news every other Thursday.
Each reporter, each article and column, they are a testament to the vibrant, diverse thought that exists on this campus. We want to foster that at Basement Medicine as best we can.
See something that moves you? Want to get involved? Send us an email: [email protected].
We're going to branch out and be more active in the community. Want to know what's going on in town? Check out Basement Medicine– there's some exciting new development Johnson. Page 4 has my select board meeting recap, though I urge everyone to make it down to the Municipal Building at least once to introduce yourselves.
Thank you to the select board, by the way, for welcoming me to your meeting on Monday the 3rd. I mostly enjoyed it. I'll be back next time!
There's a lot of new stuff coming to campus—new programs, professors and personnel. We're at an incredible crossroads, where we as students can be active participants in bolstering the University through its transition period of unification. Don't get me wrong, we've had our bumps in the road. But I truly believe that we can contribute positively through this process.
The spring semester is primetime for burnout, so I've included some tips that might help you get through to May, when the snow will finally melt.
One—wash your hands. Regardless of what nasty illness is sweeping the campus, you should keep your hands away from your face and keep them clean. Bring your sick friends some soup and then stay the hell away. If you do get sick, stay in bed or go to the doctor. Your professors will understand if you don't want to infect the whole student body. In the mean time, get some veggie broth into your student-body.
Two—be kind to yourself. Being kind to others is something you should know already, but not many people take enough time for themselves, for self-care. Take a deep breath occasionally. Treat yourself to some ice cream. Didn't do so well on a test? Forgive yourself, eat an Oreo, and pledge to do better. Pobody's nerfect.
Three—eat well. A rainbow on the plate is the best possible course of action. Get it? Course? Ha! I promise eating a couple leaves of spinach every once in a while won't kill you, and neither will an orange or two for breakfast.
Four—go to class. Please, your professors are begging you. Go to class. The best thing you can do to improve your grade is to show up, ask questions and be engaged. Tip them generously! (Just kidding.)
Now be free, my friends. I hope that this semester is the best one yet. May the skies (and maybe your acne) clear up as we head into mud season.
-Rebecca Flieder
Editor-in-Chief
About the Writer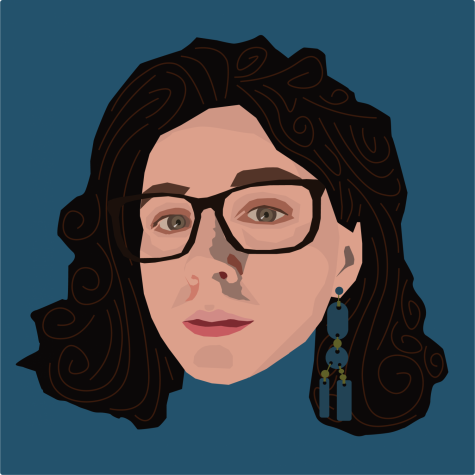 Rebecca Flieder, Editor-in-Chief
Senior, Journalism & Creative Writing
Grew up in Atkinson, NH
Fall 2018 - Present
Along with traditional journalism, I enjoy writing satire and...