A note from the Editor…
I went to Vermont Vaudeville's new show, "Cream of the Crop," on Friday, May 3, and it left me thinking in a way I didn't expect.
If you're unfamiliar with Vermont Vaudeville, you should know that you've been missing out. They came to NVU last semester, and the show was hilarious! VV is the collaborative comedic effort of a whole bunch of local comedians and a great gaggle of guest performers. It's comedy about Vermont, for Vermonters. Their slogan is "Laugh Locally!" There are seven performers in the main cast: Justin Lander, Rose Friedman, Maya McCoy, Brent McCoy, Otto Muller, Maura Gahan and Gorilla.
Yes, that's right: Gorilla.
Vermont Vaudeville won the 2018 Seven Daysies award for Best Comedy Troupe in Vermont, which was well-deserved. This new show, "Cream of the Crop," was full of hysterical jokes and comedy, with Friedman and Lander performing a duo act involving a giant toilet and Wood, with a long-but-very-much-worth-it buildup, catching a cabbage on a helmet covered in spikes. Even their signature exclamation, "Harrumph!" was included.
Beyond all the laughs, though, there's a reason for it all: philanthropy.
Every extra dollar goes right back into the restoration of the Hardwick townhouse, which, when VV started, was crumbling. To quote a Seven Days article, "All four founding members of Vermont Vaudeville serve on the Hardwick Town House board, and they solicit donations for the venue at the start of each performance. To date, they've raised more than $10,000. Their in-kind contributions, while essential to the success of th eir shows, also benefit anyone who uses the space. McCoy says, 'The crown jewel of this whole project is that this historic building has found new life.'" The townhouse, when we were there, had comfortable seating and freshly-painted floors.
The other fascinating aspect of this is that so many community members come together to see the show. Friday night's performance was sold out, but people didn't head for their seats right away. There wasn't an animosity in this crowd, or a sense of being rushed. I watched cast members, fans and friends walk around and greet each other, smiles wide on their faces. The two girls sitting next to me in the seats were (I think?) personal friends of one of the performers. People greeted one another loudly and with great gusto. While I was waiting in line in the bathroom during intermission, I struck up a conversation with a woman about the history of the townhouse. In the middle of that, another woman walked by, then, with sudden recognition on her face, squealed, "Oh my gosh! It's been forever! How are you?" and the two embraced.
I made an off-handed remark about how the population of the entire Northeast Kingdom might as well have been packed into the venue that night, and they laughed and then continued to catch up.
At its heart, Vermont Vaudeville is all about the community. One hilarious bit made fun of Chittenden's water supply, comparing its taste to that of kerosene. Another referenced mud season. This locally-produced, locally-sourced comedy is close to home for its audience, both physically and emotionally. The jokes that got the most laughs were either 1) making fun of something stereotypically-Vermont, or were 2) making fun of Vermonters themselves.
I have to admit that, normally, I hate crowds. They're just swirling, writhing masses of people who are varying levels of gross. I will admit I can be a bit of a germaphobe in this kind of environment. I can't move freely or speak at a regular talking voice, or avoid when someone accidentally spits. I have to manage my belongings and be mindful of my clumsy body parts, and hope that I don't step in or bump into something nasty.
But this crowd was different. This audience was a community of people, Vermonters, who care about their state and the art that comes from it. I didn't feel uncomfortable, even surrounded on all sidees. These people are dedicated to the show– a couple sitting in front of us said they'd been coming to the Townhouse to see VV since its inception in 2009.
I talk a lot on my invisible soapbox about being kind to one another, and this is no exception– while the comedy is great and the ticket price is affordable, ($18 a person for this quality of production is a steal in my opinion) audiences like these come back to enjoy from-the-heart performances.
This is my way of saying if you find something you love about your community, support it in any way you can. If you value Basement Medicine's contribution to the University, think about sharing an article. If you think Sodexo makes the BEST pulled pork, let them know with a comment card. If you LOVED a professor's class, tell them in the class evaluations or (gasp) to their face. People that support one another in creative and civic endeavors routinely seem to be happier people. In my case, I'll keep donating to and attending Vermont Vaudeville, because I think it's the kind of theater we need in the NEK. Maybe they'll even come back to NVU for a repeat performance. Harrumph!
This is our last regular issue this semester, but I'll be back. Thanks for a great fall, everybody!
-Rebecca Flieder
Editor-in-Chief
About the Writer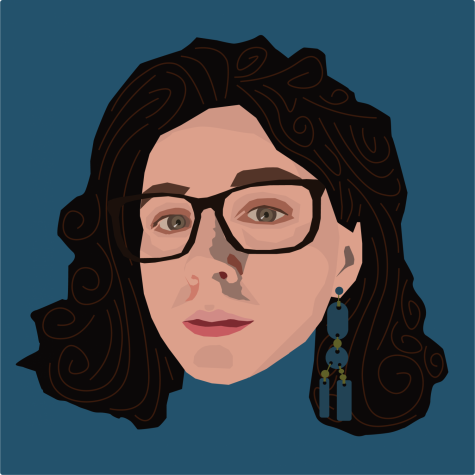 Rebecca Flieder, Editor-in-Chief
Senior, Journalism & Creative Writing
Grew up in Atkinson, NH
Fall 2018 - Present
Along with traditional journalism, I enjoy writing satire and...