Men's volleyball is off and running in debut season
The men's volleyball season is in its first season as a Division III program at NVU-J. The team, led by Head Coach Keven John, has started off strong despite losing their first three games of the season so far.
John believes they are in the early stages of developing their skills but have so far exceeded his initial expectations.
"We are very novice, that's the term I've been using," he said. "We have basically only had six last week, but the guys have been great. We are up to 10 now but the guys have worked their butts off and come a long way in one week. They are optimistic, hard-working, absorbing a lot of information. I have coached a lot of novice groups and this group has come as far as any that I've had. We ran some complex drills this week that I did not anticipate that we would get to this month, and we got it done in less than two weeks. Those drills are all about transitioning the speed of the game and they were keeping up with the speed of the game. We are going to look like a volleyball team across some of these other teams that we have scheduled this season. I wasn't sure if we were going to pull that off, but they look tough and we are going to keep getting better."
One of the new players to the team and the sport is Jesse Streeter. He has enjoyed the sport thus far, despite being injured.
"It's been a good experience," he said. "It's unfortunate that I haven't been able to play [in an actual game yet], but I'm enjoying just being around the team."
They play a non-conference schedule to start their inaugural season against teams like Sage College, Pratt, and Colby-Sawyer College. Next year, they will start their first year representing the New England Collegiate Conference (NECC) as the North Atlantic Conference doesn't currently have any other member schools that offer men's volleyball. Eight of the 10 member schools of NECC offer the sport.
For Associate Dean of Athletics Jamey Ventura, there are two perks that stand out when a team joins a conference.
"We knew we were going to add men's volleyball, but the conference that we're in doesn't sponsor men's volleyball," he said. "We knew all along that we needed to find a home. There's a lot of advantages with being in a conference, but one that stands out is scheduling. You know that you are going to get a number of games. The NCAA requires you to play a minimum number of games. When you're not in a conference, it's hard to find all of these schools because they are playing all these conference schedules and they don't have many dates available, so it makes it challenging. The other reason is that for teams they want to win a conference championship so they can go to the national NCAA tournament. If you are not in a conference, you can get at-large bids, but they are few and far between and you have to have a phenomenal year to even be in the discussion to getting an at-large bid."
John doesn't have a great feel for the other teams they are going to play this year. But he emphasizes that this year is more about building for the future while putting in the work every single day.
"We have researched the teams from last year, but obviously things can change a lot in one year," he said. "So it's to say that all these teams are going to be exactly the same as last year. Until we get video from this season, it's going to be really hard determining what our expectation is for results. But what I expect and what is happening is that these guys are going to play an entertaining brand of volleyball, people are going to come in and say 'wow, this is fun to watch' and we are going to compete every single day. Whatever the results may be, the idea is that we are putting a foundation down of a skill set, work ethic, and an attitude that [is] going to carry us through years in the future. That's the bigger part of what I'm looking for and what I care about."
About the Contributor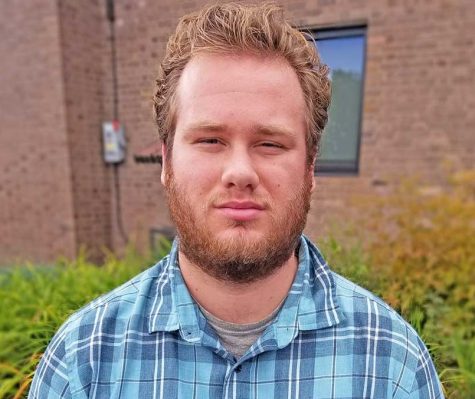 Patrick Bell, Sports Editor

Senior, Journalism
Grew up in Charlestown, RI
Fall 2017 - Present