Casting of "Hair" offers challenges and opportunities
When Isaac Eddy decided to put on "Hair" as the next school musical, it created a stir among his students. That's what he was hoping for.
"In the late 60s, when ["Hair"] was on Broadway, it was really groundbreaking. It was the first [musical] to have a fully racially integrated cast," said Eddy, a theater professor and the show's stage director. "It's a play that literally cannot be done properly if you don't have non-white actors in the show."
That integrated, diverse cast will be a challenge to find. "We have this common issue in a… rural Vermont college setting," said Eddy. "Our program, musical theater…, is predominantly white students, white faculty, our community at large [and] campus is predominantly white. But does that mean that we just shouldn't try to put on a show like this?"
To get a large, diverse cast, Eddy and his team are putting out a broad casting call to the whole campus, beyond just the theater department. They are encouraging all interested students of any race to audition.
Despite the casting challenge, Eddy wants to make it work. He thinks "Hair" can start some important discussions on campus.
The musical centers on a group of hippies in New York City in the sixties. "I find a lot of class and race problems with the hippie movement in the 60s," said Eddy. "The more that it's getting looked at…, there's a lot of misogyny and a lot of patriarchal systems restated within this supposedly no-holds-barred, no-rules system.… Like we're going to tear down the system and yet what we have in its place is… a mini-version of what we're tearing down."
"There's a lot of the musical which is about the problems of patriarchy and misogyny," he continued. "It tackles a lot of issues, with race front and center as opposed to just kind of glorifying this flower child thing… 'Hair' is more relevant and more quote unquote 'brave' now than maybe even in the late 60s."
Bethany Plissey, the show's music director, said that the show also tackles themes of sex, drugs, war, and class.
As part of confronting race, "Hair" contains the song "Colored Spade," sung by a black character. The lyrics includes various slurs and stereotypes about black people.
"This is something that we talk about in theater all the time. Why do we want to have that content?" said Eddy, "Because it's so hurtful, right? But also, it's so much a part of our country that if you don't, you're ignoring and being complicit in some way. And if you have a person, basically in blackface, that is singing racial slurs, it's just doubly problematic."
When theater students Gabby Colby-George and Katelyn Shaw first heard that they were doing "Hair," they were skeptical about the casting.
"We just sat there and talked for an hour and a half about how we were going to pull it off," said Colby-George. "We started like naming… people on campus… and trying to figure out if they would do the show."
"It's a large cast anyway, and our numbers are not super high," said Shaw. "Putting an actor in a role is hard enough."
According to Plissey, there are now just six musical theater majors. Years ago, it was 20-25.
Concerned, Colby-George and Shaw approached Eddy about it. "It definitely took, took balls to go to Isaac and say, what the hell are you going to do? How are you going to do it?" said Colby-George, who is in her first semester of musical theater.
The confrontation turned out to be productive. "Every time I've brought something up to Isaac Eddy, the one thing he says is, let's talk about it," said Colby-George. "We sat down. We talked about it. Tried to figure out what might happen if we couldn't pull it off. What would happen if we did. How awesome it would be if we did."
Skylar Bradley, another first-year theater student, also brought up concerns with Eddy. "I think Isaac is just a very honest and caring professor.… He took it very respectfully and gave us really respectful feedback. He wants to know how we feel because our opinion matters as much as his. And he definitely showed that when we talked to him…. That was really comforting as a new person to NVU."
"We want to actively have non-theatre majors audition for the show," Eddy said, "and so we're having an info session… in November, and then we're having our auditions a little bit early in December…. The reason is so that we get the word out soon so that we can get up just a much wider pool of auditionees."
"But in that," continued Eddy, "you start to get you rub up against other issues. Potential tokenism, and also approaching non-theater majors about the show.…Depending on who you are approaching, it's like, are you approaching me because I'm because I'm a person of color?"
"We didn't want the message to come across that people of color need to audition. We want people to audition because… they want to," said Colby George. "That was one of the biggest things that I brought up to Isaac.… I want to get a part… because I did well, not because I'm biracial."
The real goal, says Eddy, is to get the campus talking about race, along with the other issues that "Hair" brings up. "I'd rather talk about this stuff, even though it's hard to talk about, than be quiet…. Just in saying we're going to do this production, it's already starting a conversation that I think is really valuable and really important."
Colby-George, Shaw, and Bradley agreed that these conversations were important. Each of them grappled with the lack of those discussions in their upbringings. They felt like there was a lot of fear around saying something insensitive, without the education to know which things to avoid, or the diversity to have any context. Colby-George said they were part of a "politically confused generation."
"In Vermont, specifically… I think there's things that are tiptoed around… There's not a lot of diversity here," said Shaw.
Colby-George, who is biracial, said, "Every year I hated that I never learned anything [in school] about who I was specifically."
Eddy is open about the fact that he doesn't have all the answers. "I wanted to talk about it… with Basement Medicine… to be kind of transparent about this problem…, and to make it more of a campus-wide discourse as opposed to me, white straight guy with white fragility just kind of bumbling along," he said. "My hope is that in the end, it's something that will really tear down a lot of the blockages that we have in our college when talking about this stuff."
Despite the extra work it will take to find a diverse cast and integrate non-theater majors, Eddy and the students seemed optimistic about the show.
Bradley said that after his conversation with Eddy, he thought, "Maybe I actually do want to do more with this. Because he's willing to fight for it, he's willing to put effort in, I am too."
"I think that there's ways I think there's ways that we can do it," said Eddy. "Having the conversation is a really important first step. And then hopefully ending with… a big party on stage."
All are invited to an info session about the production on Thursday, Nov. 21 in Dibden 202 at 11:30 a.m.
If you are interested in auditioning, email Bethany Plissey at [email protected] to set up a pre-screening. A pre-screening is a short appointment to determine vocal range.
Auditions will be held Dec. 9-12.
About the Writer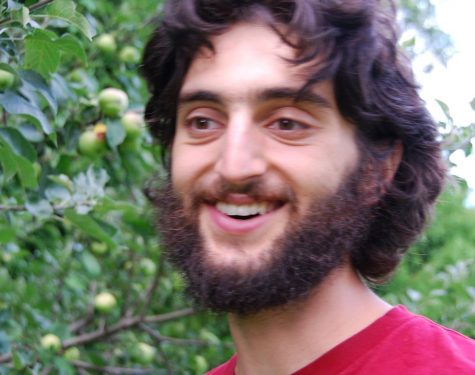 Ari Erlbaum, Staff Reporter


Senior, Professional Studies
Grew up in East Montpelier, VT
Fall 2019 - Present

In my spare time that I pretend I still have, I play saxophone...