Students bring "Two Rooms" to Dibden
"Two Rooms," a senior project shared by Performing Arts majors Claire Demarais and Taryn Glasser, will be performed in Dibden Center for the Performing Arts on Saturday, March 17."Two Rooms" gets its name from the setting of the play, written by Lee Blessing.
One room is a windowless cubicle in Beirut where American hostage Michael Wells, played by senior Dan Schurman, is being held by Arab terrorists.
The other is a room in his home in the United States, where his wife Lainey, played by Alijah Gauthier, has stripped all furniture, cleaned and painted so that, at least symbolically, she can share his ordeal.
This same room with only a mat on the floor serves as both places and the locale for imaginary conversations between the hostage and his wife.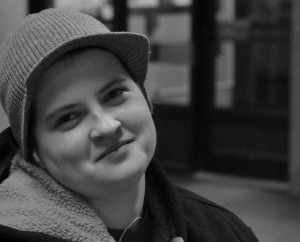 It is also the setting for the real talks she has with reporter Walker Harris (Thomas Bartlau) and the State Department official assigned to their case Ellen Van Oss, played by Claire Demarais.
Senior projects should generally be about an hour long. Since the play itself is about an hour and a half, however, Glasser needed another senior to participate with her. Thus, entered Demarais.
During the directing class the pair took together last year, Glasser directed one of the "Two Rooms" scenes and Demarais played Ellen Van Oss, the State Department official assigned to the case.
That turned out to be her audition. Glasser offered her the role of Ellen, which, Glasser said, was "perfect for her" and Demarais accepted it.
"This is a compelling piece designed to make us think," said Glasser, who has a passion for plays that make people think. She heard a performace of a monologue from the play last winter at the American College Theater Festival, and she began to plan.
"It's different from what we normally do," said Glasser. "We've done a couple comedies this year. This is definitely a serious drama. There are bits of comedy in there, but it's mainly a serious drama."
The play is about the a basic struggle of finding out who you are and what you want.
"It's a very current piece," said Demarais. "It's written in the 90's and it takes place in the 90's, but everything that they're talking about is stuff that has been paralleled in the last few years. It was written about the first Iraq war and takes place during that time. There are a lot of very interesting philosophical and ethical points.".
"Two Rooms" brings up a lot of ethical issues regarding how the government deals with hostage situations as well as how the press deals with these situations.
"How far is too far? And how does it affect the people involved in ways that the everyday person who doesn't have a loved one taken hostage in Beirut?"said Demarais.
Also included in this project are Jon Howard in his stage managing debut, Kate-Lynn Pal on props and costumes, Michael Brokowski doing the lighting, and Liz Glasser and Shannon Edmonds on projections.
Their faculty adviser for this project is Russ Longtin.
After deciding to do this project last spring, plans moved forward until auditions were held in November. Glasser, Demarais, and Howard chose cast members at that point.
This was a perfect project to provide a new stage manager with much-needed experience in a more straighforward production.
With many of the participants also being involved with JSC's spring musical, "Spring Awakening," rehearsals got crammed into busy schedules between rehearsals for other projects.
"We ask in this play so many fascinating questions that every day Americans just living their lives don't think about because war isn't here," said Demarais. "We haven't had to fight for the ground we stand on in so long. That's what's happening over there and it's terrifying to think about. Even when we send soldiers over there, it's not their ground. They have no attachment to that place."
"It's about a specific event," said Glasser, "but if you look at it, it can be more than about just this one family, this wife and husband. It can relate to more than just the two people."
The play will be performed at 11 a.m. and 7 p.m.
Tickets are free for members of the JSC community and $5 for the general public.