The world through Miller's lens
Professor of Fine & Preforming Arts John Miller spoke at his new exhibit on Oct 18 about his new photographic works Human/Nature which are displayed in the Julian Scott memorial gallery. The images range from Native American casinos to supermalls, and fighter jets to church yards while exploring the relationship between humans and the natural world.
"The premise behind Human/Nature is the relationship between humans and land, though not necessarily humans' imprint on land. It could almost be nature divided by humans (the title could have been switched around) or humans divided by nature, ambivalence between humans and nature," said Miller.
The exhibit will run from Oct. 15 through Nov. 3.
A crowd of students, professors, locals and friends of Miller gathered to hear him speak about his new collection and the journey it took him on.
In 2010 and 2011 Miller was granted a sabbatical from teaching at JSC to pursue his newest collection of work. During this time he traveled to Italy twice and took a road trip across the United States.
"Having been a photographer for over 40 years I have photographed many facets of Vermont culture and have since photographed in a number of regions in Italy over the past 13 years. There's familiarity there," said Miller when asked why he chose these places for his project.
Before his venture Miller spent a lot of time preparing and scouting the areas he would travel to. "I had a loose plan going into my trips on what I wanted to do," Miller said. "Originally I planned to photograph examples of land preservation, regional food production and how land figured in regional identity."
When he arrived in Italy he found himself taking a lot of traditionally beautiful photographs of the people and food. "At a point I realized I didn't need to make any more of these images. There are already millions of them out there," said Miller. "What could I do differently to address it?"
Adopting a different strategy, Miller shot an image of two fighter jets in Umbria, Italy, later named "Wheat Fields, Ponte di Ferro," and something clicked. "This project was going to be about how humans and land coexist," Miller said.
He then charted airplanes to get a better view on his subjects. He also tried to immerse himself in the culture as much as possible from helping ranchers chop through ice after a severe freeze in the U.S. Southwest to immersing himself in Italian traditions.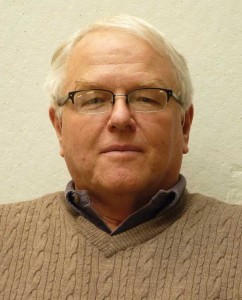 Miller's images range from shepherds in the fields of Italy to super malls in the American Southwest. A powerful image he took is a Wal-Mart on the corner of a road that leads to nowhere; it just ends after the store. "I was driving down the highway and saw a sign for the town of Truth or Consequences, New Mexico and I had to check it out," Miller said. "I drove through the town and all of a sudden the paved road just ended and there was desert. It was symbolic for me relating to my project. Though I'm not claiming to be an environmentalist or politician, this could just not be overlooked. I'll let the image speak for itself and you decide."
An image of old store fronts where a prosperous town once stood, now completely abandoned, looks as if it could be out of an old western movie with the dust balls rolling by, while other images show super malls with heavily manicured landscapes sitting in the middle of the desert with the bright blue sky backlighting them.
Not all the images are so obvious in their connection between humans and nature. A photograph of a men's bathroom in Italy, with its vibrant blue tiles "represents the blue grotto aspect of nature, but you don't necessarily see the land," said Miller.
"Something else that really stood out to me in this project was the names of all these streets, condo developments and shopping plazas in the Southwest. Most of them are named after Native American names and symbols. They're not bad people designing these places but to look, preferably in the aerial photographs, the people have created anything but nature."
The exhibit that is showing now is "just the tip of the iceberg" says Miller of the thousands of images he captured on his travels. Miller intends to expand his exhibit as it travels around the state and plans for a book are in the works.