Mix cafe cooks up country feel, sumptuous specials, and impeccable French toast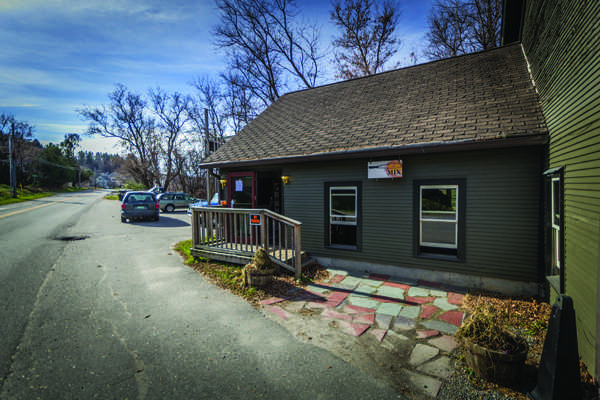 "
As you enter the quaint dining room you can immediately sense the 'country-like' feel to this café, but one shouldn't be fooled into thinking this is just your plain small-town diner.
The Mix, a small breakfast cafe nestled just behind the Jeffersonville tavern, is always a relaxing treat for anyone who dines there. As you enter the café you are always greeted by a smiling face and an option to sit at their small breakfast bar, which includes free gazing into the kitchen to watch your meal being generated (most of the time) from scratch, or the dining room. Seeing that I was with Ray and Mat on this occasion, we chose the dining room.
Along with the greeting you are engulfed in aromas that remind you of a classic country kitchen and powerful notes of organically grown local coffee beans. The owner, Carrie Ferguson, places using local ingredients in her café as one of her top priorities. From the Valley Dream Farm in Cambridge, VT (located about 5 minutes from The Mix) to Vermont Smoke and Cure in Barre, VT local meats and produce are prevalent throughout the menu.
The sight of fresh breads being made right in front of me was very refreshing since many restaurants resort to store bought bread. The Mix, on the other hand, does not conform to this "chain standard". Not only do they make their own bread, but they also offer a wide variety of homemade to their customers. From whole wheat to cinnamon raisin all of their breads are made in house.
As you enter the quaint dining room you can immediately sense the "country-like" feel to this café, but one shouldn't be fooled into thinking this is just your plain small-town diner. With nicely stained wood  tables, solid hardwood floors, and paintings, photography, and other forms of artistic expression from local artists, The Mix provides quite a nice mixture of old-country charm with modern décor.
We were quickly welcomed by our waitress, presenting us with menus and coffee. The menu has a good array of choices, all of which seemed to be from, what I thought, would be a high class café in a large city. I ordered the Crème Brûlée French Toast with drunken blueberries. As a strong believer that French toast is the best breakfast a person could have, I was going to be a tough critic to please.
Ray, who is a Mix regular, ordered his favorite, the Breakfast Flatbread. The Breakfast Flatbread's description is as follows: sausage, apple, caramelized onion, cheddar sunny side up egg, and home fries.  Ray, exclaimed that, "what is nice about The Mix is that they have a good series of specials, but today it's all about the flatbread."
Mat on the other hand, ordered something more classic. The Basic, consisted of two eggs, home fries, and toast. You are welcome to customize your Basic by adding anything from bacon to vegetables.  Both the Breakfast Flatbread and the Crème Brûlée French Toast cost $8 each and Mat's Basic was $6.
These prices were mediocre, in my mind, but when our waitress brought over our food in a, worth noting, timely fashion, I realized that the food prepared here was far being what someone may call "medicore"! The presentation of both Ray's meal and mine was just plain elegant. My dish was a good portion of perfectly cooked French toast covered in succulent blueberry syrup with fresh blueberries. Powdered sugar was surrounding the toast if I wished to add some heightened flavor, but flavor was the last thing that this dish was lacking. The toast was just crunchy enough on the outside that you had good texture but the inside was light, fluffy and soaked to just the right consistency by the Crème Brûlée, blueberry syrup and maple syrup( which I added to keep it classic). It was just delicious.
Ray was once again delighted with his Breakfast Flatbread. Caramelized onions, mixed with juicy sausage, that were draped on an egg with melted cheddar cheese had me positive that the next time I was at The Mix, this was to be my choice.
Mat's "Daily" was exactly what he wanted and he was perfectly satisfied from the portion.  The service throughout the meal was excellent and it was nice to see the personality of a server come through.
I was glad to see that there were no "eye-opening surprises" that made up our total. The Mix is not a very expensive café but not a very cheap joint either. This is an eatery at which you can obtain high-class dishes in a not so high-class environment and be relaxed and comfortable during the time you spend there. Their hours are everyday 7-2 but sadly, The Mix will be closed until Nov. 15 for renovations.
Finding The Mix is not that big of a problem, but the parking can be, so get there early. Located right behind the Village Tavern, The Mix sits at the intersection of Upper Pleasant Valley Road and Church St.