Exhibit showcases three BFA students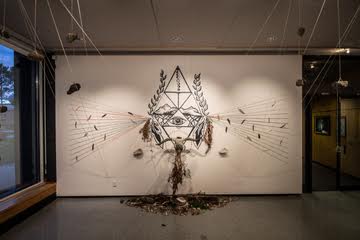 Ira Musty, Ashley Shotwell, and Brittany Daniels are students pursuing bachelor of fine arts degrees and have been working towards their final B.F.A. exhibits since they arrived at JSC. On Nov. 13, 2013, each of these artists gave a presentation which included brief talk. The students explained what their exhibits consisted of and how they got to where they are today with their artwork before answering a series of questions from the audience.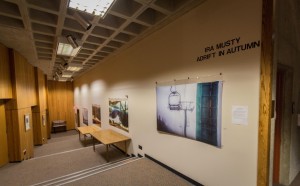 Musty's medium of choice is photography and his B.F.A exhibit truly showcased his attachment to his favorite season, autumn. The title of his exhibit was "Adrift in Autumn." In his talk, Musty explained that autumn in Vermont is such a special time for the environment and how we, as humans, are affected by this time of change. "Orange," Musty stated, "is the color that triggers our state of mind the most. Where else in nature do you see this exotic shade as often as you do in the quickly-contrasting season of autumn?"
His large-format pieces consist of brilliant colors and a wide dimension of contrast. He explained that he uses the process of high dynamic range to capture the tonal range he desires. He also explored the options of different printing surfaces to make his prints come out with all the color and intensity that his RAW file held (a RAW file being an uncompressed file straight from his camera). Musty's Facebook page, "Ira Musty Photography," showcases some of his work.
Shotwell's exhibit "Metamorphosis" provided a beautiful showcase of framed originals, as well as a larger-than-life installation piece.  Her framed works included mostly charcoal and acrylic, and one piece that was permanent marker and acrylic. Her installation piece, "Divine Moments of truth," combined, as Shotwell explained, "organic matter, raw materials, and a collaboration of mindfulness, explosive composition and an intuitive connection to me, and art."
Shotwell also explained that her works mainly were derived from a month-long road trip out West. "I was certainly drawn into, and engulfed by the landscapes, nature, and abnormality of these incredible structures and places created over millions of years," she said. The use of mood affecting color and mystifying lines displayed in Shotwell's work showcased her abstract and graceful style. As for Ashley Shotwell, if you are interested in staying caught up with her latest works, and past projects, you can find her on Facebook as well at "Ashley Shotwell Art".
Daniels' "Ascent" was inspired by ancestry and was created using watercolor, acrylic, and oil paint mediums. Daniels showcased her works within the Julian Scott Gallery and utilized the space beautifully to show her "personal timeline." Having both of her grandmothers die in the past three years, Daniels sought to the photographs of her family that her father had kept for remembrance and tribute.  Being an artist as long as she can remember, Daniels instinctively turned to art for its therapeutic properties and began to resurrect these old portraits the best way she knew how: drawing and painting. Following this idea, she created the basis for her exhibit, which honored her whole family, not just her grandmothers. She displayed the actual printed portraits alongside her one –of-a-kind paintings. "Overall this show is very family oriented and personal, but I felt like it was a very relatable group of work for the public," Daniels remarked, "Paintings of my great grandmother and great grandfather can really represent many people's great-grandparents, and get the public thinking about and remembering their loved ones." Her portraits were vivid, extremely realistic, and replicated very well. Most of her painting consisted of a natural border that revealed a blank canvas which gave the photos a very nostalgic feel.  "Brittany Daniels Art" is Daniels's Facebook page if you wish to see more of her work.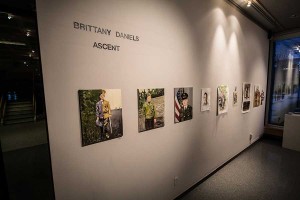 These exhibits were on display until Nov. 22.
If you were not able to catch the exhibits with your own eyes, the Facebook pages that these artists run are a great way to see what you may have missed.