Grilled, smoked, Wicked Wings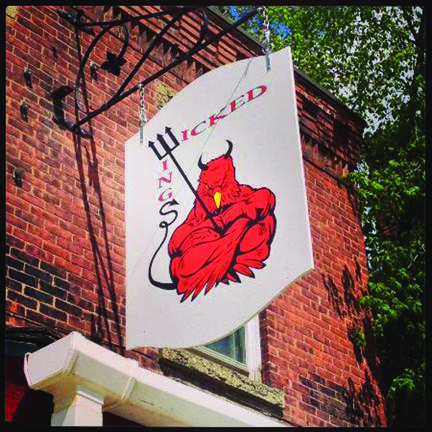 Hang on for a minute...we're trying to find some more stories you might like.
"Wicked" is a slang word that originated in New England to add emphasis, as in "that's wicked hot," and if you live in there, a name like Wicked Wings speaks for itself.
  Wicked Wings is one of three small restaurants situated in downtown Johnson. It opened in September of 2011 and the bar area offers beer on tap, stereo speakers playing radio music quiet enough to have a conversation but loud enough to hear every word, and three televisions that generally air news or sports with captions, but no sound. Currently the pub is airing the Sochi Winter Olympics on its main television.
  The menu consists of everything from chicken wings to chicken sandwiches ($8.95-$13.95), burgers ($7.75-$8.95), quesadillas ($5.75-$8.75), nachos ($6.50-$9.50), a full rack ($22.95) or half-rack ($14.95) of ribs, and more, at prices that are reasonable for the amount of food provided.
 A juicy bacon cheddar chicken sandwich on a ciabatta roll, topped with crisp lettuce, a ripe tomato, and crunchy onions, coupled with half a plate of hand-cut, extra salty French fries is no more than $10.25.
The chicken can be order grilled over an open flame or fried.
While the grilled, succulent chicken was delicious, the bacon that topped the chicken was tasteless and lacked the sodium content and crunch that makes bacon enjoyable.
It was overpowered by the jack cheddar cheese and the vegetables that topped it, and in the end, the bacon only provided a chewy texture without flavor.
   In contrast, a plate of nachos topped with the same vegetables, mozzarella cheese, and an added kick of jalapeños had plenty of flavor, and I could taste every topping.
The cheese was warm, soft and stringy, atop sharp, crunchy tortilla chips. Each vegetable's flavor was only enhanced by the cheese.
What I love about nachos is that every bite tastes slightly different from the last. You never get all the same toppings in every bite, but there are enough toppings that you could if you wanted to.
The sour cream on the side is cold and creamy, to cut down on the heat of the peppers.
But Wicked Wings isn't known for its sandwiches or nachos.
It's known for its wings, grilled over an open flame and smoked, making the skin crisp and the chicken juicy.
A plate of 10 wings costs $9.25, and Wicked Wings has something for everybody with different levels of heat (mild, medium, hot, wicked hot, and melt your face hot) or a variety of spicy, sweet, or tangy flavors (barbecue, honey barbecue, teriyaki, Jamaican jerk, lemon pepper, cajun ranch, parmesan and garlic, wasabi, spicy blue cheese, sweet & sour, and taco).
 You may need the extra heat on your wings in the winter though, unless you wear a sweater; the restaurant can be drafty, and it's especially cold in their back room and restroom, which feel about 20 degrees colder than the main dining area and bar.
 The hot chicken wings offer a peppery heat that made my nose run, but unlike the "melt your face off" wings, they were not hot enough to cause sweat to bead on my forehead or tears to run down my face.
Your experience may also include dipping sauces (bleu cheese or ranch dressing) if you can't take the heat or want a creamy texture to accompany the saucy, juicy wings.
I prefer to saturate the wings in chunky bleu cheese dressing, making the once crispy skin slightly slimy and moist on the outside.
They can be a mess to eat, and my hands required wet wipes when I was finished, but that's the fun of eating wings.
To avoid the cool temperatures and casual bar atmosphere, customers may also order takeout, which is ready within 20 minutes of ordering.

About the Writer
Kayla Friedrich, Editor in Chief
Kayla served as a general assignment reporter and photographer for the spring 2013 semester.  She returned for the Fall 2013 and spring 2014 semesters...