Mule Bar kicks ass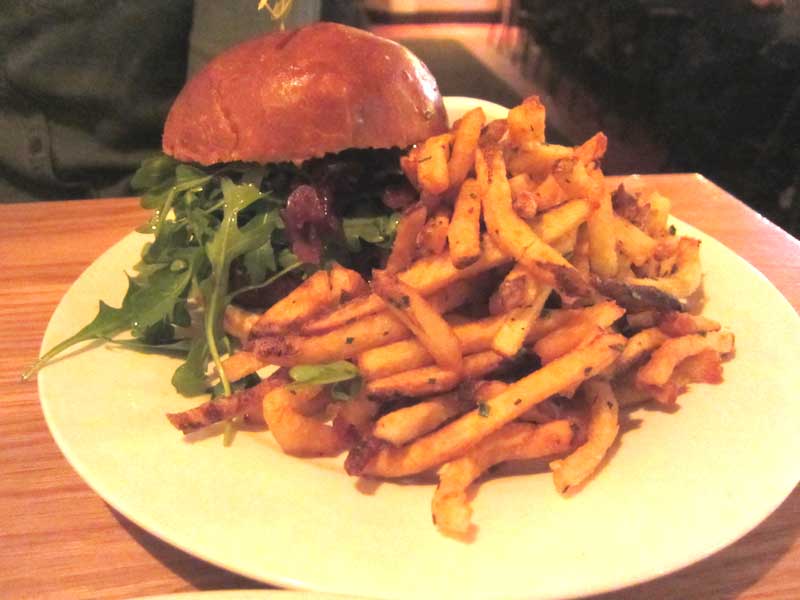 It is common knowledge in Winooski that the Mule Bar is likely to fill up every night.
The Mule Bar is a charming and comfortable eatery/bar in Winooski, Vt.
The spot is small enough to be called intimate (there are only a handful of wooden tables aside from the bar that can fit around a dozen bodies) but spacious in a way that I didn't feel intruded upon or claustrophobic.
The entire place looks good. Even the outside beckons those passing by to stop in and see what the Mule Bar has to offer. The inside is lit with single hanging chandeliers, and everywhere I looked I saw preserved wood-grain as beautiful as I'd ever seen in a restaurant.
Even the ceiling is made from wood; my date and I were in a 21st century version of an old-timey bar. In a past life, we would have tied up our horses outside and sat underneath hanging lamps that were fueled with gasoline and flame. The wood-grain might not have been as shiny back then.
There were a handful of small-frames around the restaurant. A few of them displayed illustrations of old bars with sepia colored caricatures. One frame held a bar receipt from the late 1700s. The long-board hanging in one corner seemed a bit out of place, until I noticed that the wooden deck came from the same trees that built the floor and bar.
When we arrived the Mule Bar was quiet. Only a handful of other patrons were inside, one couple eating at a table, and a few sitting at the long bar, holding their dark beer while watching the television that sits above the enticing display of liquor bottles. To my count, the bartender's arsenal also consisted of 16 beer taps. I imagine that most of these taps are usually flowing, as the bar has a handful of chalkboards where their beer-lists are neatly written.
It is immediately obvious that the Mule Bar takes great pride in their draught list. Personally I was in the mood for beef and liquor, so I began with some whiskey and ice. I was half expecting to order my food from the bar (which I would have been fine with) but within a minute of me sitting down at a table the bartender had left his post and came to greet me.
According to my friend, who frequents the Mule Bar about once every couple of weeks, parts of the menu change often. The Mule Bar website is updated everyday with drink and food specials.
We ignored the menu for a while and enjoyed our drinks and the atmosphere. I wasn't prepared to order when the bartender came to see if we wanted some food. I made a quick decision to get the calamari appetizer, assuming it would be fairly delicious.
The "Crispy RI Calamari" is served with pickled jalapenos, smoked tomato, and cayenne aioli. The combination of peppers spiced up the dish in a tantalizing way that made the common appetizer a bit unique to the Mule Bar. My friend Sami enjoyed that the presentation and peppery additions made this dish "more than just fried food."
After one bite I devised a careful process so that I could enjoy the full blast of flavor that the dish offers: one must fork together the fried squid and jalapeno, and then proceed by boldly rubbing it in the delicious dark-orange aioli, and of course, insert in mouth. The calamari is a well-spent $11.
By the time the bartender came to take our order we had decided on our dinner choices. I went with the "Hang Time," a steak that comes with sliced potatoes and arugula, and Sami ordered the "Works for Me," a burger topped with pickled onions, arugula, and aioli. My dish was priced at $18, and the burger, which came with a heaping pile of fries, was $12.
I was a little bit jealous at the amount of potatoes that came with the burger in comparison to the five pieces of sliced potato that came with my dish. Luckily, my friend was generous and let me pick at her fries. I can't remember eating French fries that good in awhile, they were everything I desire in a potato: crispy, salty and more than enough in portion to fulfill my starchy desires.
The food presentation was impressive with every dish; my mouth watered at the plate that held the juicy pink steak lying upon the carefully placed sauce (a reddish-brown that complemented the color of the meat). Along side my potatoes was another aioli, this one a sweeter yellow version that the Mule Bar makes. The sauce underneath the steak was savory, and the dish allowed eaters to choose just how salty they wanted to go.
The steak was decent in size, although I would have gladly eaten more. If I had to guess, it weighed around 6oz. The baked potato wedges were absolutely delicious, and I chose to use the aioli as unashamedly as I had with the calamari. Nearly half of the plate was covered with an inviting mound of greens.
Sami and I traded beef for beef, and although the burger was tasty, we both agreed that the ground meat was a bit dry. Fortunately, there was enough steak drizzle and aioli on my plate to dip the burger in. The pickled onions offered a satisfying tang. Sami decided to remove the top bun from her sandwich. I will give their burgers another try in the future, as I have heard people rave about how good they are.
"If you could come back and order one of these again, which would it be?" asked Sami. "Price isn't a thing." It was a good question, and after a minute of pondering I decided that I would put my money on the "Hang Time" steak. It was cooked perfectly to my medium-rare desire, and damn, the sauce and aioli are so good.
We stuck around for well over an hour, and we both enjoyed a few drinks with our dinner. The Mule Bar is slightly pricey, (the check coming to $86 before tip, which would make the average price of our drinks $7.50 each) but when considering the full package of atmosphere mixed with food presentation and taste, I would say that it is worth it. I look forward to spending more time studying its impressive draught selection next time I stop by the Mule Bar.
By the time we left, the Mule Bar was packed, almost every stool at the bar occupied, and many patrons were enjoying food at the other tables around us.