Notes on "Muppets"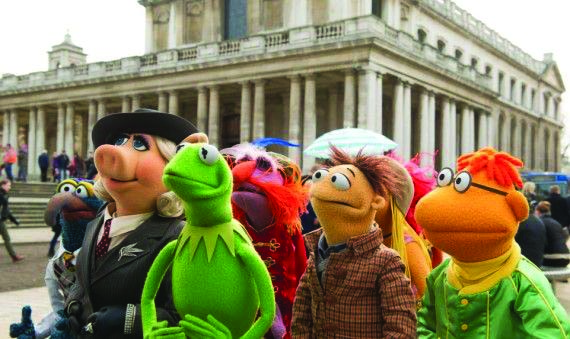 There's a new Muppets movie, "Muppets: Most Wanted." If your heart still beats and occasionally sweats sugar, you'll be most wanting to see it.
The team behind the 2011 "Muppets" is mostly reunited–no Jason Segel, who was the heart of that film. His absence is noted, but "Muppets: Most Wanted" is a damn good movie without him. It was written by Segel's "Muppets"/"Forgetting Sarah Marshall"/"Five-Year Engagement" co-writer Nicholas Stoller and the director of the first film, James Bobin, who also directed this one.
Ricky Gervais plays "Dominic Badguy" (he tells the Muppets it's pronounced "Badgy"), who swindles the Muppets into hiring them as his manager, then replaces Kermit with the world's foremost thief, Constantine–who looks exactly like Kermit, but with a mole.
Ty Burrell plays a French agent, a caricature of European leisure, who teams with Sam the Eagle to solve the crime.
Also featuring Tina Fey, Danny Trejo (as himself), Ray Liotta, the immortal Salma Hayek, etc.
The musical sequences are extraordinary–"Flight of the Concords" musician Bret McKenzie did the songs again, and they're brilliant (an irresistible doo-wop in a Russian gulag led by Fey, a Lionel Richie-esque masculine R&B from Constantine to Miss Piggy).
The secret of these new Muppet movies is they're livelier, more creative, and feature more emotionally charged filmmaking than almost all other recent movies.