Fine dining, homey atmosphere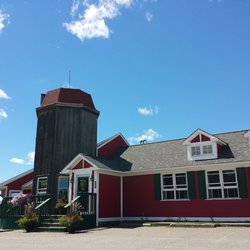 When driving through Jeffersonville, Vermont along route fifteen, it can be quite easy to overlook the small red structure nestled between a convenience store and the Lamoille River, which goes by the name of the Family Table. Though it may not look like much on the outside, consisting of a single small building centered with a wooden silo, that should be no reason to be deterred from stopping for a meal.
The Family table is a perfect example of why you should never judge a book by its cover.
When you step foot inside, it immediately becomes apparent that you can sit down and get comfortable. The dining room is somewhat small and cozy, reminding you of a familiar small town restaurant not found often anymore but doesn't lack any homey feel. There's also a bar with a reasonably varied selection of wine. This is evidence that owner and head chef John Raphael stays true to his mission statement: "I live and work in this community.  I wanted to create a place where locals can come and try different menu items each time while also appealing to someone visiting, just coming off the mountain after a day of skiing or hiking.  My food and wine selections are designed to appeal to a wide range of tastes, enjoyed in a comfortable setting."
And he isn't lying. The menu offers selections that won't bore you like just another American diner, while at the same time leaving familiar options if you aren't feeling as adventurous. It's a perfect mix of classic food with a refreshing spin put on it. The lunch menu consists mostly of sandwiches, ranging from classic dishes such as an Italian sub, or Steak and Cheese with braised portabellas, caramelized onions, and provolone cheese, to refreshing options like a Lamb burger with tzatziki, feta, and roasted red peppers, or a Ham and grilled pineapple with Swiss cheese and horseradish mustard. Breakfast options contain standard platters, omelets and egg dishes. But dinner is definitely the pride of the menu at this establishment, with plenty of options ranging from seafood dishes such as crab stuffed haddock with lemon buerre blanc and roasted potatoes, to a popular fried chicken dish, all the way to the pride of their selections, a grilled rib eye with house steak sauce, bacon and onion mashed potatoes and seasonal vegetables.
For my own meal, I ordered the steak and cheese sandwich, and was not disappointed. The ingredients are fresh and flavorful, and not once did I question the origin of a flavor on my palate. My dining companions ordered fish and chips, and an order of fried chicken. As soon as it arrived, no discussion was necessary among patrons, only the sound of cutting and chewing was present to ratify the all-around satisfaction. The service was nothing special, but by no means poor, and for a relatively low count of patrons, the waiting time for our food was much longer than expected.
The Family Table more than lives to its stated goals, and doesn't step out of its own bounds at all. As stated by the owner, he wanted a place where locals and touring ski bums alike could come for a refreshing home style meal in a relaxing setting, while still having original options, and in this task I believe he has succeeded. However, prices for dinner can approach the steeper side, especially for a college student. Most items are reasonable at around fourteen dollars, but with a pork chop coming in just shy of nineteen dollars, and the rib eye over twenty-five, anyone looking for some cheap chow for dinner should probably look elsewhere.
All in all, The Family Table is as welcoming as the name sounds, and offers just the kind of food that comes to mind with such a name, without being stale and cliché. Due to size and local popularity, you may have to wait longer than you would like for you food, but it will definitely be worth your wait.