Pho Dang: cheap, simple and tasty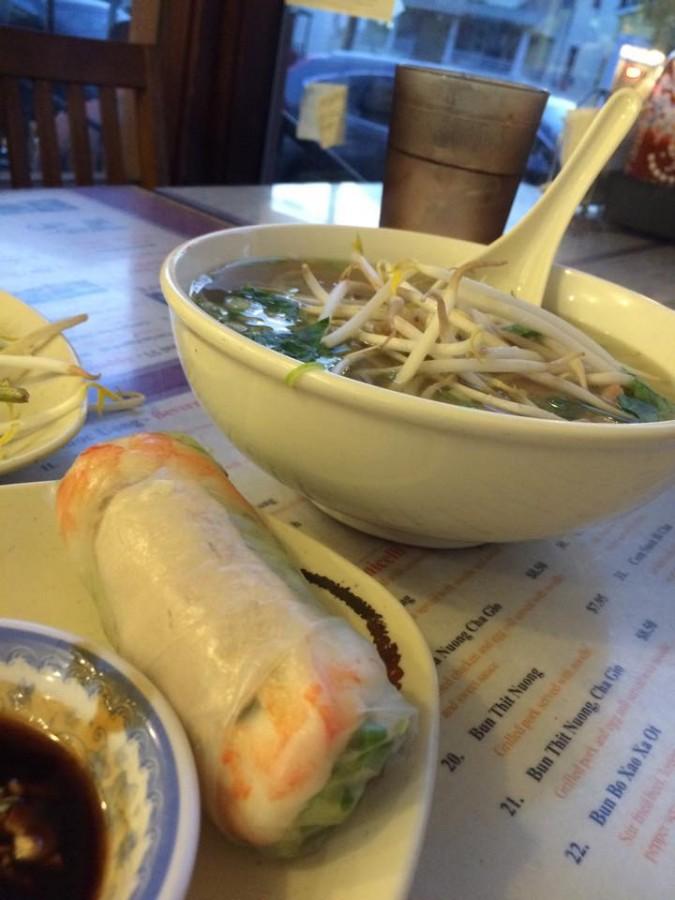 The drive home from Johnson to Burlington offers few easy-access food joints that are both yummy and cheap. To boot, I was living healthy this day, so I wasn't going submit to gas station temptation.
I was tired and didn't feel like dealing with Burlington's dinnertime congestion. That's when I remembered the red sign reading "Pho Dang" atop a converted house in Winooski. I'd passed it hundreds of times.
The quaint Vietnamese restaurant advertises itself as Café, and sits about 24 inside, and another eight outside on the sidewalk. It's located just above the Winooski circle on 215 Main.
I barged in on a lonely eater who had the inside to himself. There were a couple patrons sitting outside. A gentleman in a Pho Dang shirt greeted me. He worked the register and phone, which rang frequently and without annoyance throughout my quick dinner.
The tables are covered in off-red cloth and Plexiglas, with a numbered menu in front of every cushioned chair. The wooden floor, which seems faux, is as generic as the few pictures that hang in the little dining area.
The young multitasker brought me water and my two dishes. The whole ordeal from ordering until my first bite took less than five minutes. I imagine they keep a big stockpot of their soup broths going all day.
Before choosing from the menu's Soup Bowl section, I ordered their spring roll appetizer. Goi Cuon Tom Thit, number two for short, was served cold inside a translucent rice wrapper and came stuffed with a few shrimp, thin slices of pork, and crispy greens. Much of the fat roll owed its size to the thin rice noodles at the center. The $3.50 appetizer offers two rolls that come with a side of hoisin sauce. It was exactly what I envisioned.
The noodles in the soup were similar, but took on a completely different flavor than their cold version. They soaked in the sweet broth, being a vessel for the ginger, wine and onion flavors. My soup was the number six, or Pho Tai, a simple dish with thin slices of beef.
The beef, which they advertise as rare, began pink and remained cooking in the steamy broth as I ate. By the end it was no longer rare. Inside the bowl, scallions and sliced white onions floated about. The Pho soup was served with a side of bean sprouts, lime slices and enough mint leaves for a whole pot of soup.
Or so I thought. I watched a scrub-wearing man pluck the fresh green leaves and toss them whole into his soup.
I copied him and was thankful. The leaves made their reason known when eaten whole with the beef or noodles. Their bitterness offered balance to the sweetness that was becoming overwhelming halfway through the bowl.
I watched the same man pour sriracha in his soup. One can experiment with flavors multiple times throughout their meal, as each table is equipped with soy sauce, fish sauce, sriracha and hoisin.
I went with the smaller soup option and was full by the end, leaving a few sips of broth at the bottom of my bowl.
I'm sure the cashier/server/busser would have refilled my water and brought me a check soon enough, but I was in a rush, so I went up to the counter to pay. I stood behind a woman grabbing pick-up, which seemed like how Pho does most of their business.
I peered into the small kitchen as much as my neck and eyes would allow. An older, kind-looking man showed his face around the corner and gave me a nod.
I saw a stove with pots ranging from a medium saucepan to something that would take most of my wingspan to hug. They were all steaming, and I saw a large wok spoon dip into one of the pots. As a line cook, I couldn't help but feel respect for this small operation that fed me so quickly while keeping me honest to my healthy day.
The cashier and I shared a smile, and he wished me a goodnight. From start to finish my stay at Pho Dang lasted a half-hour.
Other Pho Dang dishes include a fried egg roll appetizer, seven soups, and eight vermicelli noodle choices that use sweet sauces with lemongrass and spicy peppers with beef, pork, or chicken. There are eight rice plate entrees that range from a house fried rice to grilled pork chops served with an over-easy egg. Nothing on the menu is more than $9.00.
Pho Dang is open seven days a week from 10:30 a.m. until 9:30 p.m., except Saturday and Sunday when they open an hour later.