Lazy Fascist author and JSC alum returns to campus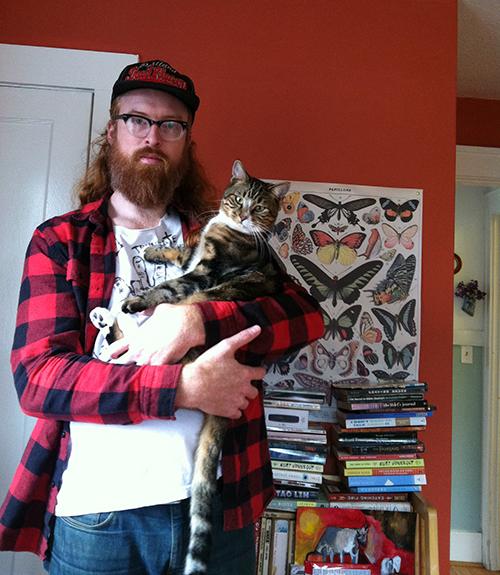 Kevin Maloney, Portland-born author and alumnus of Johnson State College, visited campus on Oct. 13 to give a Creative Audience reading. He shared several short stories and read from his debut novella "Cult of Loretta," published in May of this year by Lazy Fascist Press. Exploring love, life, sex and drug use, Maloney's work is a self-described combination of Denis Johnson and Louis C.K, creating stories that are as dark and disturbing as they are wildly funny.
When did you start writing fiction?
I remember writing some horror stories back in junior high school, which were my first exciting attempts at real fiction. I was never a big reader then. I was playing a lot of sports until I grew a foot in a year and all of a sudden was extremely uncoordinated and not a good athlete. So I quit all my sports and started becoming a book nerd. I think it was my sophomore year in high school I read "Catcher in the Rye," "The Stranger," and "Siddhartha." It just woke something up in me.
I was also playing in bands with my friends, playing a lot of music and doing a lot of visual art, but writing became a part of that throughout high school. I remember I read William Burroughs my senior year. "Naked Lunch" totally blew me away, scared me, and all kinds of things. It made me realize that there were no rules with writing. I started doing more experimental work that was less linear. That's kind of what got me started.
Then, for two or three years I got more into writing poetry and was reading Arthur Rimbaud and some of the French Surrealists. I don't feel like I'm a very good poet, but I really love language. I try to bring that into the prose writing I do. I try to be precise and minimal. I'm not a prose writer who wants to take up a lot of space. I want to try to make a lot happen in a short amount of space and I feel like poets are really good at that.
How did you get from being a student at Johnson State College to becoming a published, working writer over the course of 10 years?
When I was going to JSC, I was an English student. I took some writing classes, but I majored in English with the idea of becoming a high school teacher. When I got out of school, I just didn't connect with teaching once I actually got into a classroom. I didn't feel like myself. In fact, I was feeling pretty shy. I realized I was more excited about the works I was reading, but had a harder time standing in front of a class.
So I continued working on my writing in a pretty undisciplined way. I was starting to send things off to literary magazines right out of college. I remember I sent the first story I wrote to The Paris Review, McSweeny's, and five of the most competitive journals in the country. Once I got five rejections, I was like "Oh, I guess it's not very good." I wasn't tapped into the huge and amazing world of literary magazines, and you really have to work your way up from the bottom.
Once I got back to Portland, I realized that the most successful artists I knew had really good habits. They didn't just write when they felt like it. I have a friend who's a painter, and all of a sudden he was making a living as a painter. I asked how he was doing that, and the answer is he just paints every single day. There is no day off and no vacation. So I became a much more disciplined writer. I had a daily practice, and began to learn more about what literary journals were out there.
We have Powell's Books in Portland, which is like the best used bookstore in the world, and they have an amazing literary journal section. I started reading those to see what people were doing, reading more contemporary work and getting a better idea where my work fit in with that. I probably had 200 or more rejections before I got into a magazine, but the first story I placed was in PANK. From there, it has slowly grown.
I was able last year, kind of by accident because I was trying to work on a short story collection and found a few stories that tied together, …[to write ] this novella. A lot of writers struggle to place their work, but I had published a short story in a new magazine called The Lazy Fascist Review. The editor, Cameron Pierce, lived in Portland and I knew the book I had just written would be a good fit at his press. It's a small one, and they put out about 12 to 15 books a year. So instead of shopping it out, I sent it directly to him and he accepted it. It was pretty quick.
I still feel like I have a lot more to learn, but it's exciting to be at a stage where I'm getting my first book out into the world and giving people an idea of my work. I'm sure it's going to be a whole different process on the second book, because there was so much to learn on the first one.
You finished the first draft of "Cult of Loretta" in 11 days, but the editing process took you six months. Where did you find the time to put that much work in?
It's not easy. I've got a 13-year-old daughter, and she spends her summers and holidays with me. I wrote the first draft right after she left, when I had a bit more time at home. I was using my Dictaphone on the way home from work, narrating ideas and sometimes whole paragraphs.
It felt like the book was coming quickly, and I had this window where not a lot was there to slow me down. I was writing in the evenings, but I also have a full time job. Sometimes it's really stressful and busy, running for more than eight hours and exhausting me, but things were going very smoothly for this window.
The editing took six months, so life got in the way. I wanted to work on the book, but my girlfriend and I would be going to the beach that weekend. I would bring my manuscript with me and sit out in a canoe going through it with a pencil. I think that's the experience of many people, because not many are being paid to be a writer. You've got to find the time.
Where do your ideas come from?
A lot of it is about putting the work in. The ideas will come from a prompt or a scene that pops into my head. Once I start writing, I try to pay attention to what I think is weird or funny or dark and follow that. That's just my sense of humor. I'm a fan of a lot of dark writers. I always ask myself if I am bored. If I'm bored writing it, you're probably going to be bored reading it. If I'm interested, then hopefully a certain number of people will be too.
Do you have a particular audience in mind as you go about your work?
I have a couple good friends. They are the first people I share my stories with. My friend Derek, that poor guy has to read everything I write, and he's read enough to know when I'm not going anywhere. It would be overwhelming trying to figure out who is interested in the story and who isn't, so I try to write for a few of my friends and hope that they think it's funny.
Your work often deals with lots of drug use, where does this focus come from?
My goal in writing all of the things I write is not to have anyone hear this and say "That sounds fun!" To get a little serious, I had some friends back in high school who would dabble and experiment. At a certain point, most of my friends got on the straight and narrow, starting jobs and families. But I had a couple friends who got into the harder drugs and I saw them go down some dark roads. A lot of this book is based on truth, but I was a pretty good kid. My books are my chance to let my characters make really bad decisions because I think that makes for a better story. I get to let the wild out.
Do you incorporate parts of people you know into your characters?
I know a lot of people who write tell-all memoirs about their old friends and all the crazy things they did. I just can't do that to my friends. I don't want to out anybody's crazy experience if they're now a lawyer and don't want that story out in the world. My approach has been to create random characters, to take a lot of real experience, put in a bag, and shake it up. Loretta has a lot of my very first high school girlfriend in her, some of my ex-wife, and another long term girlfriend.
Loretta is a fascinating character, but we don't ever know all that much about her. We know more about the young men who are falling in love with her, idolizing her, and worshipping her. She's more of an idea to most of them, and the only way to find out about her is to read between the lines. Ultimately, I sprinkled true stories to give her a believable quality, but I think these characters take on a life of their own.
What has been your work in other genres of writing?
I've tried my hand at poetry, but I'd rather write in the prose format. It may end up using the same poetic language and be metered, but for whatever reason I'm scared of the line breaks of poetry. Right now I'm trying to learn the art of writing narrative essays because my publisher just asked if I could contribute something to an anthology.
I wrote a fishing essay about my dad, who passed away last summer, and it tells the story of fishing with him as a kid and flashing forward to him having cancer. It was extremely hard because I thought it would be like writing a short story, but I felt like it's a totally different toolbox. I kept asking my editor for extensions. My deadline was last month, but I handed it to him two days ago. He's been very generous.
I feel like I'm interested in learning more about essay writing. I might dabble in poetry. I love reading poets, and studying what they do will, but ultimately fiction is my favorite format. I love really short books. Kurt Vonnegut was one of my favorites, and if you look, most of his books are under 200 pages. Richard Brautigan is another. He was more of a poet, but his prose was really interesting because he wrote really short chapters. I didn't event that format.
Do you have any final thoughts?
I should thank Johnson State for inviting me out. Jensen Beach is an incredibly talented writer and really wonderful. He works on a magazine called Hobart, which has been one of my biggest champions. I knew that I wanted to be a writer when I went here, but I felt a long way from that dream. It's really exciting to come back as a published writer and to be welcomed back with the support of the community. I feel like I'm just at the beginning of my career. It's great to feel supported by the people who helped inspire me and get me here in the first place.