"Hunger Games: Mockingjay Part 2" offers more Panem and more Katniss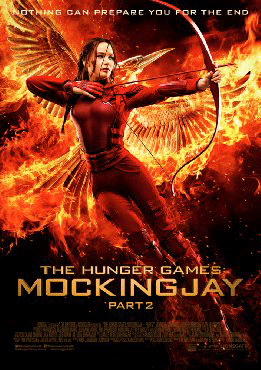 So there I am, smack-dab in the middle of a theater full of fan-girls, high school groups, middle-aged loners, and families of Katniss worshippers. I wait for the fate of Panem to unravel, for Katniss to choose the right road in her love-path, for a revolution that will overthrow President Snow.
"Mockingjay Part 2" picks up where "Part 1" ends. Katniss is bruised, heart and neck, trying to recover from the injuries inflicted by deranged, possessed Peeta. The heroine's former Games partner turned lover still lies bed-strapped, slowly recovering, or so I hope.
Peeta is an unstable, psycho-nervy, ready-to-snap wildcard. "Part 2" keeps him central and close to Katniss, but he's no longer her protector. Good thing Katniss has Gale on her military squad, not to mention other familiar faces like buff Boggs (Mahershala Ali), the half-bald, tattooed beauty, Cressida (Natalie Dormer), and the gentle Pollux (Eldon Henson).
I guess it's time to admit that I haven't read the books.
I don't know if Peeta will have his hands on Katniss's throat before he snaps out of his violent brainwash. I don't know who make it through the booby-trapped district streets. (It's nice to see some of President Snow's leftover Game sadism put to use.)
I don't know who will give up their ghost for the maturing Mockingjay. She is weary and determined. She is threatening to go rogue in her pursuit of the capital. She and President Alma Coin (Julienne Moore) don't see eye to eye. All Katniss sees is revenge, dead-Snow, murder.
"Part 2" goes places the first doesn't. Most importantly, there's more Katniss. I felt "Part 1" lacked personal Katniss, sacrificing her as a central character to expand the world of Panem and the Coin's ideology. I guess it's fair to admit I have a huge crush on Katniss.
In the finale, we get more Panem and more Katniss. She isn't just the Mockingjay symbol shooting propaganda clips. She holds the arrow that has as much Panem destiny as President Snow and President Coin. Although, there are only so many ways this can fly, and I can see what's coming.
We get more enemies, more death traps, and a few easy-to-call plot-twists. We get more blood, more brutality, more tough decisions with no right answers. Even when I see the arrow coming, my heart punches my chest until Katniss lets the final twist fly.
We get more Primrose Everdeen (Willow Shields), less Woody Harrelson, and a heroic Finnick Odair (Sam Claflin) who kills so many baddies. We get the late Philip Seymour Hoffman reprising his Plutarch role.
We get more hoorah for democracy, which seems to be Panem's only saving grace. Although the film glorifies democracy, it points out the corrupt nature of humans and their ability to corrupt the almighty institution.
Katniss is democracy embodied, or at least a highlighter on the clause that says kill whoever stands in the way of a new Panem. She isn't as loud as President Coin, whose new-Panem rhetoric becomes questionable.
The movie doesn't pretend the lines between right and wrong are clear. That's refreshing.
A couple of my friends point out that Jennifer Lawrence is a horrible actress. I'm not saying the "Hunger Games" saga has produced any award-worthy acting, but I've always thought Lawrence has done fine.
I'm pretty sure that after three flicks, whatever you think of the acting (I'd call it pleasantly, appropriately mediocre) will remain the same for the finale. The dialogue is witty and fun at times, lovey-dovey and Panem-typical at others. That's to say, the dystopia is losing its surprise and becoming flat with its stereotypes.
Not only do many actors reprise their roles, Francis Lawrence returns to direct his third "Hunger Games" movie. Writers Peter Craig and Danny Strong return, both of whom worked on the first "Mockingjay" screenplay.
"Hunger Games" pro Jo Willems returns as the director of photography, making this finale look beautiful, hopeless, fast and threatening. In the sewers he creeps with quiet claustrophobia, and when bombs fall, tragic hysteria. He knows where to move the camera, and how fast.
The film has that dark-underground blue of "Mockingjay 1," contrasted by the dusty, concrete-grey of crumbling Panem, contrasted by the architecturally profound capital. Like the others, this flick can be split into chapters – Katniss with Coin and the resistance, Katniss and gang trekking across the districts, and Katniss in the heart of the capital. Along with Peeta, Gale is close with Katniss through the chapters, so the love-triangle is real.
However, let's get back into scene. A man gasps and another young boy screams "holy shit." Sitting forward on my theater seat, my arm-hairs are pointy and chills float my spine as Katniss and gang navigate the sewers, followed by faceless mutant zombies called mutts.
In another scene, my eyes are wide, as black tar drowns and swallows a city block, threatening to end Katniss's journey. I know it won't kill her, but still, how the hell will they get out of this one?
Then finally, how many must die to these bombs? "Mockingjay1" felt like a setup for war; "Part 2" delivers with war-tragedy.
However, it's not all danger and revolution. Of all the "Hunger Games," "Mockingjay 2" might have the cheesiest scenes. They are enough to make the theater "aww" in unison, and get this lone middle-aged man to yell out when Katniss lays a tender one on her lover's lips.
I won't spoil the cheese for you, or tell you what comes of the devastated Panem, but watch out for the devastated teen girl, crying in her father's shirt, wishing that this wasn't the end of the Hunger Games.