I Am Vermont, Too tackles racism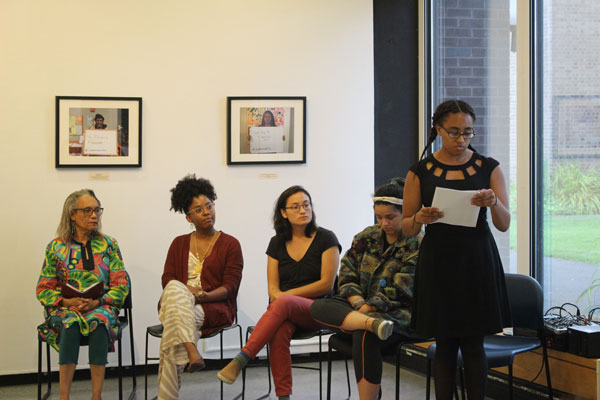 Currently in the Julian Scott Memorial Gallery hang a collection of powerful photos, showcasing JSC students and Vermont residents wielding whiteboards full of racial microaggressions. This collection, modelled off "I Too, Am Harvard," is on the first stride of its statewide tour under the title "I Am Vermont Too."
The project began in March 2014, and has been constructed entirely by people of color who also attend school in the state.  According to the "I Am Vermont, Too" Facebook page, "The I Am Vermont, Too project is a medium for People of Color to tell our own stories and convey that this type of racism has a significant impact in our lives."
Racial microaggressions come in many forms, some of which can be entirely unintentional. By spreading awareness of these acts, the community can work together to reduce, and cease, a majority of racial issues and hatred in Vermont.
On Thursday, Sept. 14, JSC hosted a reception featuring a panel discussion in the Julian Scott Memorial Gallery. The room was loaded with JSC students and Vermont residents alike, some of whom attested to having personal connections to people photographed for the exhibit, or to the phrases displayed with each photo.
The panel began with a short word from the director of the gallery, Phillip Robertson, who believed this to be a powerful and important event. Following Robertson was a panel of JSC students, Lyndon students, and Vermont community members. The panel consisted of five women of color who have each faced racial discrimination in their own ways.
To set the mood for this exhibit, Brittney Malik, a JSC undergrad, performed a reading of a poem entitled "To Be Brown," which gives a glimpse into the life of people who deal with microaggression and racist comments regularly.
The panel discussion focused on bringing together the JSC community to enlighten others about how big of a deal one sentence can be.  Examples of these microaggressions can range from assuming people of color are from out of state to being surprised by how well a person of color speaks English, or even guessing that someone is a drug dealer because of their color.
While the JSC community is extremely accepting, there have been recent reports of hate crimes locally that have shocked Johnson residents. Lyndon currently has a support group on their campus for people of color to join together and aid each other in remaining comfortable as a minority in a discriminatory culture. JSC may be next in creating a similar support network for students of color.