"Kung Fury" packs a parodic punch
If you would like to experience every cop or action movie ever made in the 80s all at the same time, "Kung Fury" is the movie to see. Complete with half-thought-out one-liners muttered during ironic events, a David Hasselhoff theme song, over -elongated and cheesy fight scenes, ripped denim and aversion to authority, this movie will win you over for its atrocious plot and painfully cliché cheekiness.
Writer, director, and star David Sandberg plays the brooding and ruggedly handsome Kung Fury, a Miami cop with a dark, painful past, which leads him to accept help from no one and turn away any partners on any of his cases. He acquires his martial arts proficiency the only sensible way one can go about it: being struck by lightning and getting bit by a cobra at the same time.
With these new-found abilities, Kung Fury must put them to the test, as Adolf Hitler, or "Kung Führer," played by Jorma Taccone, is out to kill Kung Fury and become the true all-powerful Kung-Fu master. Along the way we meet characters such as Triceracop, Thor, the Viking Babes and more. Fury must travel through time to find his enemy, find himself, and find the power of teamwork and friends, all within an eventful 31 minutes.
Now, before you draw any conclusions, I found the movie absolutely hysterical. From beginning to end, there was no shortage of puns, irony, and a healthy dose of 80s flavor. I am glad, however, that it was only a half hour, as the empty plot would have soon got to me.
It has received a notable number of awards for a movie done by Swedish producers Linus Andersson and Eleni Antonia, on a "budget" of $630,019 collected from a Kickstarter campaign done in between 2013 to 2014, which exceeded its original goal of $200,000 dollars. Since its release, it has won the Mexico City International Contemporary Film Festival, been nominated for Empire and European Film Awards, and won the Guldbagge Best Short Film Award.
What I admire most about this movie's production is the resourcefulness of the producers and director in order to create such a rich visual experience, as well as keeping to the 80s spoof theme.
Most of the scenes were shot in Sandberg's office in Umea, Sweden, relying heavily on digital effects—particularly green screens, frame overlays, and CG environments—to replicate Miami and other places. Due to its limited budget, Sandberg did things like source stock footage of a wolf, use miniatures and turn 30 extras into an army of Nazi soldiers. Video tape wear effects were added to make the scenes look more dated, like a rolling bar, and the dirty head reading head. Many of the scenes and mood boards were created almost solely from CG, which is impressive considering some of it was unnoticeable. An actual VHS tape was sampled and used in certain scenes. It also has a companion video game, called "Kung Fury: Street Rage," which pays homage to the classic "beat 'em up" games of the 80s and reference a particularly long fight scene within the movie (DigitalArts Online).
While I did not grow up in the 80s, nor did I ever have a particular fascination with movies of the time period, I found this satirical perspective of American film-making during this somewhat awkward era dead-on and light hearted.
If there is any low-budget short film I would ever want to waste my precious time with, perhaps even on multiple occasions, it would be "Kung Fury."
About the Contributor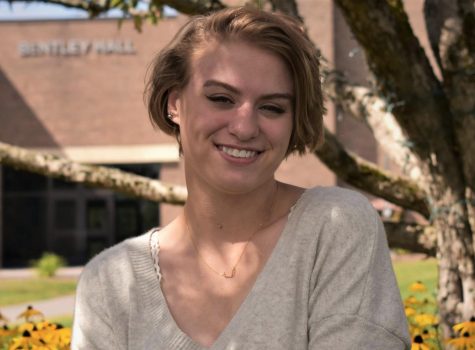 Adriana Eldred, Photo & Web Editor
Senior, Journalism & Studio Art
Grew up in Craftsbury, VT
Spring 2018 - Present

I got a black eye and mild concussion in Las Vegas during a rugby...