Growing up dyslexic
On March 27, JSC welcomed Lida Winfield to Dibden to put on her dance performance, "In Search Of Air: Growing Up Dyslexic."
She was born with dyslexia and had trouble coping with everyday life, especially at school. She wasn't able to read until she was in her early 20s, leading to her mother helping by doing her homework so she could graduate high school. She then went to Goddard College in 2011 to get a Master of Fine Arts degree in Interdisciplinary Arts, with a focus on the transformative power of the expressive arts.
She has done a lot of work with the arts and has performed internationally telling stories such as the one about her dyslexia. On her website, her work is described as "dances that are quirky, provocative, and physically honest. She challenges herself and her audiences to participate in dance as an open dialogue. Her art and her choreography are creations which tell stories, ask questions, explore limits, and celebrate beauty in what is awkward, raw, and vulnerable. She is inspired by the human capacity to cope, to imagine and to transform. Her work is informed by wilderness, socioeconomic divides, disabilities, access, the search for place or home, the magical and the quiet details of everyday life."
The stage for her performance doesn't have much to it. The first thing that I noticed was the small stack of books on the stage to the audience's left. On the right was a white cloth hanging from the top of the stage.
The performance began with her quietly walking on the stage where the white cloth was located as she narrated her feelings and questions about her story. After the narration, she started describing her early life in school by dancing and talking, looking frantic as she moved across the stage.
Her movement on stage was something that stuck out during her performance. Her dancing forced the audience to pay attention to what she was saying. There was a lot of arm movement in her dance. She motioned to the audience, messing around with her hair and doing exercises such as jumping jacks and pretending to jump rope. The way she moved on stage was mesmerizing and definitely helped me pay attention and understand her story better.
Her dance movements didn't detract from her ability to speak. The times that I felt most connected to the performance were when she went on angry rants describing hard points in her life. The rant that really stood out to me the most was when she described how she graduated high school and was able to receive a diploma, only to realize that she can't actually read what the diploma says.
The whole performance can be best described as a cry of deserved attention towards her story about her battle with dyslexia. She channeled how she felt at the time and was constantly crying out for help for the injustices that life gave her. I felt sympathy for her during the performance, which speaks to her ability to tell a story through dance.
View Comments (3)
About the Contributor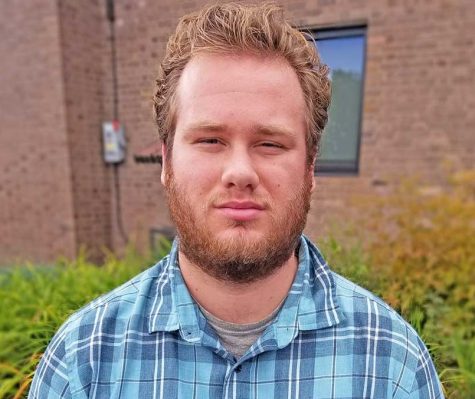 Patrick Bell, Sports Editor

Senior, Journalism
Grew up in Charlestown, RI
Fall 2017 - Present