I Falafel
Have you ever tasted classic New York falafel fresh off the food truck without leaving Vermont? Then you haven't gone to Tuesday Night Live (TNL) located on the Johnson Elementary School's soccer field and ordered from Papa Gyro's Authentic Greek Food.
I've been attending TNL since July of last year and have taken advantage of the diverse range of culture. There are six or so food trucks and family-owned business tents circling half the field between 6:00pm and 8:30pm. This week, the indie/alternative band Drunk and In the Woods is playing their delectable melodies as I wait in line to order. When Katrine Papadopoulos saw I was next in line, she smiled brightly and asked me, by name, how I was doing. I had been going to her and Jason Papadopoulos' food truck for the past three weeks, alternating between their classic gyros, falafels, and B.B.W's, or "best of both worlds."
That day, I chose their original recipe zucchini and chickpea falafel. To those unfamiliar with the Middle Eastern dish, it is typically prepared with mashed chickpeas, fava beans, and in this case, locally grown zucchini, rolled into a patty that can roughly fit in your palm, and deep fried. The result is a fluffy, dense ball tasting similarly to its fillings. For those with a sensitive or mild pallet, I would particularly recommend it to you.
Being that TNL is a popular venue and Papa Gyro's is a particularly popular food truck, the wait can range from anywhere between ten minutes to 20. There are only a handful of foods I am willing to wait 20 minutes for – or perhaps that is only how it feels in my anticipation for the mouth-watering dish – but I am perfectly willing to wait, however impatiently, for my falafel. During the wait time, I was entertained by the rich music, the ever-constant human hum, and the smell of fried things hanging in the hot summer air.
When I finally heard my name called, I hastily ran up to the window to have what looked like an oversized soft taco placed in my hands like a newborn. Arms cradled with oversized lemonade I had acquired from a nearby tent, and armed with a handful of napkins, I went to sit down on the grass to begin my feast.
Falafel is typically served in soft taco style, in a pita bread shell, and this one is no different. Placed within, nestled amongst crisp red onions, diced tomatoes, and a homemade tzatziki sauce, are three golf-ball sized falafel balls. To top it off is a loose handful of crisp, hand-cut fries. This dish satisfies several categories I look for in food truck cuisine.
One: comfort food done well. The feel of eating falafel can be equated to the experience of fair food, or food one gets to satisfy their sweet and salty late-night cravings. With the soothing taste of the chickpea and zucchini base, the savory tzatziki sauce, and salt and crunchy textures and flavors of the fries, I feel I've found the ultimate comfort food.
Two: eatability. While I have lost a falafel patty or two to the grass in my naivete, with the correct approach, you too can successfully devour an entire falafel taco with little to no casualty. Just as one would approach its Mexican counterpart, you need to bite sideways, at least at first, to ensure every mouthful contains falafel.
Three: price. A falafel, gyro, or BBW at Papa Gyro's will set you back ten dollars, which is justified in the filling of your stomach and fulfillment of your soul. Having tried all three options, I can assure that I have never gone wrong with any.
Papa Gyro's visits TNL and other events like it, such as the Jeffersonville Farmer's Market, and the Morrisville Oxbow's Wednesday Night Live. There is time yet left in the summer to find your new favorite food truck.
About the Contributor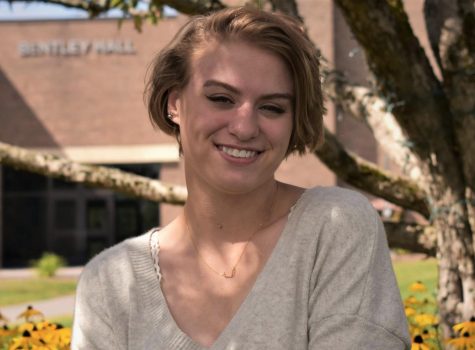 Adriana Eldred, Photo & Web Editor
Senior, Journalism & Studio Art
Grew up in Craftsbury, VT
Spring 2018 - Present

I got a black eye and mild concussion in Las Vegas during a rugby...