Harumph! Harumph!
Greensboro grassroots theater company Vermont Vaudeville wowed Dibden on Tuesday, Oct. 16 with its hilarity. With a true cast of characters including some True Vermonters, some Flatlanders, a German, two Brits, and a Gorilla, this show truly has it all.
The auditorium was more full than I'd seen it for any other event this year, with students, faculty, and community members alike. Onstage sat a red and black striped backdrop and jazz trio helped set the mood for a night full of fun.
The musicians played together for more than twenty minutes before the show began. Though the general form of the jazz stayed the same, the bassist, pianist and percussionist effortlessly traded solos until the show was ready to begin.
Vermont Vaudeville's cast is small, so almost every actor had multiple parts. This was especially true for Justin Lander, who jumped from behind his upright bass and began to tell the story of the first Vermonters and their quest for branding. Along with this speech came the catchphrase of the show, "Harumph!"
First up? The Secret Circus, a mix of comedy burlesque and bad British accents, on a mission for audience enjoyment. Their cliched ninja moves across the stage, behind the musicians, and through the legs of the piano brought laughs from the audience. "Perimeter secured?" asked Brent McCoy, as Agent Honeymoon. "Check," replied Maya McCoy, as Agent Butterfly. "Target confirmed?" "Check. "Civilians excited?" asked Brent. The audience made little noise, save for one, very confident "Harumph!" from someone in the front row. The tiny outburst, coupled with Honeymoon and Butterfly's obvious disappointment at the lack of audience engagement, had more of a laugh. "Now that guy pays attention in math class," exclaimed Brent.
"Honestly," Butterfly said in a posh accent, "I was expecting a bit more."
After they tried the whole bit again, the audience erupted in a loud "harumph!" and more cheering and clapping.
As they attempted to strip down to more dramatic outfits, choreography and shimmying included, Honeymoon's foot got caught in his pants and he was forced to sit down and pull them off, gracelessly. He then threw it into the audience, proclaiming, "Here's a souvenir for the freshmen," then quickly ran into the house and retrieved it. They started to juggle: first two sticks, then three, then four. Then they began to juggle between themselves, under Butterfly's leg, and across the stage. They juggled all seven sticks, but only for a very brief time.
Once Honeymoon and Butterfly had finished their juggling and thrown quite a bit of confetti on stage, Gorilla, the star of the show, came out to set up the next act.
One of my favorite running gags of the show was Gorilla's fruitless attempts to steal Lander's upright bass between every act.
After the Secret Circus came Flying High in the Friendly Skies, a piece in which Lander and Rose Friedman pretended to be Flatlanders on an airplane, with nothing more than three chairs and their own bodies as fodder. Their pantomimed portrayal was spot on. From the vibration of the plane taking off to having to climb over the aisle seat to go to the bathroom, the two actors made me believe they were truly on an airplane. Friedman accidentally threw her invisible drink in Lander's face when the flight was too bumpy to hold onto it.
Lander's display of standing to urinate in an airplane bathroom during turbulence made the audience roar with laughter.
From there, the show included knife-juggling, a music tribute to both Ronnie and Reedy Brown, the sweetest siblings in town; Gorilla breakdancing and Vermont Etiquette 101.
For the lattermost, the McCoys dressed in orange hi-vis and plaid showed the audience how to pronounce words in Vermont-speak. Maya held up a sign that said SOFT SERVE. "How do you pronounce this," she asked. The audience was divided in half between "cree-mee" and "soft serve."
While I am not a native Vermonter myself, I understood the joke here and went with it. It's not contrived: never outside of Vermont is that called a creemee.
Next was spinning diabolos. Like a yo-yo, this popular circus trick consists of the axle and a string. Though he dropped one diabolo by attempting to throw it high into the air, the performer's energy and enthusiasm for the diabolo never waned, and the audience responded in kind.
One thing I very much appreciate about these actors is that their presence fills the stage, and they demand the audience's attention and applause. Even when the audience was silent in anticipation or missed a cue to clap they didn't flinch a bit.
Many of our Creative Audience events are from out of state, so it's refreshing when we get to laugh locally with a CA event. I don't venture into Hardwick often, and I had never heard of VV, so I don't think I ever would have known about these talented actors and performers that graced Dibden on Tuesday night.
About the Contributor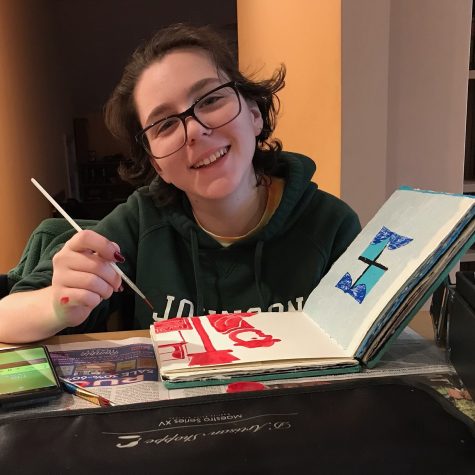 Rebecca Flieder, Editor-in-Chief
Junior, Journalism & Creative Writing
Grew up in Atkinson, NH
Fall 2018 - Present
Along with traditional journalism, I enjoy writing satire and...