This year's BFA exhibits tell personal stories of life and loss
Every fall semester, seniors in the Fine Arts program are set to present their exhibitions, and this year is no exception – except for, of course, the exceptional work done this year. Three placed in the Julian Scott Memorial Gallery in Dibden Center and one in the black box gallery in the Visual Arts Center, the students' work seems to follow common threads, which generally doesn't happen during exhibitions- that of passion, relationships, and hardships.
Kiersten Slater, BFA, based her exhibit, "Puddles to Drown In," around an accident that occurred this past summer, in which she broke both her wrists, two essential tools as a studio artist. Despite her severe handicap – no pun intended – she was able to work around it, all with an ironic sense of humor and a fiery determination.
Her largest piece, which measures six feet by 10 feet, is the center point of the series. Depicted is a large, surreal disembodied head, floating in an outer space-like background, seemingly being swallowed up by it. Cavernous eye sockets and mouth gape in a rich blackness, all while oozing what one can only assume to be blood. The head is painted in tones of muted yellows, bright reds, and green undertones, presenting a masterful use of brush strokes and textures, adding depth on top of the color scheme. Overall, the piece conveys to the viewer an eerie hopelessness worth viewing in person.
On the adjacent wall hangs Shastina Ann-Wallace's series, "Interbeing: Moving Together," a three-piece composition exploring human contact through improvisational dance. Her pieces are inspired by her own background in contact improvisational dance (CI) and the human experience of touch. Her pieces – "Play," "Connection," and "Gravity," feature a realistic style placed in a collage-like template. Each piece represents an aspect of CI, painted carefully on 40″ by 60″ canvas.
The movement and energy within the series is not only well executed, but visually appealing, the viewer's eyes drawn throughout the entirety of each piece. While the series meshes well together, each canvas is distinct. By far one of my favorite painting styles of all time, I highly recommend taking a look.
Opposite Slater's mourning exhibition is the whimsical and quirky work of Savannah LesCord in her exhibit "Through the Fog." Having a fascination with animals and the natural world – more specifically, cats – LesCord combines several forms of media to create her unique series.
During this semester, LesCord had experienced the loss of a few maternal figures in her life, driving her to explore the bond between mother and offspring in the natural world. Using colored pencil on black paper, LesCord created nine nearly photo-realistic cat heads of various species – a lioness, an amur tigress, a black panther, and many more. Most striking about her cats are the animals' eyes, looking at the viewer with a piercing gaze, while a video projection of foliage dances softly against the crisp black background. Overall, I found the works to meld, and was heavily moved by her dedication to celebrating the maternal figures in her life and their representation within the pieces.
Lastly is Luke Hungerford's Exhibition "Amazing Fantasy Showcase," which takes fantasy and materializes it into reality. Many kids throughout childhood have admired superheroes, and may have even dressed as one for Halloween; Hungerford takes that childhood passion for Marvel and fantasy and turns it into art.
Within his exhibit, located in the black box gallery, he showcases his handmade reconstructions of the original Iron Man suit – complete with the iconic glowing eyes and chest – his adapted Captain America cosplay, along with other props seen throughout the Marvel movie fandom, like the Plasma Cube in Thor and the Infinity Gauntlet in the Infinity War series, complete with realistic jewels. The attention to detail and patience that is so apparent in Hungerford's work is impressive alone, but the realistic look and functionality of it is a feat of its own. If you're into the Marvel fandom, you will be enchanted by this presentation.
Each artist in this round of BFA exhibitions explored their own personal journeys of hardship, relationship to self and others, and exposed a raw, vulnerable side that is difficult to execute cleanly and tastefully. Each artist, I feel, was successful in their efforts. The BFA Exhibitions will remain hanging and displayed until Dec. 14.
About the Contributor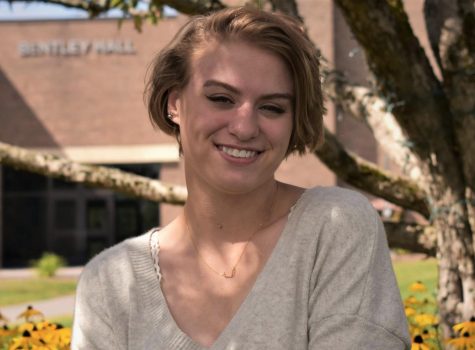 Adriana Eldred, Photo & Web Editor
Senior, Journalism & Studio Art
Grew up in Craftsbury, VT
Spring 2018 - Present

I got a black eye and mild concussion in Las Vegas during a rugby...