Paradise on a plate
It's a cold and blustery night, the kind of night that rattles window panes and, if you dare to brave it, will stick its prickly thumbs into your eye sockets just to see you suffer. These kinds of nights, the wind howls like a newborn through the cracks of your poorly-weatherproofed doors.
You can imagine it: This night, you're coming home to an apartment with nothing made for dinner. It's cold, bitterly so, and the tired ache comes through your bones like snow through a screen door.
The last thing you want to do is stand over the stove and make the same old dinner for yourself. You could make that boxed mac and cheese, sure. But it's boring! Pedestrian! Passionless! Your taste buds might start to hate you if you eat that dreck one more night.
Here's what you've got to do. Take your macaroni and cheese and bring it up a notch with a few extra steps. When it's all done, you'll have something filling and delicious: Cheeseburger Mac and Cheese!
Grab your trusty Instant Pot and get to work.
(Don't have an Instant Pot? This recipe is not for you, but it could be. You can pick up one of these incredibly useful cooking implements for about $50 online. Don't be turned off by imitations. I have an Insignia brand Instant Pot, and it has the same functionality with half the price tag.)
A note: This recipe can be changed to fit your needs as much as you want. You can pretty much change an ingredient or two, or add extra or less of something, and still get a version of macaroni and cheese that tastes really good. If you like your mac and cheese more runny or "soupy," you could add a quarter cup of milk. This is a fantastically forgiving recipe unless you're lactose intolerant. Your insides will not be forgiving you for this one.
Time to gather up your ingredients.
You'll need around 10 ounces of ground beef. Only have eight? Fine. 16? Toss it all in. This is the bulk of the protein for this dish, so if you want more "burger" and less "mac" in your Cheeseburger Mac, go for it. You want your mac beefy? I got no beef with you.
Plug in your Instant Pot and set it to Saute. Drop in your ground beef, a teaspoon of garlic powder, and a teaspoon of onion powder. Mix it all together and break the beef up into little pieces with a wooden spoon while it's browning. You want to get the beef to brown completely.
That doesn't take very long. 10 ounces took us about 10 minutes. Once it's all browned, turn off your Instant Pot. Add two cups of beef or chicken broth. You could also dissolve two bouillion cubes in two cups of water and add that. I used chicken broth because it was in my fridge, but, really, just do whatever your hungry heart wants. This isn't some fancy-ass "boeuf fromage."
Also, add the whole box of mac and cheese. I used a box of Kraft, which is labeled at 7.5 ounces. Open the flavor packet envelope of "cheese" and add all that salty, powdery goodness. I'm not really sure that there's actually cheese in that, but it adds some salt and color.
If you don't have boxed mac, just add about eight ounces of dry macaroni. When I don't have the boxed stuff, I usually add about two cups of dry pasta and a teaspoon of salt to make up for the powder.
Mix that all up and then pop the lid on. It's time for your Instant Pot to get all nice 'n' steamy.
Make sure the valve on the top of your Instant Pot is turned towards the Sealing function, then set it to Manual and cook for four minutes on High.
The more liquid in a pressure cooker, the longer it takes to come to pressure. As such, the Instant Pot takes about 15 minutes to actually get to pressure and then cook.
Once you hear the beeps, it's time to give your Instant Pot a little therapy session and let it quick release its pressure. Use a spoon or something that is not your hand to push the valve toward the Venting position.
Let the Instant Pot spout until it's done, and then turn it off. Otherwise, the pot will continue to heat your mac from the bottom, potentially burning it. Let your precious mac rest for five minutes. He's been under a lot of pressure. Let him have some time for himself.
While you wait, take your cheese of choice and cut it into half-inch cubes. I recommend a sharp cheddar, but just about anything else works as well. You want to cut about a cup and a half of cheese cubes. If you used dry pasta, add an extra quarter cup of cheese cubes to make up for the Kraft flavor packet.
When I made this the first time, I used about a half cup of Cabot's Smoky Bacon Cheddar Cheese and a cup of store brand cheddar. The bacon in the Cabot cheese adds a delicious smoky undertone to the whole dish.
Once your mac is done resting, open up your Instant Pot and stir in the cheese until it's all fully melted. You're also going to want to add half a teaspoon of pepper. If you like red pepper flakes, add them here along with any hot sauce.
You're finished! Time to break out the bowls and chow down. While it might be still freezing outside, you're nice and warm with a steaming bowl of Cheeseburger Mac. Take that, Old Man Winter!
Here's the recipe without the rambling:
10oz ground beef
1 tsp garlic powder
1 tsp onion powder
2c chicken stock
1, 7.5 oz box of Kraft Macaroni & Cheese
1.5 c shredded/cubed cheese
1 tsp pepper flakes
Optional:
1 tsp red pepper flakes
hot sauce
Turn IP to Saute, saute beef, onion powder and garlic powder until beef is all browned.
Add 2c chicken stock and the whole box of Kraft mac and contents of powder packet.
Stir and set lid valve to Sealing.
Manual cook on High for four minutes.
Release valve and let sit for five minutes.
Stir in cubed cheese until completely melted.
Serve and enjoy!
Makes 6 servings
View Comments(1)
About the Writer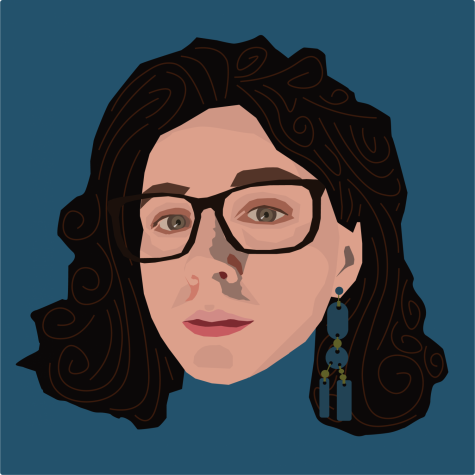 Rebecca Flieder, Editor-in-Chief
Senior, Journalism & Creative Writing
Grew up in Atkinson, NH
Fall 2018 - Present
Along with traditional journalism, I enjoy writing satire and...