Poetry and Moore
On March 22, NVU- Johnson hosted for the second time poet, musician and activist Jessica Care Moore in the Stearns Performance Space. She came to read poetry, talk about her life and inspire people to take action and make changes in their communities.
Moore has been speaking out against issues of race, sexism and violence her whole life, starting when she was growing up in Detroit. She has always been a powerful woman and a strong voice for social justice.
When she was 19 she wrote a poem titled "Black Girl Juice", which established her as a literary presence. She read several of her poems from various times in her life including "I am not ready to die," "I can't breathe," "We want our bodies back," and "Black Girl Juice".
She had an amazing way of telling stories that pertained to her life and black women in America but brought all women together (and the roughly four men in the room). So many of her poems and life stories were about struggles that all women have, struggles such as objectification and underestimating, but she also wrote about strengths.
Her message was of love and compassion for everyone, and inspired the audience to make changes if they see something that is wrong.
"It's up you and kids younger than y'all to actually change it," she said. She advocated for groups to unify the population of NVU-J, to make changes and give all students a safe place to go and be heard.
"If the college campuses were less quiet and apathetic as they are, the president, or whoever was in office—senators and congress people— they couldn't do anything against y'all," Moore said, "because your voices are so strong. If you actually just open them up and say something, you'd be surprised the impact you would make in the world."
Even if it were a small, local change, she noted it would make a difference and spread, especially in a place like Vermont.
In her poem "Black Girl Juice," she described her power as a young woman in high school while hanging out with the boys she "rolled with." She had the influence over them she needed to keep them out of trouble and be respected. She called this power her black girl juice.
"Have you ever tasted black girl juice?" she asked, "You might wanna pour some inside a jar, let it linger on your top lip or take it on a trip and dab small circles of it on your wrists, ankles or ears. And if you're daring enough to ask, we've got some black girl juice, if you have an empty glass."
After she recited the poem she talked about how all girls need to have a boy friend (notice the space between the two words called "the friend zone") and about how guys need to have a girl friend because there is so much to be gained socially from those relationships.
Between every poem she told the audience about where she was in life when she wrote them. "I can't breathe" was about when she was at a peaceful protest and then the police lined up in riot gear and rushed the crowd to provoke chaos. "I can't breathe. There is a smoking gun down my throat with promises of post-racial America. I can't swallow the chamber, it is stuck in 1967, and it keeps reloading after it pierces the bodies of our unarmed babies. I can't breathe because I'm being rushed on a sidewalk in the middle of a peaceful protest by a militarized police force in Missouri. They are yelling, 'I got one! I got one!'," she read.
It was particularly scary for her at the time because she was a mother and her son called her to come home when he heard about what was happening. But she thought of all the people in America who couldn't breathe, being forced to put up with all the violence and hate plaguing the streets and news on a regular basis.
She leads a life full of notable achievements. She's the CEO of Moore Black Press, which is her own literary press company. She's the organizer of Black Women Rock, which is a 15-year-old rock and roll movement that pays homage to one of her musical heroes, funk and soul diva Bette Davis, as well as empowers young women who have a background in music and/or poetry to express themselves on their own terms.
She's a nationally renowned poet, playwright, artist, producer, activist and musician and has performed on stages such as Carnegie Hall, Lincoln Center, and London Institute of Contemporary Arts. She has also used her influence and voice to stand up against AIDS and has performed at several events and rallies across the country.
She has also published several books of poetry including "The Words Don't Fit in My Mouth," "The Alphabet Versus the Ghetto," "God is Not an American," "Sunlight Through Bullet Holes" and she is working on another one that will come out soon.
On this night, Moore had an incredible stage presence, filling the room with her voice and energy throughout the performance.
Her words were moving and empowering for the whole audience, even after her main performance. There was a Q and A session afterwards during which she encouraged everyone to speak out and organize against issues about which they are passionate. "Give me a reason to come back," she said.
About the Contributor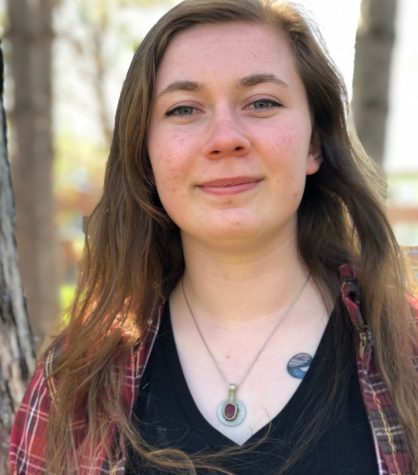 Magnificent Schmidl, Staff Reporter
Sophomore, Journalism
Grew up in Salisbury, NH
Fall 2018 - Present

The closest I have come to fame so far is once, at a Weird Al concert, he went...