Pigging out at Martell's at the Red Fox: a destination worth the journey
CLUNK! I was afraid we'd lose a tire before we'd ever see a hostess, let alone our meal. I was so hungry. CLUNK! "Turn right in two miles," said the GPS. CLUNK!
Nevermind the fact I was driving a Jeep; I felt that the poor vehicle's suspension might give out any minute. "Sorry car, sorry car, sorry car," I kept repeating, over and over, until we finally saw pavement again. A mile later, it was back to the bump of another dirt road.
While it was a short ride to Martell's, more than half of the way there was unpaved. Some of it was rather steep and full of potholes.
"Eh," my partner, Isaiah said. "It's a Jeep. It's fine." Maybe my anxiety was due to the fact that I learned to drive in southern New Hampshire, where all the roads are paved, but I still cringed every time we hit a pothole the size of Montpelier.
Nevertheless, I was determined. We were going to eat at Martell's at the Red Fox, even if I destroyed our suspension in the process.
I blame this all on the GPS, as I will take zero credit for these shenanigans. Instead of taking the (paved!) straight shot down Route 15 to Jeffersonville, the blasted piece of global positioning garbage decided to take us the scenic route.
But once we were there, I was glad we made the trip.
The place was comfy inside. The sun was setting and the lighting was low, but not uncomfortably so. In the back of the dining room sat a large, raised platform with sound equipment, stage lights and microphone stands. They call this area of the room "Stage 66." Martell's has live music on the weekends, but on Mondays, when we paid a visit, the place is rather quiet.
We sat down and ordered some maple teriyaki chicken bites for our appetizer. Isaiah ordered a Fat Tire Amber Ale and I got a Coke.
When the bites came, I was surprised to see what appeared to be golf-ball sized, dry chicken nuggets with a tiny amount of soy sauce on the plate. They had the appearance of fried chicken tenders but didn't appear oily. I was expecting chicken, of course, but the visible dryness was a little bit startling.
When I took the first bite, I immediately was reassured. The bites, while "dry" on the outside, were juicy and tender on the inside. Lava-hot, too. It was like the sauce was built into the chicken bite, which was both a novel and ingenious idea for what was essentially a very high-class chicken nugget.
The salty teriyaki taste didn't overpower the maple, but it certainly was stronger. The bites were also pleasantly crisped without being too crunchy. They appeared to have been fried, but they weren't greasy like they'd been oil-fried. We guessed they might have been cooked in an air fryer.
After that delicious start to our meal, the waitress removed the empty plates and brought us our main dishes: a BBQ pulled pork sandwich for Isaiah, and a crab cake sandwich for me. Both came with coleslaw, fries, and a dill pickle spear.
I hate coleslaw, so I didn't bother to taste it. According to Isaiah and several friends whom I showed pictures of our food, it was a criminally small portion of coleslaw.
The dill pickle spear was crunchy, salty, vinegary, and altogether what I think of as the perfect pickle.
Now, you may be wondering what a girl from the Seacoast region of New Hampshire (known for its seafood) is doing ordering a crab cake sandwich in landlocked Vermont. Being a rube, that's what.
Don't get me wrong, the crab cake was good. It was thinner than most crab cakes usually are, maybe a centimeter thick, and grilled so that the edges were browned and crispy.
It just wasn't the showstopper of the meal by any means. Crab is, at its best, fishy and lacking depth. It's the spices that truly make or break a crab cake. I'm sure if I googled "crab cake recipe grill," I'd immediately find a recipe that copies this one perfectly. In other words: nothing special.
The bun it was on was a white bread burger bun. It was arguably way too much bread for the cake itself, as the cake-to-bread bite-in-the-mouth ratio was somewhere around 1:2.5.
Also on the bun were some mixed greens and a sriracha remoulade, which complemented the fishiness of the cake. The mixed greens were most likely a bagged spring mix, and the remoulade had been absentmindedly dolloped on top. I wish there had been more remoulade and fewer leaves.
I had to forgo the slice of tomato normally included because I am, unfortunately, allergic.
I wound up pulling my sandwich apart and eating the cake part with a fork because the crab cake was soft in the middle and kept falling out of the bun.
But while I enjoyed my sandwich, Isaiah's pulled pork far surpassed my crab cake in a myriad of ways.
It was a massive quantity of pulled pork on the same kind of bun that I had, and he had opted to get his coleslaw in the sandwich rather than on the side.
"Damn," he said between bites and grinning through mouthfuls of pork. "This is the best-tasting pulled pork I've ever had. Try it?"
He held the sandwich out to me, and I pulled a hunk of pork out of the front with my fork.
I would readily agree with him; I had never had pulled pork that had so immediately impressed me. A perfect palate blend of salty, sweet, and smoky, the pork was beautifully tender and immediately disintegrated in my mouth. I wished that I had also ordered his meal because it was just that good.
He mentioned afterward that he hadn't even tasted the coleslaw on his sandwich, frustrated that again his portion was also microscopic.
He readily consumed mine, remarking about the perfect balance of mayonnaise and crunchy veggies.
The sides of fries included with both of our meals were, again, massive portions. These were browned and crisp on the outside, but soft on the inside with just a bit of salt. These were the perfect fries for spearing with a fork and shoving into my mouth to pair beautifully with a gulp of Coke.
The dill pickle spear was appreciated, too. Normal sandwiches pair very nicely with pickles, though I question whether or not dill pickles really go all that well with crab.
Isaiah demolished his sandwich in a startlingly short amount of time, and then I finished mine soon after.
After all was said, done, and eaten, we spent a total of about an hour at Martell's, simply because we spent 20 minutes at the end of the date talking about how good our food was. The waitress was quick and friendly, the service was fast and we didn't feel rushed or uncomfortable.
For the bites, our two sandwiches, his beer and my soft drink, our bill came out to $45. We both agreed, though, at $12 for the pulled pork, that we would be coming back specifically for that at a later time.
Martell's has live music on occasional Friday and Saturday nights, and they often invite local musicians to perform there. They also have open mics on Thursday nights from 7 p.m. to 9 p.m.
You can find more information about Martell's at the Red Fox along with the menu and artists' calendar at martellsredfox.com.
About the Contributor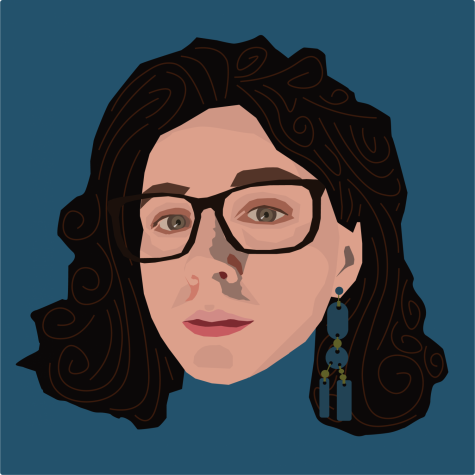 Rebecca Flieder, Editor-in-Chief
Senior, Journalism & Creative Writing
Grew up in Atkinson, NH
Fall 2018 - Present
Along with traditional journalism, I enjoy writing satire and...