Girls just wanna (get a diploma): A conversation with Cyndi Lauper
After commencement in May, I got the chance to sit down with Cyndi Lauper and ask her a few brief questions. I asked her about Johnson, her book, and her foundation, True Colors.
I asked, immediately, "What's changed? How is Johnson different than it was when you were here?"
She laughed. "The food. We used to go in the line, and you just get food. You had a card. I remember gaining a lot of weight, like, right away. [It's] because the food was very rich, so as soon as you learn how to eat that, you're fine. Well, it's changed a lot. You've got new buildings, but the spirit and the people, and how the people are towards other people, and allowance for everyone is kinda cool. I mean there's not a lot of diversity still. I always wonder if it's because it's really cold up here in winter, and so I don't think a lot of people would like the cold."
Lauper also mentioned her dog, the infamous Sparkle. "I had to hide my dog," she said, laughing. "My dog would run out, and people would recognize my dog, they'd identify my dog. Then I had to let him stay with this other guy. He said 'I could keep her,' and he called her Biffy. And I was like 'Biffy? Her name is Sparkle.' As if Sparkle and Biffy was a big difference. I don't know, but to me Sparkle had more integrity than Biffy."
Lauper's book barely mentions Johnson State College, but it paints a rich image of Lauper's life, coming into her own as a young adult from Ozone Park and facing a thousand challenges, then finally making it in the 1980s.
When I asked her about her foundation, True Colors, she said, "The True Colors House was started by Colleen Jackson, who's now retired. A lot of the people who work in non-profits get beat up because it's a thankless job. The government agencies always being like "here's ten pennies", when you really need fifty. And then you have to go out and try and find someone who's going to help you out. You have to go out and try and find any donors of some kind."
The original idea, a generational house, would be a housing project for low income families. "They would have a kind of counselor on each floor," said Lauper. "They would take in old people, senior citizens who were homeless, and unwed mothers with children. And the idea was that they would live in a community where the grandparents would watch the kids. Each floor had someone in charge, and of course they were vetted."
With True Colors, the organization would be able to "provide people with an opportunity to understand, 'Geez, I've got an accountant, and a bookkeeper,'" said Lauper. "Who doesn't wanna like be able to say 'Oh, this is how you do your checkbook, and here's how you can balance things, and if you're gonna do this, make sure you have this money in the bank, because you have to have one week's salary to pay your rent, and this is how you balance everything.'"
"Homelessness is a community problem," said Lauper. "We bring people together."
True Colors United focuses on the homelessness crisis affecting the LGBT community. "There's up to 40% of the LGBT community experiencing homelessness," said Lauper, "and that's not because they're bad kids. They're only on the street because they're gay."
"I'm a mom," she said. "It's not easy, your kid's always opposite from you, I get it. When you get 'em from the hospital, they got a little pamphlet that says, 'when they cry you need to change his diaper,' 'they have gas, they're hungry.' But within that pamphlet, there's no receipt to bring them back. You can't bring it back. That's what I don't understand, I don't think that ideology, or anything, is more important than your kid."
That's what you notice about Lauper right away is how she carries herself– there is a confidence that radiates from the inside out. She's warm, and kind– she cares intensely about others.
"I think that the LGBT youth that are experiencing homelessness, they are more vulnerable," said Lauper. "Look at the facts: Religion, dead set against you. This is the funny thing, all religion are alike to me. There's some great things, and then there's the bad things. There's a big fuckin' excuse for not treating people right and to acknowledge your own acceptance of yourself."
Lauper even mentioned the abortion bans in Alabama, saying, "In Alabama, there's gonna be something that we do. Not the True Colors Foundation, just Cyndi Lauper, and every other woman that is just fed up."
"I don't buy anything from Alabama," she said. "I called my accountant, I called my banker, I said 'any money going to Alabama, you pull right now.' I told my manager, I told my agent, 'I am not singing in Alabama, it is a no work zone.' And I am going to hashtag No Work In Alabama. And we're gonna redo Girls Just Wanna Have Fun as a writing thing, with a few pictures with signs."
Lauper's speech at Commencement focused on winning the small battles, and making your bad times into good ones. She's a testament to the power of perseverance: you may be small today, but with a "Hat Full of Stars" and your "True Colors" showing, you're sure to "Shine."
About the Contributor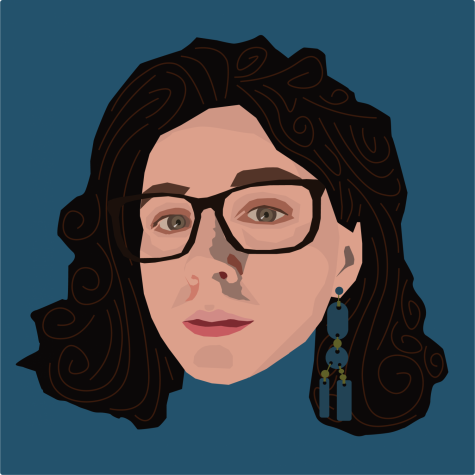 Rebecca Flieder, Editor-in-Chief
Senior, Journalism & Creative Writing
Grew up in Atkinson, NH
Fall 2018 - Present
Along with traditional journalism, I enjoy writing satire and...