It's a-me, Mario Kart Mobile!
"It's a-Mario time!" This time, it's on your phone!
The new Mario Kart Tour game has finally hit the App Store & Google Play as the number one racing game. The application was available to download on Oct. 3, and has taken over the free time of my suitemates and I. The game is very addictive, fun and a great study break. While it's similar to the console version of Mario Kart, there are a few gameplay differences. Those include having to tap to release items such as banana peels and shells, but also the touch and sliding aspect when driving your players kart.
There are currently 16 tours, and many more on the way. Different cups host different races on OG tracks like Rainbow Road and Yoshi Circuit, and certain cups come with specialty items that have increased power ups and bonuses. The sounds and looks of the game are strikingly similar to the original Mario Kart game. There is no off-track driving, which makes for an easier gameplay. For a free phone, there are no frustrating ad breaks, but you can make in-app purchases for certain packages for special characters and their cars, as well as rubies to shoot off the cannons for new items.
Each cup incorporates three races and one skills-style game, and once you pass with a certain amount of grand stars, a new cup will open. Once multiple cups have been finished and completed, new characters, karts, and parachutes will be won or purchased with coins or rubies. Each item can and the power level will help increase how you can be positioned in games, number of power ups that are gained, and higher level points. When playing, aim to rank high, but also remember that your speed boosts and use of items against your opponents will increase your chances of getting 5 stars for a race. After each cup that is finished, a gift is rewarded usually including coins and game tickets.
There are badges that players can accomplished while playing. These include skill badges, which are earned by using a certain number of skills per game which increases your race score as well. These can be displayed to show off your level of persistence and coolness to your opponents or new comers to the game. When earning badges, you will receive a certain amount of rubies as well.
With all the good, there are some minor bumps. The first, the game runs your battery, which is typical for anything on your phone and also needs internet or data to be playable. Secondly, the game keeps you locked on a straightforward path so you cannot go off the sides on Rainbow Road or into the lava in Bowser's Castle unlike the original Mario Kart games. Third, your notifications or constant incoming messages will slow the game or even glitch your game, resulting in lower positions or freezing of the screen for a few seconds.
That being said, the new Mario Kart Tour game is not as flawed as much as it is detailed, with precise imagery of the original games. The new version of gameplay may not be liked by all who play it, but it is truly a fun racing game. Many game reviewers fault Nintendo, but when the multiplayer update is launched in the near future, it may change their minds. Now that game has been out for three weeks, my suitemates and I have spent more time together in our common room, just with a little less talking. It is a great experience hanging out playing the game together, just on our own devices. If you have not downloaded the app, I suggest you give it a try, maybe it will be the perfect study break for you too!
About the Contributor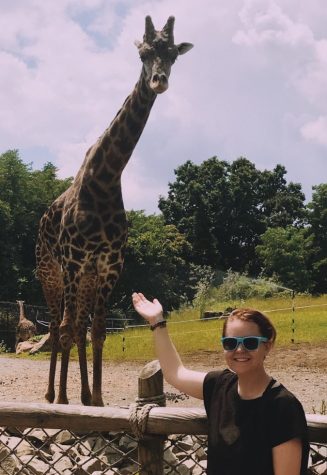 Allison Irons, Sports Editor
Senior, Pre-Law & Journalism
Grew up in Middle Town, NY
Fall 2019 - Present

My spirit animal is a Narwhal because they are the aquatic unicorns!