Open Ring Circus dances through the flames in Dibden
On Oct. 1, the Dibden Center for the Arts welcomed Open Ring Circus to perform "Coated: 1944 Circus Fire Project," an interactive acrobatic and dance production. From the performance's playbill: "On July 6, 1944, the Ringling Brothers, Barnum and Bailey Circus pitched their tents in Hartford, Connecticut. At their matinee show that day, as the Flying Wallendas took their place on the tightwire platform, the tent went up in flames, claiming upwards of 168 lives, and injuring more than 700."
The performance tells the story of the fire and used the power of dance and aerial arts. The circus and aerial skills performed were rope, handstands, straps, wire, and the trapeze. There are some spoken word parts, but the story of the Hartford Circus Fire is told by the dances and individual skill performances. The intensity and use of dramatic lighting, sounds, and music also told the story. This story was told by five unique characters all shying away from being the circus ring leader and each performed different pieces relating to actual moments from the real event.
The stage was set up very minimalistic and the performers wore neutral colored clothing to not draw away from the overall performance. The color was in the ring leader's coat, which was only brought out in key moments of the story. One of those moments was when each performer put on the coat, and the dramatics of the music and recorded audio increased. None of the performers wanted to take the blame of which the ring leader should have due to heartbreaking event of the circus fire.
The use of the individual aerial performances enhanced and captured the emotions of the audience. Through different moves or daunting skills, the audience went from silence in awe, to sudden oohs and ahhs. With the use of recordings from the real event used in the performance, this evoked emotions in the audience as well.
Open Ring Circus hails from Philadelphia, Pa. and has trained circus and acrobatic performers from all over the country. The group has been on tour performing the Circus Fire Project since early Sept. and have its final shows in two weeks. The tour has ranged from Lake Placid, N.Y. to our Johnson campus and all the way to Louisville, Ky. This show left the audience in Dibden in awe and feeling a wide range of emotions due to the production aspects and explores the ideas of public safety, mass tragedies, and grief.
About the Contributor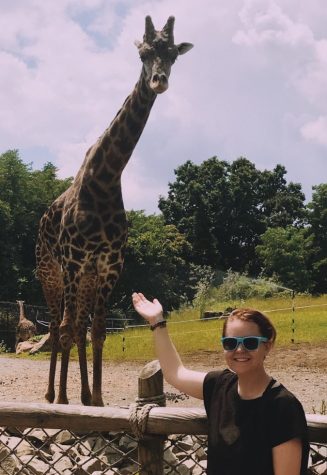 Allison Irons, Sports Editor
Senior, Pre-Law & Journalism
Grew up in Middle Town, NY
Fall 2019 - Present

My spirit animal is a Narwhal because they are the aquatic unicorns!