An acetone addiction: my journey from nail biter to nail artist
I feed my addiction a couple dollars at a time, buying once a month from my suppliers online. It's generally $12.50 for a half ounce at a time, but I'll buy a couple plus some extras if my budget allows. It comes weeks after, gently and diligently bubble wrapped, with my pseudonym printed neatly on the front. As I unwrap and snip away the packaging, my excitement grows. This month's Polish Pickup has arrived.
I've been pretty much addicted to nail polish since February of 2016, when I started trying to stop biting my nails. I'd been a chronic nail biter since early childhood, nibbling away at the skin and keratin on my fingers until they were bloody. I'd hide my hands in pictures, refusing to shake other people's and generally avoiding the public eye on my fingertips.
At 17 years old, I figured it was time to ditch my childhood habit for beautiful, long nails. Put simply, it seemed like it would be just as easy as saying, "I'm not biting them anymore." But in practice, it was a coping mechanism for my anxiety. Biting was the go-to whenever I couldn't find anything else to do with my hands.
Because I'd bitten for so long, my nail beds had receded down my fingers, meaning that the piece of nail attached to the finger was tiny. Any white growth on the edge drove me to bite it off. And due to uneven biting, the nail beds were crooked, so, of course, my nails came in crooked. I spent a couple months of my senior year of high school with nails of varying lengths and alignments. I didn't quite know how to use a file.
I was ridiculously proud of my silly little claws. But come exam day and I'd gnaw them off again. I tried no-bite lacquers, and I bit through that so often that I got used to the disgusting taste.
Cut to me, pulling out a years-old and gloopy bottle of OPI's "Big Apple Red" nail polish, along with a white China Glaze and a Confetti striper polish, the kind with the tall bottle and skinny brush.
I'd been a tomboy all my life, so I didn't own more than ten bottles of nail polish in varying conditions.
I polished my nails excessively to try to combat my biting. If they looked pretty, I was less inclined to bite. I took lots of pictures of the growth and then very little after what I referred to as my "relapses."
As my creative ideas wore out, I bought a $10 set of Kleancolor nail polishes on Amazon and spent many more hours coming up with designs and art I could put on my nails.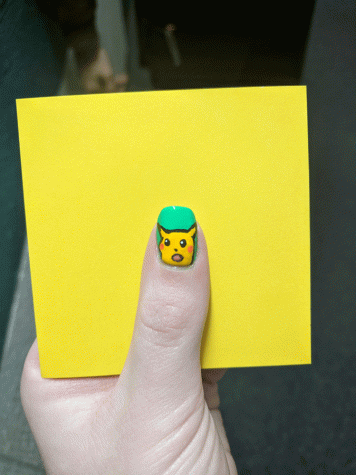 I posted every design on my Instagram, and then it occurred to me: what if I made a page just for my nail pictures?
Turns out this thing is really popular. July 8, 2017, I pulled the pictures down from my personal and posted them on an Instagram page titled Bec2a's Nails. I didn't intend to grow an audience, but through following other freehand nail artists I discovered a world that I've embraced as my own.
In search of the perfect colors and finishes for my art, I started buying nail polish from independent sellers and makers and grew my collection of polish bottles to where it is now at a comfortable 140.
What started as a showcase turned into a community. I routinely participate in 'challenges,' where a group of nail artists will paint their nails according to some inspiration, and then the host of the 'challenge' will make a collage of all the manicures, or 'manis' spawned by the challenge.
Every Sunday is Polish Swatch Sunday, where we post only a 'swatch,' a coat of polish with no art on top. It's refreshing, plus I get to see some stellar polishes and how they perform for my nail friends.
My latest obsession in nail polish is a once-a-month pop-up shop for nail polish known as Polish Pickup. Indie nail polish makers from all over the world contribute a lacquer or two based on the month's theme, and then they're all available from one shop front for a couple of days in the beginning of the month.
Themes like "Urban Legends" inspire polishes with names like "Bad Apple" and "The Jangly Man." These are exclusive to Polish Pickup, and the shop is only open for the first Friday through Monday of the month. Once a polish sells out or the shop closes, that batch of "pretties," as they're sometimes called, get shipped and are never sold again.
This pop-up usually has the newest trends in polish, from thermals to "unicorn pee" flakes. There are so many different "commonly used" phrases in the community that several bloggers have tried to compile a sort of wiki for these words and phrases. There are too many to count, and people come up with new ones all the time. I don't think I've ever found a really comprehensive one. When a person tries to sell a polish she's not interested in anymore, she might say, "VHTF PPU May 2017 JReine 'What a Feeling' OGUP BNNU $25OBO."
That's nonsense to a non-believer. But from experience, I can translate. The seller wants buyers to know she has "What a Feeling," a polish from a brand called JReine, which was sold in May 2017's Polish Pickup. It's VHTF, meaning Very Hard to Find, and it's got a pigment in it called OG Unicorn Pee, which is an iridescent flake pigment that transitions from orange-pink to green.
It's Brand New, Never Used, and the seller is looking to sell it for $25 Or Best Offer. Crazy, right?
Some pigments like OGUP spark a craze to find and collect polishes with their unique sparkle. OGUP was an automotive pigment, discontinued just after the nail world discovered it. Some makers still have stock, so OGUP sometimes makes it back into PPU. When it does, though, the half-ounce bottles can cost in the $15 range.
So cut to me, opening last month's PPU package, with two new bottles of polish and some cuticle butters, designed to soften and moisturize the skin around my nails. They smell like peaches, apples and strawberries.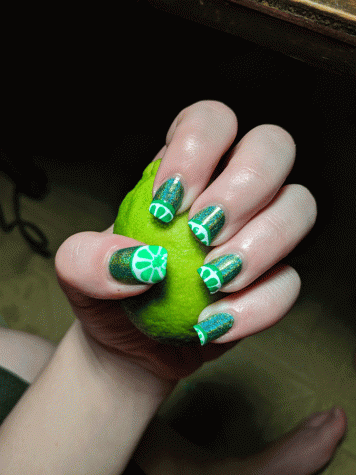 Some people would take the time to pose their polishes and post them, but my page is less obsessive. I don't claim that my hobby is an everyday thing; when I can wear a manicure for more than a couple days, I'm always glad to show it off.
When I start doing my nails, I always moisturize and then go through a specially curated feed I've created of visual inspiration. It's other people's nails, beautiful images of scenery and plants, and tons of small-artist cartoons.
Sometimes memes are my inspiration, and sometimes I'll find the perfect color to paint my bowl of curry on my nails.
I've done ducks and cacti, google-eyed monsters and Lizzo quotes– anything I can think that'll be fun. I love logos, too, so I painted Good Mythical Morning's on my thumbnail.
It's a tiny and prone-to-chipping canvas, but that's really the beauty of it. Sometimes when I do my nails in the evening, I'll put the art overtop a peel-off base in case it smudges. After I let them dry and go to sleep, I'll wake up in the morning having lost a 'peelie,' the art that popped off my nail.
I hate to say that once or twice the peelie has stuck to my face, and once, embarrassingly, the sharpie watercolor technique I'd tried transferred itself onto my face, even through a glossy top coat.
I spend anywhere from half an hour to three on a manicure, and I'm always proud of the tiny detail work I do. To date, I have over 250 posts on my Instagram page, currently @bec2anails, with over 800 followers.
It was never supposed to be for anyone but me, but here I am with gorgeous, long nails and a great group of online friends who cheer me on.
Even when I don't post my nails and just enjoy them for myself, I enjoy the sensation of shiny, smooth tips. I actually kind of feel naked when they're bare.
I won't lie– having a hobby with such a time suck can be really frustrating. Even after I've applied my art, I still have to wait for it to dry. If I need to pee halfway through, I'm SOL. Itchy nose? Better do it with my non-dominant hand. Plus, one wrong move or accidental tremor and the whole design is ruined.
That's all right, though. I'll just take the smudged polish off and throw on a coat of Fancy Gloss' "Mistress of Evil." That one always makes me feel like a fancy badass.
View Comments(1)
About the Contributor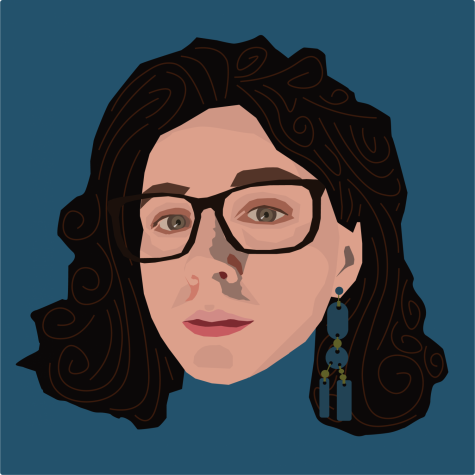 Rebecca Flieder, Editor-in-Chief
Senior, Journalism & Creative Writing
Grew up in Atkinson, NH
Fall 2018 - Present
Along with traditional journalism, I enjoy writing satire and...