The Monarch and the Milkweed offers eclectic cuisine done well
Monarch and the Milkweed is located on 111 Saint Paul St, Burlington ,Vermont. The restaurant presents itself as a pastry shop, fine diner, and cocktail bar. The feel of this place is quite relaxing, and although small, I never felt cramped at any time.
It is winter now, but in summer they offer three small tables to sit outside. Inside, the decor is eclectic, not unlike their food.
The tables and bar are made out of granite, which complements the mini chandeliers located throughout the restaurant as well. The bathroom only fits one and is unisex; that being said the restaurant is smaller, and I found there was no major line at any point.
The music in the background was an unobtrusive mix of holiday tunes and jazz. Lighting, like the music, was subdued.
Recently, I stopped in for brunch. The first thing I ordered was their Brio Drip coffee, which was presented in a large pink ceramic cup. It really made for a delightful drinking experience. On top of that, I found their coffee to be extremely rich and unbelievably smooth, memorable to say the least. Even without any cream or sugar, the consistency was nice and thick, so this was a treat.
The next thing I ordered was the deviled eggs dish. These were not ordinary deviled eggs though. These were a combination of chicken and quail eggs. The only real difference between these two kinds of eggs to me was the size of them, the quail eggs being the smaller ones.
As someone who works in a restaurant, I was immediately impressed by the presentation of this dish. The deviled eggs, which were oh-so-creamy and perfectly spiced, were served with pickled vegetables, such as cauliflower and green beans. The cauliflower had a traditional pickled taste while the green beans had a spicy kick to them.
Next on the brunch menu for me was the corned beef hash. This consisted of house-cured Vermont brisket, potatoes, beets, sweet potatoes, sunny egg, chips and Jasper Hill blue cheese – certainly a big pile of flavors that did my arteries no favors. Still, sometimes you just have to indulge.
The hash came in a big dish resembling a soup bowl. On the bottom were potatoes, beets, brisket. Then it was topped off with the sunny egg, which was nice and runny, and the brisket fell apart in my mouth. The dish gave off the nice aroma of sweet, but still salty dish. My only complaint about the dish would be it was a tad bit difficult to eat in the soup bowl, but it sure did present itself well.
Other memorable dishes on the menu are the fried chicken and waffles, which I have had the pleasure of devouring on past visits. Wonderful too is their pork tenderloin sandwich that consists of pan-fried panko local Vermont pork, soy-caramel-orange- marmalade, red onion, pickle, Dijon, all on a brioche bun.
They also offer a BBQ pork belly sandwich that I can tell you is melt-in-your mouth delicious. Lastly, their mac and cheese is nothing to pass up. It consists of macaroni, Grafton cheddar, Swiss gruyère, cream, and everything-bagel croutons.
The ingredients used to make these dishes come from farms such as Neighborly Farms, Boyden Farm, Half Pint Farm, Champlain Mills, and many more. Farm-to-table food is a great way to attract customers, especially those from out of town.
Monarch is also very well known for their CBD-infused pastries that are delicious.
At this time of year, Monarch offers a variety of holiday specials, including entrees, cocktails and sweets. Although I didn't order it, the holiday pork pie looked enticing, consisting of pork sausage, tomatoes, caramelized onions and peppers.
The desert specials offered a range of tarts, anything from caramel tarts to trout donuts. Yes, I did not explore those.
Overall, the food was great, the service was excellent, and the servers were very accommodating and polite. I highly recommend Monarch and the Milkweed to all of those who plan to visit Burlington looking for a memorable eating experience.
About the Contributor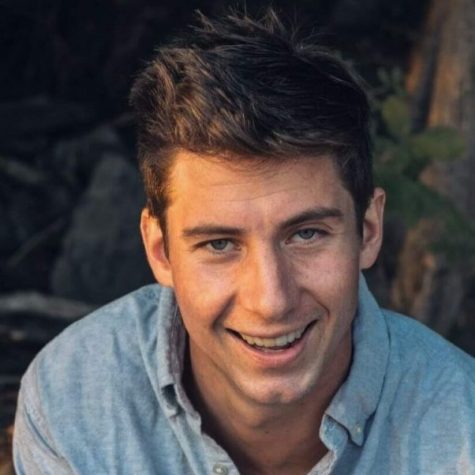 Justin Robertiello, Staff Reporter
Senior, Journalism From Chester, NJ, Fall 2019- Present.

I enjoy skiing, mountain biking, and soccer.

My greatest strength is holding conversation,...