A Single Pebble rocks
A Single Pebble has been a staple of the downtown Burlington food scene since 1997. It is the first restaurant that comes to mind when I am asked, "We're going to be in town next weekend, is there a good restaurant for us to check out?" There is simply no competition in the area if you are looking for high-end Chinese cuisine.
Our party of three arrived last Saturday, just a few minutes early to the 7:30 dinner reservation that we had to make nearly two weeks in advance. We had initially planned on going as a couple, but decided to add a third member to our party a few days before our reservation. Even with five days' notice, I could tell that the host was scrambling to accommodate my request to add a third seat to our table. While I am grateful that he was successful, I seldom have reason to doubt that this restaurant won't bend over backwards for their valued guests.
Upon arrival, guests to A Single Pebble will approach the humble façade of the building that blends into aesthetic of downtown Burlington. A white house that looks like it has been there since the 70s sits on the corner of Bank and St. Paul streets. Walking up the steps gives the feeling of arriving at an old friend's house for dinner.
Once inside, we are never surprised to see a full restaurant whose staff hustles elegantly from table to kitchen to table with beaming smiles and food or drink in hand. The smell of ginger and sesame perfumes the entrance to the restaurant, and an excitement that is rare to me begins to bubble within.
The unique layout of the restaurant adds another layer to its charm. The entrance level features large, round tables lining a series of bay windows that are meant for bigger parties. There is also a small annex in the front of the floor that seats parties of two at high-top tables. Down a half flight of stairs, there is a large dining area that has an assortment of large and small tables. Then, up another half flight and on the opposite side of the lower dining area, is an intimate section of the restaurant that looks down on the lower floor. This area has four more tables that can accommodate parties of two to four people.
I gave our name to the host, and he assured us that our table would be ready in just a moment. It is no wonder that they have no designated waiting area; they simply do not need one when their timing is completely on point. During our three-minute wait, an inexperienced young couple walked in hoping to get a table for two. Without a reservation, this is virtually impossible, and they were politely encouraged to call ahead next time.
We were sat in the third section of the restaurant beneath a beautiful painting of koi swimming in a circle. Ice water and a bowl of mixed nuts were placed on the table the moment we sat down. A Single Pebble serves their food family-style and there is a rotating tray in the center of each table to help facilitate the passing of dishes once they make it to you.
Our server was pleasant and colorful. She provided us with lots of information on all the specials of the night and took our drink orders right away. After returning with our drinks, she took the rest of our order, and we did not have to think or lift a finger for the rest of the visit.
The three of us shared six dishes that evening. The first to arrive to our table was the Mock Eel. I always try to order different things when I visit SP, but this is an absolute must-have every time. Nothing overly complicated, the mock eel is simply crispy fried shitake mushroom strips dressed in a sweet and sticky ginger, scallion soy sauce. They come out of the kitchen fast and are almost always the unanimous favorite of the table once the dust settles.
We also treated ourselves to the Sichuan Cucumber. This cold dish is comparable to a pickle appetizer. Cucumber slices served in a garlic, chili and hot bean dressing act as a great palette cleanser throughout the meal.
Next, we were served the Red Thai Curry Soup. This is my girlfriend's favorite and is also typically on our bill at the end of the night. Served in a large bowl with a ladle, this soup is exactly what you would expect. With chicken, rice noodles, and crispy lo mien floating on top, this yellow curry and coconut broth is a great dish to come back to when you need a break from some of the heavier offerings. My only complaint is that the serving bowl is massive and takes up the space of almost any two other dishes on the table, making it difficult to maneuver the otherwise awesome culinary adventure.
Another crowd favorite is the simple but wonderful Ants Climbing a Tree. Cellophane noodles with minced pork and tree ear mushrooms are tossed in a spicy sauce and heaped onto a serving dish. This is a great alternative if you want a break from fried rice as a side dish.
We ordered two main courses that evening. The first was the seafood special of the day, Spicy Salmon Bites. The seafood special changes daily and keeps seafood lovers like me wanting to come back time and time again. This dish did not disappoint. Bite-sized portions of salmon deep fried in a crispy batter were dressed in a spicy sauce and served with chopped peppers, onions, carrots, and other vegetables. It was fantastic and something that I had never experienced before. I would call this a must-order if they offer it as a special again in the future.
Finally, we were served the Red Chili Shrimp. Large prawns fried in a light crispy batter and served in a spicy sauce with mixed vegetables, this was the absolute showstopper of the evening. Our party was already full, but the sight of this lovely dish gave us a second wind. The shrimp were cooked perfectly and the flavors more than justified the $30 price tag attached to the offering. I could order this every day of my life and never tire of it.
Three delicious cocktails and six dishes later, we received our bill of just $176 after tax. After the tip, it came out to just about $70 per person, which we all agreed was a bargain considering that we could not find one issue with the food, service, or atmosphere. We certainly overordered and ended up taking some of the food home with us, so you could knock $40 off that bill and still have a wonderful meal with more than enough food for three people.
If you haven't been to A Single Pebble yet, make your reservation soon. This is one of the few unique dining experiences available in the area.
About the Contributor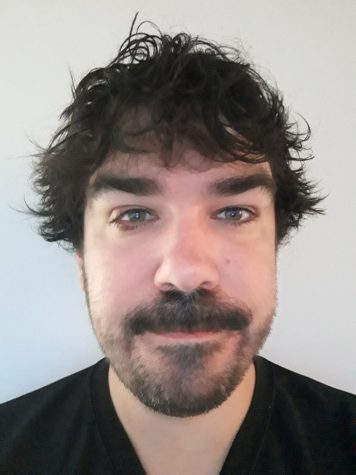 Kyle Gagnon
Kyle Gagnon is a former editor of Basement Medicine. He haunts us still.