Timeless food keeps Henry's Diner youthfully delicious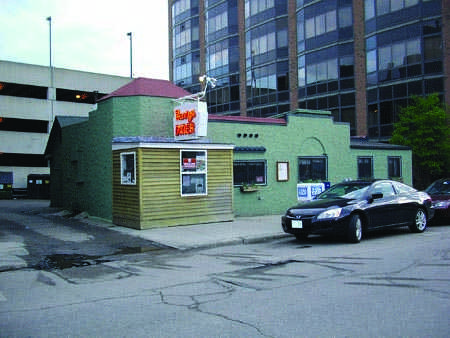 Henry's Diner is a weird-looking mint-green stucco building with a yellow wood growth jutting out of it. Above this polyp is an old neon red sign that says Henry's Diner. When I first saw it, I thought there was no possible way that this unattractive building should have a line of 10 people coming out of it at 11 a.m.; yet, they were there.
Normally, I'm not much of a breakfast person, but Henry's Diner has been one of Burlington's gems for more than 80 years, so I was interested. Henry's started in 1925 and has since been an iconic stop for breakfast and lunch. Its menu which lists essential items such as omelets, burgers, sandwiches, and pancakes, also offers greek options such as gyros and spanakopita. But, I knew going there I wanted to try the most important meal of the day.
So I walked at 11 a.m. to Henry's, which is only about a block off Church Street. I saw the line of people coming out the front door so I decided to go in and see just how long I would be, only to find that it was nearly a 45 minute wait. So, I walked around and waited until 1 p.m. when the waiting time was only 15 minutes.
Eventually, I got in. The place was packed. Henry's has roughly the same amount of space in it as the fourth floor of Stearns, but with about 40 people packed inside. Most of the people inside were in their early to mid 20s, while the waitstaff of the same age bustled around them.
The inside was a traditional diner style. A long bar stretched across the restaurant with yellow and chrome stools. Opposite of the bar were about six or seven booths with glossy clear plastic onto of yellow fabric. The walls are lined with wood, followed by the stucco material with picture of the diner's history lining the walls.
After waiting in line and hearing from former patrons that the line was worth it, a table was finally ready and I sat down. Still in the mood for breakfast I ordered coffee, which a waitress quickly brought. I took a sip and wasn't terribly impressed, but that's not what I was here for.
I scanned the menu for possible options and my eyes instantly landed on the Hungry Henry Breakfast. "Three eggs with your choice of bacon, ham or sausage and your choice of French Toast or pancakes, served with home fries and toast," yum. The price was $9.25 which was one of the more expensive items on the breakfast menu. Lunch prices were about the same as well. My companion decided to order the The Vermonter skillet, which had grilled home fries, corned beef hash, cheddar cheese, and two eggs also for $9.25.
We waited for about 20 minutes listening to Elvis and other old time hits playing in the background as servers rushed around the tiny restaurant getting orders from the constantly changing tables. I looked around at the crowd of college students chattering and wish I had my Seven Days that I sat with in line. But soon enough, a piping hot plate of glistening eggs, rye toast, and bacon was before me.
I decided to start with the eggs. I get mine over easy. As soon as I put my fork in, I knew they were cooked perfectly. The warm yolk poured out and collided perfectly with three slices of albeit a bit fatty, but dark chewy bacon. My first bite into the bacon was delicious. While others prefer crispy, I think it ruins the flavor, so this was prefect and had just the right amount of saltiness and flavor.   I then moved onto the home fries. They were partially cubed and appeared to be baked, still wet and with onions. While some of the potatoes were not fully cooked and I personally prefer my fries to be perfectly cubed and fried like french fries, overall they were pretty good and contrasted well with the eggs.
Then, I moved onto the pancakes. They were about the size of a plate at Stearns and the two of them were about a half inch thick together. Fake maple syrup came on the side but there was the option to have the real stuff for $1.75 extra. But, as I soon learned, this wasn't necessary.
They were perfect. By this point in the meal I was utterly full but I had to go on just to see what these cakes were like. As I pressed my fork into them they fell apart perfectly. The first bite was wonderful. A mixture of sweetness and cake like texture that just fit the very definition of pancakes. They had no burnt taste whatsoever and melted in my mouth, only my stomach about to burst kept me from ordering another batch of what were the best pancakes I've ever had.
My companion let me try her corned beef and cheddar combination which I found a little bit greasy but overall good. Mine was a bit greasy as well as I finished off the last bits of the potatoes but didn't subtract from the overall experience of the meal.   As we finished and payed our bill, I saw why Henry's has stood the test of time, and had lines pouring out the front door. The food there is wonderful and deserves to be called one of Burlington's best restaurants in the city.