Dining's smooth sailing at Brewster River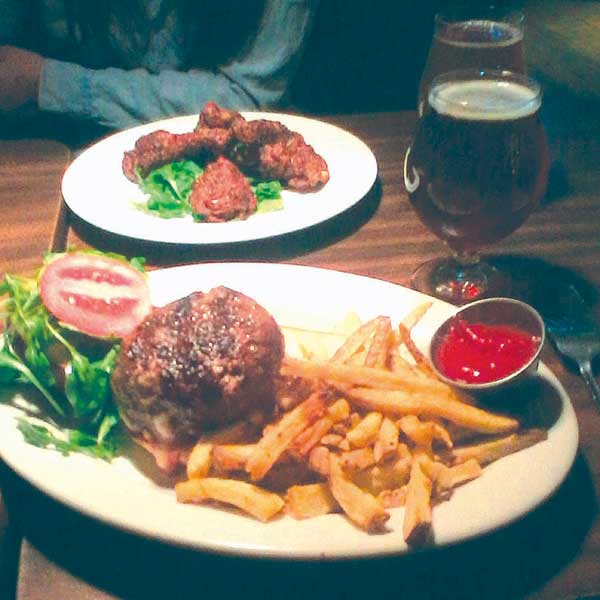 This past weekend I had the opportunity to go out for dinner. My friend Dove and I took the short drive to Jeffersonville to eat at Brewster River Pub and Brewery. Brewster River is located on root 108 South on the way up towards Smugglers Notch Resort.
Even though Brewster River is known for having its own beer as well as a large craft beer selection on tap, the food that we ordered came as a pleasant complement to our drinks.
As Dove and I drove up 108 South, we squinted while trying to spot the sign for the resturant through one of the first snowstorms of the year. After parking the car in the snowy lot, we zipped up our coats for the short and cold walk to the restaurant.
The restaurant seemed small at first. Initially I did not notice that there were bathrooms, dartboards, and pool tables down stairs in the basement. The restaurant and bar were by no means crowded, but this was probably because ski season had yet to start. A waitress in a down ski jacket told us to seat ourselves wherever we please.
The menu seemed to be a collection of classic pub dishes with a slightly more elegant preparation. Appetizers ranged from teriyaki duck wings, reasonably priced at $11.95, to a smoked chicken quesadilla for $10.95. Entrées, as expected, were slightly more expensive. Maple smoked St Louis ribs with sweet potato fries, creamy coleslaw, and Jalapeno Cornbread cost $15.95 for a half rack.  A BBQ mixed grill platter consisting of pulled pork, ribs, beef brisket, grilled chicken, and baked potatoes cost $19.95.
We ordered two house beers, the Belgian Dubble and the Black IPA. For an appetizer we ordered the loaded potato skins with cheddar jack cheese and bacon for $7.95. Dove ordered the Fried Teriyaki Duck Wing appetizer as a meal and for my entrée I ordered the Black Hole, a ground bison burger stuffed with sautéed mushroom and Monterrey jack cheese for $15.95.
As we waited for drinks, more people showed up at the restaurant. As they came in I could tell by the shuffling of their snow pants that this was a skiers restaurant.
The beer came first with the appetizer. Dove's Black IPA was visibly darker than the Belgian Dubble and it tasted stronger with an 8.2% ABV. It was a heavy beer, but the taste didn't linger on the tongue, as other similar strong beers seem to, like the Long Trail Double Bag. The Belgian Dubble was an interestingly heavy take on a Belgian white beer.
Our appetizer came with four potato halves that were individually stuffed with a delicious array of spices, bacon, chives, and cheese. We finished the whole plate and eagerly awaited the main course that did not take much time at all to come out of the kitchen.
Dove's duck wings were cooked to perfection. The outside skin was crispy and well flavored while the inside remained moist and not over cooked at all. The wings were laid out on a bed of mixed greens. My burger, the Black Hole, was also cooked perfectly as
I ordered it medium rare and it was just still slightly pink on the inside. I imagine this may be a difficult burger to cook if it has to be cooked with the stuffing inside. Because this was the first time I had eaten Bison, I did not have another experience to draw comparison from ,yet I found that it was very similar to a good beef burger.
As I cut into the burger, juice rolled down my knife. The garlic mayo, mushroom, and Monterrey jack cheese filling held its place in the middle as I cut individual bites. Armed with the Black Hole burger, hand cut fries, and a craft beer, I found myself in bar food heaven.
After finishing our meals we took our beers down the stairs and into the game room for a round of pool. The game room is set up well for darts and has a suitable full size pool table. Our tab was reasonable and it always makes sense to pay a little extra when the food is excellent and the service is too.