Early education: Vermont invests less in the school system than the prison system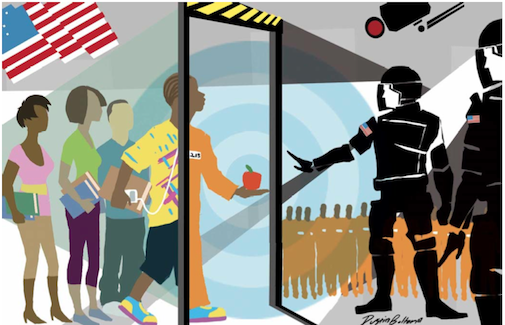 Societal and economic benefits of educating our children early and providing them with quality, affordable care:
Science shows that children who do not have quality early experiences, such as nurturing and supportive relationships with caregivers, stimulating learning opportunities and freedom from toxic stress, they are more likely to suffer negative life outcomes. These outcomes include teen pregnancy, crime, poor health, and dependence on social services.
According to the National Institute for Early Education Research (NIEER), the highest rate of return in early childhood development comes from investing as early as possible, from birth through age five.
So why is it that, according to the U.S. Census Bureau, Vermont spends approximately $53,000 per prison inmate each year, yet only spends an average of $16,000 each year per child from pre-kindergarten through twelfth grade?
Research suggests that if we invested in younger generations, the need for such a high corrections budget in the future would be lowered significantly, in turn making strides to balance state budgets and lower the national deficit. "Investing in early childhood education is a cost effective strategy, even during a budget crisis," said Nobel Laureate in Economics, and the Henry Schultz Distinguished Service Professor of Economics at the University of Chicago, Professor James Heckman.
"Deficit reduction will only come from wiser investment of public and private dollars. Data shows that one of the most effective strategies for economic growth is investing in the developmental growth of at-risk young children. Short-term costs are more than offset by the immediate and long-term benefits through reduction in the need for special education and remediation, better health outcomes, reduced need for social services, lower criminal justice costs, and increased self-sufficiency and productivity among families."
Science has also proven that the cost of educating a child early far outweighs the cost of corrective behavior adjustments down the line. "Studies show that children exposed to high quality early care and education have better language and math skills, better social skills, and better relationships with classmates," said Coordinator of the Rapid Intervention Community Court and former Burlington Police Department Lieutenant, Emmet Heldrich.
"These students score higher on school readiness tests, are 40 percent less likely to need special education or be held back a grade, and are 70 percent less likely to commit a violent crime by age 18," Heldrich said. "Vermonters agree that every child deserves to thrive, but taxpayers cannot afford the growing expenditures associated with negative outcomes, such as substance abuse and crime. Tax money spent addressing these problems drains resources from Vermont businesses and individuals. The facts are clear: we all benefit if we do it right early or we all pay more if we do it later."
Research conducted by NIEER calculated the estimated return on investment for early education programs to be $7 for every dollar invested.
Not only does investing in early education, and in turn, investing in quality and affordable childcare benefit society by lowering long-term costs, but this investment in children is also in the best interest of the business community.
Recently, connections have been made between early childhood education, workforce development and readiness, and thriving local communities. "I employ 170 people, and I see how crucially this issue of early childhood affects my business in two specific ways," said Co-founder of Black River Produce in Springfield, Vt., Mark Curran.
"First, having to depend on childcare has affected the lives of almost every single one of my employees at some point in their careers. When you're a working parent of young children, your dominant concern is not about your 401K or your paycheck. It's about who's taking care of your kids during the day…I sometimes literally watch a mother handing her baby off to the father through the car window when he's leaving his shift, just as she's arriving to start hers. Trying to make those schedules work is very difficult. When a parent can depend on reliable and quality childcare, he or she can be at work and focus on the job at hand. If the parent is worrying about who the child is with, or about the spouse getting home in time to take over the childcare, that employee is going to be very distracted.
"The second point is that we need an increasingly competent future workforce, as modern-day jobs increasingly require well-developed cognitive, social-emotional and executive functioning skills…Today's jobs are not getting less complex, they're getting increasingly complex. We need very smart people in the workforce with strong executive functioning skills no matter what kind of job they're doing…Businesses have to consider the fact that giving all kids a strong start is essential to Vermont's economic strength."
Co-owner of Concept2 Inc. in Morrisville, Vt., Judy Geer, is also a strong believer in affordable childcare for tomorrow's leaders. She recognizes that children are the future business leaders and thinks that if kids are happy and well taken care of, that parents will be more able to excel in their jobs.
One way Geer has made accommodations for parents is through the use of flex-time. "It's really important that businesses provide a culture that supports childcare and understands that it's a huge issue," said Geer. "Businesses should lend parents support, and one way is in flex-time. This means that you can come in at 4 a.m. and then be picking your kids up at 3 p.m. and your wife has a different shift, and that works great, you can go be their soccer coach in the afternoon… Childcare is just a really important thing and I think it's too easy as we get older, to forget about it. To think that it was just one little phase of your life and you deal with it and move on. But it's always there for somebody, and because it's always there, it's always affecting our entire society."
Curran and Geer are not the only Vermont business owners who value quality childcare and education. Dan Fraser, manager and owner of Dan & Whit's and former special education teacher in the Hartford School District, also recognizes that flexibility, when it comes to childcare for his employees, is to his own advantage. "We value the experience and loyalty that comes with long-term employment at the store, so it's worth it to us to accommodate the needs of our employees," said Fraser.
"That requires flexibility on our end. We allow parents to schedule their shifts around their children's school or childcare hours and snow days. And some parents even take the summers off to be with their families. We also cross-train all of our employees so that others can fill in for those who have family needs to attend to and are unable to come in to work."
As a former special education teacher, Fraser has had the ability to assess children with learning needs and make connections between early education and success later in life. Fraser explains that he sees the most drastic differences in kids who were exposed to early education and those who were not, in the areas of literacy and professionalism. "It's much harder to teach the soft skills and qualities required for the workplace than the hard skills," said Fraser. "I believe it's important to support our community in this way because our young people are our future workforce and leaders. It's most economical and efficient for our children to have the opportunities to build strong functioning skills during the early years when the brain is developing most rapidly, but it's never too late to help kids grow."
Consensus among business owners in Vermont seems to be in support of quality and affordable childcare in order to ensure maximum efficiency in the workplace. Jan Blomstrann, chairwoman and CEO of Renewable NRG Systems in Hinesburg, Vt. feels no differently.
Blomstrann believes that both work and having a family are cornerstones to living a happy fulfilled life, which is why she also provides employees with as much flexibility as possible when it comes to their children. "Ensuring every child has a high-quality early experience paired with Vermont's quality of life is a winning combination as we compete in today's market," said Blomstrann.
"Most of our employees who have babies choose to eventually return to their careers at Renewable NRG Systems, rather than permanently stay home. They value their careers, and want to be able to have both meaningful work and a family. Making sure those working parents can provide quality early experiences for their children helps attract and retain skilled workers and increases their productivity. I know from my own experience as a mother that it's tough to be a working parent. I learned early on that it's necessary to find a balance between work and family, and what that requires…For all of these reasons, it's important to me to support my employees who have young children.  I believe that work is one element of a happy life. People come to work to do something meaningful. Having a happy family is another element. Work and family are not mutually exclusive. To find satisfaction in both of these aspects of life, there must be a balance between the two."
About the Contributor
Lindsay Brown, Staff Reporter
Lindsay Brown joined the Basement Medicine staff in fall 2012 as a general assignment reporter.  She continued in that position in spring 2013 and will...