Nepalese church offers community for Bhutanese refugees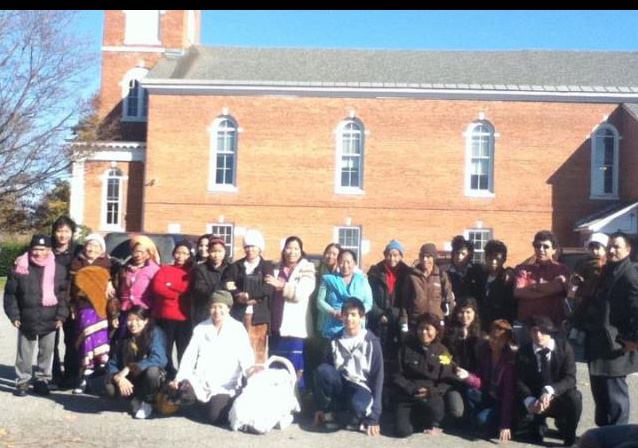 The Vine Nepalese Church Offers Home and Community for Refugees.
Dan Raut's one bedroom apartment is noisy and welcoming: children are playing tag while parents, family members, and new friends are chatting in a language foreign to my ears.
In the small bedroom a Nepali girl sings with headphones, and in the corner is a guitar case with a bold sticker: "More Jesus."
Sitting on the carpet with Pastor Raut is Om Dahli, who became a member of the Vine Nepalese Christian Church about a year ago. He says this apartment is his second home.
For members like Dahli, the Vine Church helps create a sense of home and community for certain Bhutanese refugees who have resettled in Vermont.
Raut, and amiable man in his mid-forties, came to Vermont in 2011 to start a church that would help those who have resettled from the refugee camps in southern Nepal. The camps have been home to over 100,000 Nepali-speaking Bhutanese who were kicked out of Bhutan in the early 90's. In the resulting disaspora, around 1,500 Bhutanese/Nepalese refugees have relocated in Vermont.
Raut is not one who lived in the camps, being born in Nepal and never fleeing Bhutan like many of the people who have joined the Vine Church. However, he was very aware of the cultural impact that the refugee camps had on his native country and shares language and ethnicity with them.
Raut became a Christian while living in Hong Kong starting a church there before coming to Vermont.
Raut says his congregation is around 50 members, but some Saturdays he'll see up to 70 sitting in the pews. The Vine Church meets at the First Congregational Church of Essex Junction on Main Street.
Dahli, 29, moved to Vermont in 2010 to start a new life with his wife Rupa and their daughter Salina. While in Vermont, their family has grown. Dahli's parents have recently moved to Vermont, and three years ago Om and Rupa had their second daughter, Shrijana.
Since finding the Vine Church, Saturdays have become Dahli's favorite day.
They begin in his packed car, which he drives to the church well before service starts. He trades his car for a 16-seater van, and spends an hour picking up his fellow church members.
The Vine Church offers Dahli a time where he can be around people who speak his native language. "I just love it," says Dahli while smiling and holding his chest. He stands up to say this, seeming to anticipate the two little girls who rush into the room, smiling and screaming. "In the van people singing, it is so loud, and telling stories," he says. His 6-year-old daughter Salina waves and says hi before running out of the room. Chatter from other parts of the house seem to seep through the walls.
Dahli lives a busy life between working full-time and picking his kids up from school throughout the week. On Saturdays his busy life halts, and he is refreshed by the days when he spends time with fellow Vine members. For Dahli, life has been much better since he began attending the Vine Church.
Dahli is wearing a light blue sweater, and underneath a dress shirt and tie. This is very different from the attire he wears at work – a white chef coat and black slacks, or the running attire he often wears. He has been working at a Burlington restaurant doing food prep and washing dishes for about five years. On Saturdays, Dahli will rush to work after church, where his coworkers might whistle and comment on how nice he looks in his Saturday's-best.
About 20 minutes into my visit with Raut, his wife comes into the bedroom where we sit talking, and hands me some orange juice. I recognize the glass Batman cup – it's s the same souvenir I had collected from Happy Meals as a child. Perhaps it's this memory mixed with the smiles of their children (some of the cutest I've ever seen) that makes me start to feel comfortable on the couch in the small bedroom.
Raut points to his wife's gesture. "That's our culture," he says, smiling and making eye contact. When making a point, he taps my hand or knee. He tells me he doesn't yet know why he was led to Vermont out of all the 50 states. He gives me this explanation: "We say, 'this is God's plans.'"
Raut seems like a very confident person. He often speaks using "we," when speaking about Nepali culture. He speaks confidently on behalf of a larger group, especially when it comes to his congregation, to whom he feels very connected.
Along with sharing the gospel, the Vine Church shares time and energy, helping refugees navigate all aspects of their new life in Vermont. There are nearly 15 people in Raut's apartment, and it seems like this is a regular occurrence. Included in the bunch is a family who left Nepal just weeks ago.
Raut notes his pastoral responsibilities go way beyond putting on a suit and preaching for one hour on Saturdays. "We give them ride, we take them to hospital, we take them to the grocery, we take them to bank," says Raut. "We are doing many things. As a church leader, my role is not only spiritual activities in the church. We are supporting in the community."
Altough Raut's main focus is his church, he also works as an interpreter for the Vermont Refugee Resettlement Program in Colchester and the Community Health Center in Burlington. "The government and the agencies are supporting them, but sometimes they are very busy," said Raut. "Sometimes they are unable to do everything, and we cover that immediately. Many people arrive, and housing case managers are not able to find a house. So they need a place, and of course, family and friends and the church will take care of them," he says.
"We are really strong," says Raut of the church community. "I'm proud of these members – they are excellent. We are a small group here, but if something wrong with someone, if someone has some problem, immediately we help and support each other. We have such a healthy community in the church."
For Dahli, the strongest sense of community he has is within the Vine Church, although he does mention how helpful his case managers from VRRS have been during his five years in Vermont.
He speaks of selfishness among parts of the Bhutanese community outside of the Vine Church, citing that many people are looking for opportunities for money and work, often putting this before people.
"Many people don't trust each other," says Dahli. The Vine Church has offered Dahli a safe and trusting place where he is learning to be a better person.
Outside of their church home, Vermont has been a great place for both Dahli and Raut. Dahli speaks about some of his friends who have relocated in other parts of the United States who complain about violence. Dahli tells them Vermont is safe and beautiful, and that they should come here.
"When they arrive, they are feeling this is home," says Raut about those who have resettled in Vermont. He speaks of the geographical similarities between Nepal and Vermont, and how the green mountains are often a comfort for Nepalese refugees.
Dahli has come to know some native Vermonters at his workplace, like those he ran with during the 2014 Burlington City Marathon. Still, he sees the Vine church as the best place for him to grow spiritually and to learn how to be a mature person. Dahli feels he has growing up to do, and that his church and pastor are helping him do this.
I smell dinner as I make my way back through the kitchen. Raut's wife is stirring a noodle and meat dish on the stove. Eight hungry people waive goodbye to me as I begin putting my shoes on. It's in this room I hear people call Dahli by a different name – Simon, the Christian one given by pastor Raut.
Raut shakes my hand while making eye contact, something he says refugees are still getting used to. He asks Dahli to walk me out to my vehicle. Before I leave his apartment he extends an invitation to church.