Hitchhiker's guide to Lamoille County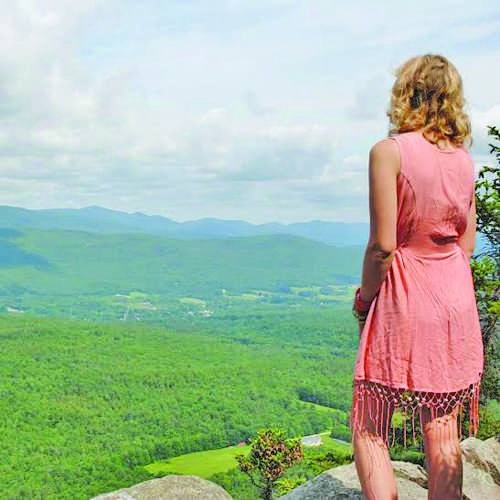 Wearing busted combat boots and a faded, patched denim jacket, Jen Davidson stands on the side of the road. Her mess of curls and double-pierced top lip are the signifiers of "Starchild" a.k.a Jen Davidson.
Davidson is standing along the shoulder of Route 15 with her thumb out, like many other young adults in Lamoille county.
"I have never owned a vehicle and I don't have a license or a reliable source of income," says the 20-year-old, who has hitched in Vermont and New Hampshire.
Davidson grew up in Weston, Vermont, and spent the majority of her time outside or camping with her family. She spent time at both Johnson State College and Castleton University studying studio arts, but is now taking a break.
"I had friends that hitched a lot starting in about tenth grade. I got really stuck in Chester, Vermont one day so I gave it a go and have been doing it ever since," Davidson said.
Having hitched many times, Davidson admits to having difficulties depending on location. "The frequency at which people stop for me really depends on where I am — I have good days where the first car I flag down stops, and some where I'm waiting for hours," she said.
The right location is obviously crucial for a good hitching experience. According to John Carmack, author of "True Nomads," the most ideal place to begin your hitchhiking journey is at the gas station.
You should also preferably find a gas station that is before a highway entrance or on the side of the highway in the direction you are headed. If not, a nice pull-off alongside the road works just fine.
On average, one in every 10 to 15 cars stops for the average hitcher. "I just expect multiple short rides, though a lot of the time I get somewhere in one or two rides. Smaller towns like Johnson or Brattleboro are the easiest," said Davidson.
There is a lot of risk involved with timing, and hoping you don't end up in a dangerous situation. Davidson has made it to her high school graduation and to doctors appointments on time, although there often is a stereotype that only poor, dirty or dangerous people hitchhike, which can impede travel.
"I give myself twice the driving time, and longer in the winter because it gets dark earlier," said Davidson. "But as for danger, I have only had two occasions where I had drivers making sexual overtures, and luckily they let me out when I asked with no issues. Mostly older women pick me up and give me food and money sometimes. The way I see things, it's more of a risk for the hitchhiker getting into the vehicle, because the driver ultimately has control."
There is a logical and safe way to hitchhike, and many hitchers carry knives, day-packs, etc. "I carry a knife, and keep my pack up with me in my seat," said Davidson. "I even pretend to shut the door wrong at first so I can study how the door locks [and] unlocks in the event that I have to escape."
Before going out and expecting kind-hearted people to drive you around all day, you need to have some basic understandings and necessities. First, be prepared to walk all day or at least for majority of the day. Carry a backpack or bivy sack to put small first-aid items in such as Band-Aids or moleskin and sunscreen. Also carry a flashlight, a map of the area, a water bottle, possibly a change of clothes, and a marker if you are making a sign.
Although Davidson keeps her bag in her lap, others say not to. According to HitchWiki, "It is courtesy to put your bag in the back seat and keep your hands in your lap. This way, the driver won't be worried of the possibility of you pulling out a weapon. Many drivers often require you to out of precaution."
For precaution, the hitcher should at least record what every make and model of car looks like, if you can't take down the plate number. Make sure to also record what the driver looks like and where they are headed. A lot of websites suggest taking pictures or discreetly texting details like this to a loved one.
Pleasing the driver is essential to their treatment of you, but also how they view other hitchhikers and if they pick one up again. According to Carmack, "Hitchers should offer their name when they get into the car as a means to establish a personal relationship between hitcher and driver quickly."
Appropriate conversation can stem from simple questions about what the driver does for work, what they will do when they reach their destination, or what their favorite place to travel to is.
Zachary Schuster, a 22-year-old business major from Johnson State College, has hitched throughout Vermont and New York.
"The section I have hitched the most is Route 15 from Johnson to Burlington or vice versa. That trip has never taken me more than two hours," Schuster said.
Schuster has also had his bouts with danger, including hitching in inclement weather. Hitching from Johnson to Ticonderoga, New York during a snowstorm, he started experiencing early signs of hypothermia and had to call his mother to bring him less than an hour and a half farther to his destination of Warrensburg, New York.
"I have never felt unsafe, but one time I had an odd ride from a couple who were swingers and were openly discussing their partners," said Schuster. "The woman was an old southern woman and the guy was a Vermonter in his thirties."
According to statistics, hitchhiking isn't as dangerous as our mothers have always told us. Wandr'ly magazine took a stab at trying to debunk myth and legend by going over FBI statistics.
From 1979-2009, there were 675 reported victims of sexual assault and murder along Interstate highways, and over 500 of those were murders. If multiplied by the percentage of Interstate, it leaves a 0.0000089 percent chance of being raped or killed. Of course, those figures do not reflect assaults or murders on secondary roads.
Some parents even encourage their children to gain experience by hitching. Communications and Community Media major Thomas O'Leary comes from a family where hitching is a part of a larger belief system. "My father, Bruce O'Leary, has hitched hundreds of times," he said. "Growing up, he always did it because he's a big believer of repaying kindness. He has always told me I should have an open mind about both sides of hitchhiking, and to hitchhike to save money and to gain experience."
Amanda Bolduc, a recently graduated JSC alumna, picks up hikers and encourages her parents to as well.
"Most hikers are just trying to get to work. The only bad encounter I have had was with this bald guy with a swastika tattoo," she said. "He told me he just got out of jail and hated cops and I dropped him off at a gas station shortly after that. I also picked up a guy who had just gotten his jaw wired, but he still managed to rap me a song."
Hitchhiking is an age-old way of getting from place to place without the reliance of loved ones or having to own a vehicle, and some may even argue that it is safer and better for the environment.
Although there is risk involved, many people say Vermont is a friendly and supportive place to hitch.
"Although danger is unlikely, you must be prepared. Hitching can be a rewarding experience," said Davidson. "You get where you're going and you meet some amazing people with great stories."