New culture and lost luggage in New Zealand
Associate Professor of Fine Arts Mary Martin, Professor of Fine Arts Ken Leslie and 15 students left Boston on a flight for New Zealand this past winter break. The trip began on Dec. 27, ended on Jan. 15 and included visits to Auckland, Wellington, Picton, Christchurch, Nelson, Napier and the Hobbiton movie set from "The Lord of the Rings." The Johnson State trip goers spent two or three nights in each city and saw museums, volcanic and mountain regions, and beaches.
The travelers greeted the New Year before it reached Vermont and watched fireworks by the Sky Tower in Auckland. This trip full of good stories and beautiful landscapes happened as part of two classes, Art Criticism and Advanced Drawing. As part of the coursework, students read appropriate novels, such as "The Bone People," watched related movies like "Once Were Warriors," and studied Maori art. During the trip, students were expected to write in a journal and draw daily. Post-trip work includes a research paper and a major art project. Martin expects there will be a related exhibition later in the semester.
Leslie and Martin chose New Zealand because it was the most popular choice out of a casual survey. "We had a long list [of possible locations] including Brazil, Cambodia, Argentina and South Africa," Leslie said. "Ninety percent of people chose New Zealand as their first choice. I mean, there wasn't any other option that was even close."
"We got to experience what New Zealand is known for, which is natural beauty," said Ophelia Blair, a senior getting her BFA in studio arts. "The Te Papa Museum was really cool because it had a lot of Maori art and culture." She cited a Maori house as one of the pieces of art which stood out to her. "It was super intricately designed on the outside and on the inside," she said. "It had all sorts of wood carvings, of different illustrated scenes."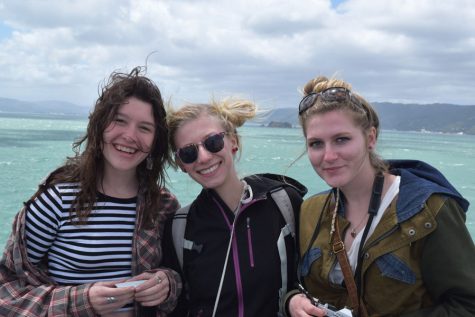 Charlie Munroe, a senior getting his degree in art, remembered art from outside of the museums. "There was a lot of street art in Wellington, which was a step beyond what I had seen at that point," he said. "The highlight was just getting to go to a bunch of obscure towns. Rotorua, Nelson and Napier were personal favorites."
Wellington was another favorite location. "It's a very young city so it has lots of art going on and cool energy, lots of good food and craft coffee and beer," Blair said.
Leslie also commented on the city. "Wellington was the best liked among the students. There was a lot of art, terrific museums, and restaurants," he said. "There were wonderful museums about New Zealand ethnography and history.
"[Travel classes] serve two purposes," Leslie continued. "They give you a view of another place in the world, and oddly enough they give you a view of where you come from. You discover what's special about where you live."
Kris Brown, a senior with a major in media arts, named Hobbiton as a highlight. "We got to try the cider and beer that was actually in the film," he said. "We got to touch the props, we got to walk down the same road Gandalf did. I took over one thousand photos and I've only been through 75."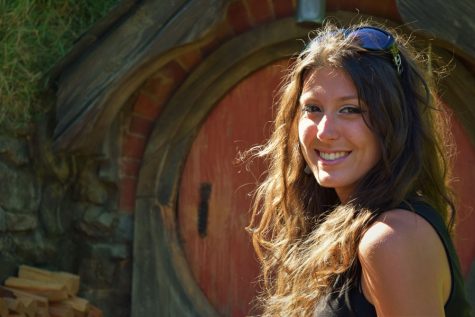 The trip was not perfect, however, with a delay in Dubai on their way to New Zealand, and an incident shortly after where 11 people on the trip and 400 in the airport discovered their luggage had been lost.
Blair explained the delay in Dubai. "Originally we were supposed to have a two hour layover in Dubai and then leave," she said, "but the smog was so bad in Dubai that we ended up circling the airport for a couple of hours and then having to refuel at a different airport and then flying back. We ended up missing our flight."
"They put us up in a hotel for the night," Munroe said. "We took the next nine a.m. flight out. That was just enough time for them to lose track of the luggage." He was one of the people whose luggage had been lost. "You learn how little you actually need," he said of the experience. "I was one of the last people to get luggage back. One of the bags went to Thailand."
Additionally, due to damage to a main highway, they skipped their trip to Kaikoura and went to Christchurch early. The damage to the roads was one symptom of the earthquakes in New Zealand. "You could see the devastation in Christchurch from the two earthquakes," Martin said, "one in 2011 and the other in 2012."
No one let the luggage fiasco, the delay in Dubai, or missing out on Kaikoura bring them down, however. "The students were troopers," Martin said. "They're a good group of students, and they weren't afraid to go with the flow."
Leslie saw the missing luggage as a bonding experience. The differences in culture and the beautiful scenery were consistently mentioned as high points, as well as the friendly people.
"Everything was beautiful," Martin said. "The landscape is dramatic because it's formed by volcanic activity, and it was the middle of summer there."
Cultural differences included driving etiquette and tips in restaurants, since one does not tip in New Zealand. "People were super friendly in person but when you got them behind the wheel, they were completely insane," said Cayla Fronhofer, a junior and communications major. "We got cut off and honked at and people were driving the equivalent of 80 or 90 mph down roads you wouldn't expect." She had more positive feelings about the lack of tipping, though. "All the food was a little expensive but it was totally worth it," she said. "You can just pay them and expect to get your change."
Leslie had more to say about the driving, as he and Martin had been the ones behind the wheel in a place people drive on the left side of the road. "You hit the windshield wipers instead of your blinkers," he said. "Luckily the gas and brake pedals weren't switched."
For Munroe, the trip provided multiple rewards. "Good stories, travel experience and a tattoo," he said.
Blair also came away from Wellington with a funny story. "The view is beautiful because it's right on the water," she said. "It's really windy, so never wear a dress or a skirt. Actually, a local woman came up to me, and said, 'You're not from Wellington, are you? Girls can't wear skirts here.' I was like, 'Okay.' And she said, 'I'm sure you're wearing cute knickers, though.'"
Coincidentally, both Munroe and Blair got tattoos, as did Brown and Fronhofer. "I apologized immediately for getting a very touristy tattoo when I asked for it," Fronhofer said, "but it's a cartoon kiwi bird holding a ring in its mouth to symbolize 'The Lord of the Rings.'"
Leslie hopes students take away a combination of things from this trip. "Certainly an awareness of New Zealand and indigenous culture," he said, "and also an awareness of travel: the possibility of putting together a trip and how to do it, and the possibility of doing it independently as well."
It was, without a doubt, a learning experience, compounded by the classwork before and after the visit. "I got a broader scope of the world," Fronhofer said.
Martin expressed a desire to continue travel classes with Leslie, insane drivers and beautiful scenery and all.