Outdoor adventures and new culture in Alaska
During the fall semester, senior Rachele Funk lived in Alaska and attended the University of Alaska Southeast (UAS) in Juneau, Alaska. Funk took part in the National Student Exchange Program, along with 12 other exchange students who flew into Juneau in late August.
Aside from being on the other side of the country, Funk saw major differences between life at JSC and life at UAS. UAS has 5,000 undergraduates and a huge graduate program in fishery studies, plus there is a much more diverse student body.
"UAS has such a large indigenous population of both students and professors," said Funk. "They have a northwest coast art major specifically and they have an indigenous people student center. The student population was really unique and most of the students were of indigenous descent."
Funk's exchange student orientation involved group bonding with other exchange students and the University's NSE coordinator. The group went out to lunch together, had a private campus tour and went to Mendenhall Glacier, which was just a short 15-minute drive from campus.
"We also had a bear safety training during orientation," said Funk. "We learned about what to do if we saw a bear up close. If we saw a black bear you have to act as big as you can to get it away from you if it's attacking you, but if you see a grizzly bear you want to play dead."
Funk had plenty of black bear sightings, but she never had to use her bear safety training skills to scare the bears off.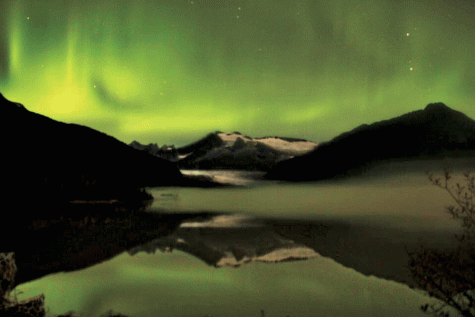 The wildlife and natural beauty was a driving factor that lead Funk to study away in Alaska. When she realized the cost of studying abroad in England was too expensive after the Brexit vote, she focused on places in the United States that had an abundance of outdoor adventure activities.
"I wanted to be in a place where I could hike all the time, kayak whenever I wanted to, ice climb and just do outdoorsy things," said Funk.
The outdoor playground that surrounds UAS allowed Funk to go kayaking whenever she wanted, but it was up to her to choose sea kayaking on the Pacific Ocean or to head out on the lake that the University overlooked.
"The highlight overall for me was being able to get out of a class and just go," said Funk. "We could go sea kayaking because we were a five-minute walk from the Pacific Ocean. So we could just go sea kayaking whenever. Or we could walk to the glacier and hike there, or go to a gold mine canyon that was nearby. There was always something outdoors to do and there was always something new. It was fantastic."
With an endless amount of outdoor activities to do at UAS, Funk was living her dream and not even the weather would stop her. According to Funk, the temperature was consistently 45 degrees and raining, but it only snowed once while she was there. The breezes from the ocean would keep Juneau warm and the tall mountains of the north blocked most of the cold air from the arctic.
"When people think of weather in Alaska, they think of snow, but it only snowed one day and melted within a week," said Funk.
The hardest weather adjustment for Funk was the amount of sunlight during an average day. In Juneau, the sun would rise at 8:30 a.m. and set at 1 p.m. Daylight was limited, but Funk was encouraged to seek adventure outside after dark.
"Our NSE coordinator told us to get up early and still go outside, but to bring headlamps and [make sure] that we were prepared," said Funk.
Funk took full advantage of all of the opportunities given to her during the semester and even went crabbing with her supervisor from the information technology department.
"He had the setup to go crabbing and he took us out one day," said Funk. "It was really crazy because it was crabbing but it wasn't like what you see on the Discovery channel where people are flying overboard. It wasn't like that at all, but it was intense."
Unfortunately, Funk started the trip seasick but she turned the day around and learned a lot about the importance of the seafood industry in Juneau, especially the economic impact that crabs and salmon have on the regional economy.
With Juneau being an island off the mainland of Alaska, the fishing opportunities are endless and UAS students are lucky enough to enjoy fresh fish weekly when fisherman bring their catches to a dock just five minutes from campus every Thursday.
"I lived in an apartment . . . and I learned how to cook salmon," said Funk. "I ate a lot of salmon — salmon in every form. You could eat baked salmon or fried salmon or salmon jerky or just like any sort of way that you could put salmon in something, they have done it."
Luckily, Funk lived with a roommate who had grown up in Alaska and could teach her the ways of cooking salmon, each variety requiring a different method. "There's four different types of types of salmon and they each cook differently," said Funk. "You want to eat king salmon, but you don't really want to eat silver salmon because that's what bears eat, and pink salmon is good, but it's not as good as king salmon."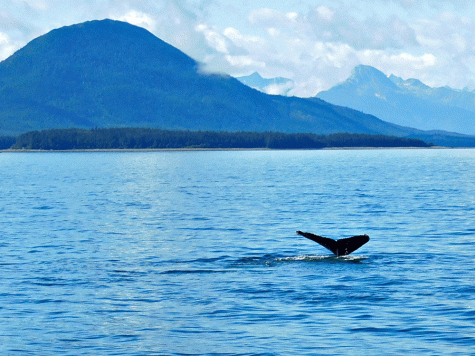 For classes, Funk took three business classes and a northwest coast art history class taught by the only indigenous woman to hold a doctorate in the studies of her own people. In the art class, Funk and her peers traveled to the Alaska State Museum every week to visit the State Library and Archives Museum, which is a display of indigenous art work and findings from the Juneau area.
Funk became immersed in the history of indigenous people and learned that the island of Juneau was originally named Klinkit, which to this day is the name indigenous people call the island.
"I learned a lot and more than I ever would, especially about the indigenous people and that's the stuff that really stuck with me," said Funk. "The indigenous people themselves have such a rich
history — especially in the northwest coast — and it's just insane to think about it."
As focused as Funk was on learning about the history of Alaska, she felt like the odd woman out because, unlike many of the Alaskan students at the university, she had no background knowledge of the northwest coast prior to her study away opportunity, something she came to regret. "I knew absolutely nothing, like we never learn about Alaska's history so it was really odd because I felt that I should've known a little bit about the history, like it is part of the United States," she said.
Funk's new friends didn't know that much about where she was from either. When she told her classmates she was from New York, they all assumed she was from New York City. After she explained to them that she was from upstate New York, they still seemed confused.
"People would ask 'where is Vermont?' And I'd have to explain that it's in New England and they still were confused on the exact location," said Funk.
For students looking to study away at an affordable price, NSE is easy to apply for and offers a once-in-a lifetime experience.
"The application is really simple. I went in to talk to Sarah Kinnerson about my ideas of studying away, and she handed me the application, which was only two pages long plus a personal essay explaining why you want to study away," said Funk.
The deadline to study away with NSE next year has already passed, but students are encouraged to visit the NSE Office in Dewey Hall to discuss future opportunities.