I got my kicks at Beast of the East
I don't often question the places I stand. Usually, I am placed there, and it is the confidence of others that typically gives me the peace of mind that I am useful in that spot and will do well there.
That Saturday afternoon, April 14, as I stood poised on the rugby pitch, I seriously questioned why I was standing in the way of a particularly large player as she plowed her way through my teammates, who were much more skilled and stronger than me.
I can tell you I tried very hard to tackle her down, but with a firm stiff-arm, haunches lowered, and violence in her eyes, I can't say I expected much out of my attempt to stop her. I simply bounced off the grill of a steam engine and was thrown to the side, but at least I can say I tried.
This team—Franklin Pierce, I was told—was undefeated thus far and apparently particularly nasty. I discovered this after I watched player 8 shove and head-butt her way into the try-zone five minutes into play time. This set the tone for the first half, where we appeared to become a staggering three tries behind.
I had played a season's worth of rugby, but I had not seen so much rugby in one place. Men's and women's rugby teams from all over New England and all divisions converge once a year to participate in this chaotic, yet exhilarating, event celebrating the sport called Beast of the East. This year it was held in Portsmouth, Rhode Island, a five to six-hour journey from Johnson. With tournaments like Beast, clubs like the Johnson State Badgers have the opportunity to play against teams they haven't played before, as well as against teams outside of their conference or skill level.
The tournament consisted of an enormous stretch of spring-green, flat fields sectioned off into eight pitches, fresh orange paint marking the sidelines. The sound of whistling, yelling, and chattering could be heard from everywhere. A puzzle of patterns dotted the fields, each team clad in everything from sleek blacks and navy blues to almost ridiculous color combinations of red and white stripes, baby blues, pinks and oranges.
According to the veteran players on my team this event is important, and all talked of it with excitement. I hoped it would meet my expectations, considering the extended travel in a cramped minivan and rather distasteful motel we had stayed in the night before.
I was, to say the least, a little intimidated by the sea of athletes before me, many of whom were are easily twice my weight and size, especially when I had to face them on a pitch. Last year, I was a wing. The best way to sum up the experience of a wing to a person who doesn't understand rugby is that it is perhaps the least thrilling position on the field. People of my stature—120 pounds of skin and bone—often become the "backs," or ball runners, of the team. When the "forwards," or line-backers, of the team can no longer muscle their way through the opposition, the ball is passed to these runners.
This season, Coach Brandon Weaver was moving people around and somehow, I was placed as flanker. A flanker is often in the heat of the scrum, tackling for the ball whenever possession changes to the opponents, leading pods, and finding oneself squished in the middle of a ruck. This was only my second game playing as flanker, and up until that point I wasn't sure if I was suited for the part.
If there is one lesson rugby has taught me, however, it is that you don't have to be the Hulk to become a decent player. Despite its exterior, and despite the trail of cleat scratches and tackle bruises trailing up my legs, rugby is a complex sport that requires a lot of technique, skill and faith.
Our first game was somewhat of a blur, as Coach had stuck me as a winger first, so I had little need to pay attention to the game. It was by no means the best game I had ever played, but our team won 15-0, so one could call it a success.
After a long period of lounging and nervous stretching, it was finally time for the second game. I was placed as flanker.
Now, while player 8 was certainly a nuisance and most of her team was bigger and stronger than me, I knew my advantage was speed. I knew I had to get out of my head to help Johnson gain some pitch back if we wanted to win anything. I remember calling for a pod whenever I gained my nerve back up, and I stood at the ready whenever I thought an opponent would push past another teammate. Every time someone passed me the ball, I had a fraction of time to make my move before the forwards engulfed me, and each time my play ended with being rolled over, thrown, squished and everything playdough must go through in a room full of four-year-olds.
Except for the time I surprised myself. One of my teammates was carrying the ball and, the second before she was tackled, she turned around, facing me. Before I knew it, the ball was in my grasp. Despite being tired and wary, I scanned the immediately area for openings, finding one in a broken defense line. I rammed the ball into the crook of my arm and began running. One player tried to tackle me, but I parried at the last second and was only momentarily delayed.
After arms had released me, I found myself running in open field.
Coach's voice and the screams of players on the sidelines rang in my ears, joyously screaming for me to keep running. I gained nearly one third of the field back before the fullback of Franklin Pierce didn't fall for my dodge. I was within at least 20 yards of the try zone, which was frustrating, but my play ultimately led to a try from another player.
The final score was a respectable 20-19.
While Beast of the East wasn't the most glamorous or rewarding event I'd ever been to, I think I understand the appeal. Being surrounded by hundreds of people who appreciated the sport as much as I did was relieving, as many of my friends and family find it to be barbaric and aggressive, when in actuality it involves calculation, strategy and an understanding of the complex plays.
Both the men's and women's teams are always recruiting here at Johnson and there is never a point in either seasons that you cannot join.
About the Contributor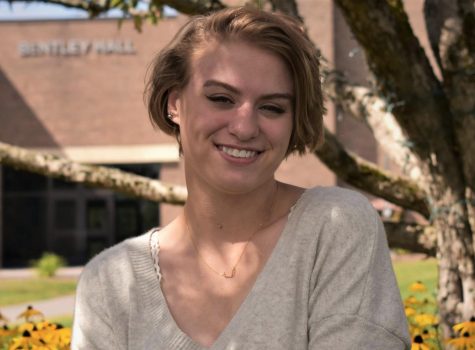 Adriana Eldred, Photo & Web Editor
Senior, Journalism & Studio Art
Grew up in Craftsbury, VT
Spring 2018 - Present

I got a black eye and mild concussion in Las Vegas during a rugby...