Letter from Las Cruces: Our far-flung correspondent checks in
It's flat here.
I noticed it as I flew over El Paso, Texas, how sprawling the landscape is, only to be interrupted by the occasional clump of jagged mountains. From the airplane window, I could see squares of land neatly sectioned off into various shades of brown and green between long roads and highways, along with the sprawling low cities glittering in air pollution and metal. It is so utterly different from Vermont's blanket of green forests and winding, lazy roads.
All I carried were two overstuffed luggage bags and a small backpack. Max Bowers, my brother-in-law whom I will be living with for the next five months, picked me up from the airport and drove us home. There I met their dog, Colossus, a notably average-sized husky mix with a caramel topped coat and white stockings resembling a toasted marshmallow. I will be living in El Paso and commuting to college in Las Cruces, New Mexico, which is about a 40-minute drive. Housing in the southwest is exceptionally cheap compared to Vermont, as I've come to find out. We live in a gated apartment complex overlooking a breathtaking view of the Franklin Mountains.
Now that it has been almost a month since I've been living here, I've begun to adjust to my new environment, although it hasn't been easy.
The view from my room overlooks a large stretch of city— not the city you would imagine, like New York or Boston. In the Southwest, cities grow horizontally, not vertically. While I was expecting skyscrapers and pedestrian friendly streets, I found Super-Walmarts, enormous shopping complexes housing name-brand department stores like Rue 21, Ross, and Marshalls nestled off highway exits.
I've seen chain restaurants at every corner, like Chili's, Denny's and Starbucks, along with ones I've never heard of, like Panda Express, Taco Tote, and Whataburger. I live right across the highway from all these places. While everything is not a five-minute walk away, instead it's all a two-minute drive, not including traffic.
Texas roads are another beast entirely. If you thought Burlington was bad, try getting through an El Paso turnpike without getting either cut off, brake checked, honked at in a red light or all of the above at the same time. I didn't realize how casual and everyday these occurrences were until Max was driving us on the highway, and he calmly watched as a sports car ripped through three lanes to make an exit 50 yards away while I screamed.
The cars are different too. I am not used to seeing so many shiny sports cars zooming past, as weather and dirt road wear and tear isn't an issue here. Cherry red Dodge Chargers, white Nissan GTRs, and sleek black Teslas can be seen parked outside an Applebee's or passing in front of you on the freeway without a blinker. People show off their excess and wealth around here; the climate demands no need for practicality, so people revel in their impractical cars, clothing and shoes.
I've done my fair share of shopping so far, and never have I seen so many shoe stores in one super mall that sell only athleisure footwear and sneakers, but no cleats. Clothing is much cheaper here, including brands like L.L .Bean and Northface, but I find it laughable that anyone around here would find it necessary to buy an insulated winter jacket when the average temperature in January is 60 degrees.
The coldest time of day I find are mornings, which start out at a nippy 35 degrees and climb throughout the morning. I've made a habit of jogging with Colossus, or Collo for short, to the park up the street from the apartment. The park is considered big for around here – perhaps a little smaller than a football field – with some charming windy sidewalks enclosing the dead, brown grass and an old plastic jungle gym structure. The first day I went out I found an unsettling sign next to the doggy bag dispenser; "Beware of snakes."
Luckily I have been informed that snake season is over; unfortunately tarantula season is right around the corner. The new wildlife has not deterred me from exploring the natural attractions you won't find anywhere in Vermont, like White Sands National Monument in New Mexico. The monument itself was closed because of the government shutdown, but that didn't stop tourists from getting in, as there was a huge sand drift over the five-foot fence right next to the side of the highway, and Max and I were no exception. While there was an annoying number of people walking around, ruining the pristine white sand with shoe prints, it was still extraordinary to look out and see miles and miles of bleached white sand dotted with giant squaw bushes and Mormon tea plants.
On the cultural side of things, I've found an interesting mixture of life styles – our apartment lives between two forts, White Sands Missile Range and Fort Bliss, where you can see people milling around shopping centers in full uniform. There are many traditional-style homes made of stucco with terracotta roofs and pebble yards, often with religious imagery like crosses above front doors or Virgin Mary sculptures in gardens. People of indigenous heritage wearing scarf headdresses can be seen waiting in line behind handlebar mustachioed men with cowboy hats and ridiculously long-toed leather boots. People seem to generally live quietly, keeping to themselves, going about their days without much interaction or familiarity.
While I am still entranced by the monumental mountains and new cityscape outside my window, I find myself missing the comforting shelter of trees and crunch of snow beneath my feet.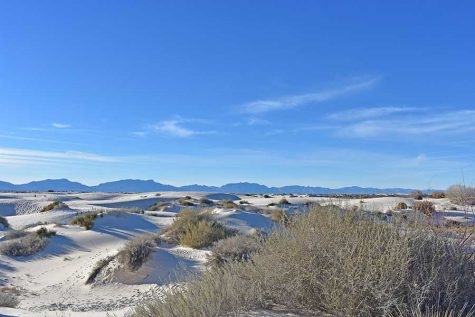 Diving into this place where I have no connections, where no one knows my name, surrounded by exposing vast flats of desert, I find myself feeling like a fish out of water. I cannot hide behind my years of built-up reputation, behind the credibility of my family and professors; I am just a person amongst the 683,000 who live in El Paso, and I fear that without it, I may fall flat.
View Comments (1)
About the Contributor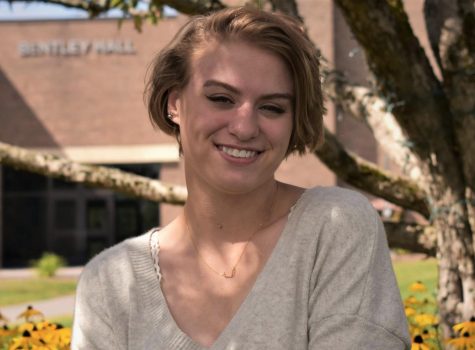 Adriana Eldred, Photo & Web Editor
Senior, Journalism & Studio Art
Grew up in Craftsbury, VT
Spring 2018 - Present

I got a black eye and mild concussion in Las Vegas during a rugby...